Go back in time, to the early days of the internet, and making a quiz (even a basic one) was a challenge. That doesn't even take into consideration how difficult it was to distribute a quiz and tally the results. It was time-consuming, frustrating, and often yielded inaccurate results.
Fortunately, technology has changed everything, and it's now a breeze to create highly functional, visually appealing interactive quizzes that meet all your requirements.
When you rely on a quiz maker like Opinion Stage, you can efficiently create many types of quizzes. You can then present it to your audience for completion and allow them to review their results in real-time. It really is that simple!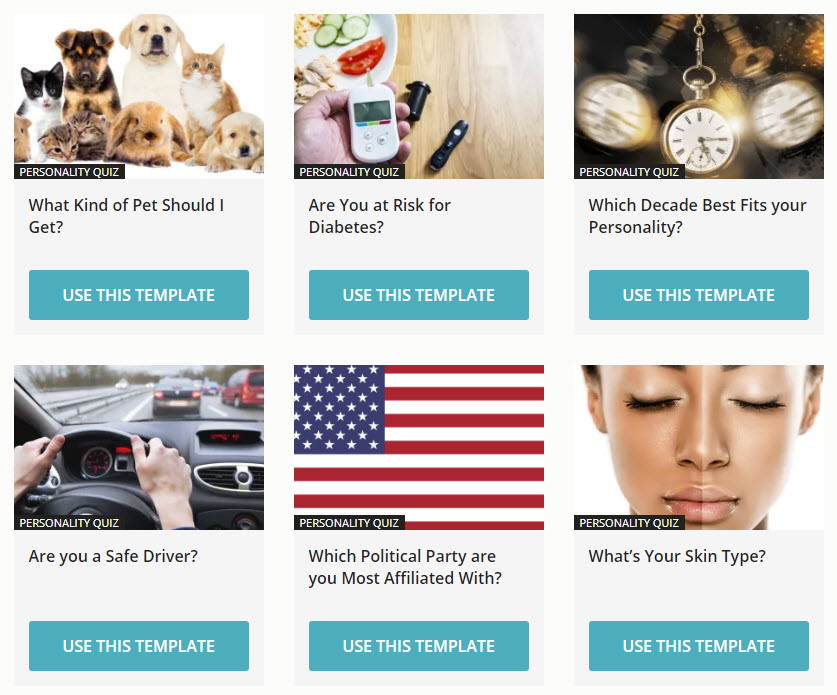 Below, you'll find information on how to make the most popular types of quizzes, including:
You'll also learn more about a variety of interactive quiz maker features, including how you can use them to better serve your audience.
Create a Personality Quiz
If you spend any amount of time browsing the internet – and you probably do – you've likely come across a personality quiz. There's also a good chance you've completed a handful of these. Not only are they fun and engaging, but they can actually tell you a lot about yourself.
Personality quizzes provide the quiz taker with a set of questions based on what fits them best. Upon completion, automatic results are shared to tell them more about their personality.
For example, you could create a personality quiz based on a popular television show, such as Friends. The goal is to show the quiz taker which actor's personality best aligns with theirs.
Why are personality quizzes so popular?
There's no shortage of answers:
They help quiz takers to learn more about themselves
They help brands build trust with their audience (which can result in more sales)
They're engaging, fun to take, and also fun to create
When you make a personality quiz for your business, you can customize everything from the title to the images to the copy. This allows you to create a unique quiz that stands out from all the generic content that's published online.
Are you ready to create your first personality quiz? Click here to sign up for a free Opinion Stage account, browse hundreds of templates, and get started.
You have two options for creating a quiz: you can use one of the highly optimized templates that Opinion Stage offers, or start from scratch.
Below are the main steps in creating a personality quiz, regardless of if you're using a template or starting from scratch. 

Step 1: Write your personality quiz cover
This is where it all starts. Your title and description can make or break your personality quiz, so don't rush. Create three to five variations for each, tweak and compare each one, and don't settle on one until you're 100 percent sold.
Here's an example of a title and description that work:
Posed as a question (Which type of exercise is best for me?), the title is crafted to draw you in. It makes you want to learn more, and that takes your eyes to the caption:
Exercise and physical activity fall into four basic categories – endurance, strength, balance, and flexibility. Each type is different and can benefit various functions in the body.
By now, you're engaged and wanting to learn more. And that's why you click on "Start" to tackle the first question.
Now, let's examine how to create a personality quiz in Opinion Stage.
Now, you have the ability to create the "cover" of your quiz. This includes four elements:
Title
Description
Image
Start button text
You can add all of these from here:
This is where your quiz begins to take shape. As noted above, it's here that you can experiment with a variety of options. Switch around the elements of your cover, preview each option, and make a decision based on what'll best engage your audience.
Remember, this is your chance to make a good first impression.
Step 2: Settle on quiz outcomes
Your first instinct after step #1 is to create the questions for your quiz. But, before you do that, you should first identify the possible quiz outcomes. This can be anything from different personality types to the animal that most closely resembles your outlook on life.
You can be as creative as you want. Just make sure the outcomes align with the questions you ask. We recommend using at least four outcomes, but not so many that the quiz becomes overly complicated.
Tip: write outcomes that respondents will want to share on social media. This will have a direct impact on how many people view and eventually take your quiz.
To set outcomes, click on the "outcomes" tab on the left side of the screen.
Here are some tips:
Make sure the title is clear
The image should match the title
The description should explain the title
Finally, don't forget the call to action. In the example, above, the call to action is "find a house" and clicking the button takes you to the specified page.
Also, you have the option to automatically redirect quiz takers to a customized landing page, as opposed to showing the outcome. This can drive traffic to a specific page, while also helping with conversions.
Step 3: Create quiz questions
Now that you've identified your outcomes, it's time to create quiz questions. This is when you have a chance to let your creativity shine through.
Your questions should be simple, straightforward, and concise. Remember, your audience is looking to have fun and learn more about themselves. They're not interested in taking a standardized test!
There are two things to keep in mind when creating personality quiz questions:
Every outcome should be possible to achieve
The more outcomes you identify, the more complicated the quiz becomes (as it requires more questions)
You add every question in the same manner. Here's the template:
As you add questions, here are some points of consideration:
What's the best (and simplest) way to phrase the question?
What type of image relates to the question?
 How many potential answers should you include?
Do you want to randomize the order of answers?
Should you allow more than one answer?
What layout do you want to use (standard or image layout)
Once you're done with the first question, continue down the page until you've created all of them.
As you add questions, you must associate each one to an outcome on a 0 (no association) to 4 (strong association) scale. This is how the final outcome is calculated – the outcome with the most association points will be the one displayed to the user at the end of the quiz.
Step 4: Customize settings
You don't want your personality quiz to look like every other one you'll find online. You want to give it a unique look and feel that catches the eye of your audience.
In Opinion Stage, you can do this by clicking on "look & feel" in the top right portion of the quiz creator.
You have a lot of options here, but the first two should command most of your attention:
Color theme: there are 14 choices
Font: there are 30 choices
You can also paste custom CSS into the overwrite box. This will override default styles and let you do almost everything you like.
OpinionStage is the default color and open sans is the default font. While these work well together, there are hundreds of variations to consider. Experiment with as many as it takes to find the perfect combination.
If you have plans on sharing your quizzes on social media – which you probably do – you can customize this, too. This includes:
Preview image – shows what your image will look like when shared on social media.
Show the social sharing bar to quiz takers – useful in making it easier for quiz takers to share on social media.
Display Facebook comments – display Facebook comments under the widget interface.
Add a message to Facebook sharing – add a custom message to Facebook shares.
Customize the Twitter message – customize the text, handles, and hashtags included in Twitter shares.
As you become more familiar with the dashboard, there are other more advanced settings, such as integrations and pixels, that you can experiment with.
Step 5: Share your quiz online
You put a lot of time into building your personality quiz, so it's exciting to see it go live.
After clicking publish, you can then click "embed and share" at the top of the dashboard. A pop-up will appear that looks like this:
Opinion Stage allows you to share your quiz in five distinct ways.
WordPress: the perfect choice if you're publishing to a website powered by WordPress. Use the Opinion Stage WordPress plugin for this
Script: if your website builder supports javascript, you can add a script anywhere in your web page
iframe: if your website has security restrictions and supports only iframes then use this option
Placement: this allows you to copy code once to your site, and then from the opinion stage placement dashboard decide what is displayed
Link: share a simple link with your audience, this will send them to a landing page with your quiz on the Opinion Stage site. You can share it in social networks, email, etc
Tip: don't forget to distribute your quiz on social networks, such as Facebook and Twitter, and to your email list to drive traffic to your website.
That's all it takes to create and share a personality quiz. Once you do this a few times, it'll become second nature.
Using the personality quiz format you can create different types of quizzes such as BuzzFeed-style-quizzes, lead quizzes, and product selector quizzes, and more.
Create a Trivia Quiz
Trivia quizzes are every bit as popular as personality quizzes, with these designed to test a user's knowledge of a specific subject.
The primary benefit of a trivia quiz is the engagement rate. With interactive questions, a visually appealing layout, and the promise of a scored result, your audience is highly likely to take the quiz.
In fact, our research shows that trivia quizzes receive up to 80% participation rates (number of users that started / number that viewed) and up to 90% completion rates (number of users that completed / number that started).
For example, if you want to test your audience's knowledge of automobiles, you could create a trivia quiz that looks like this:
How does that look to you? Does it make you want to give it a shot?
Here are five steps for creating a trivia quiz.
Step 1: Define your target audience
Some people will be immediately attracted to your trivia quiz, while others may have no interest in taking it (perhaps because the subject matter doesn't suit them).
This is why it's so important to define your target audience before you begin to develop your quiz. Answer questions such as:
What is your audience interested in?
What age group are they?
Where do they live?
What type of content do they typically engage with online?
By answering these questions, you'll begin to better define your target audience, which allows you to create questions (see below) that engage them.
In other words, if the content in your quiz isn't interesting to your audience, they're likely to skip over it altogether or click away before completion. Either way, you don't get the intended result.
Step 2: Choose your questions (and number of questions)
Now that you've defined your target audience, it's time to do two things:
Decide how many questions to include – we recommend including enough questions so that the quiz adds value, but not too much so you won't lose your audience. A recommended number of questions is 8-15
Create questions for your trivia quiz
Just the same as personality quizzes, you can use a template or create it from scratch.
From your dashboard, click on "Trivia Quiz."
This takes you to quiz creator, which is identical in layout to the template to build a personality quiz.
Start by choosing an engaging title and description, along with an eye-catching image. Here's an example:
Once your cover is created, it's time to add your questions.
Work from top to bottom, here's what you need to do:
Add the question
Choose an image (although optional, we recommend making it visual)
Add potential answers and make note of the correct one (we recommend no more than five answers)
Decide if you want to support more than one correct answer
Determine if you want to randomize the order of answers
Decide if you want to give the user an explanation after each answer
After you add all your questions, preview your quiz to see what it looks like. Is it too easy? Too hard? Is it engaging?
We recommend starting with easier questions and making them harder to answer as the quiz progresses, this will help hook your users to the quiz.
Step 3: Source images for each question
You have the ability to add a photo to both the quiz cover as well as all your questions. You can also optionally add images to each answer. Don't take this lightly. Don't choose just any image and assume it'll resonate with your audience.
Proper use of high-quality visuals can keep your audience engaged. Here's an excerpt from our website that explains the importance of adding visuals to your trivia quiz:
Images and videos catch people's attention and imagination. Usage of visuals keep your participants glued to the quiz and keeps them engaged. Choose good quality images, especially for the quiz's cover photo.
It's easy to skip over this step, assuming that the question itself is more important than the image. They're equally important, so don't put this on the backburner. Take as much time as necessary finding the best images for each question:
Step 4: Customize settings
From the quiz creator, you can customize the look and feel of your quiz.
Just the same as every other quiz, you can choose from 14 color schemes and 30 fonts. With so many combinations, you can find the one that best matches the type of quiz you're creating.
For example, if you're creating a celebrity-inspired trivia quiz for the teen audience, a bright color scheme, combined with an eventful font, will catch their attention and keep them engaged.
You can also use the CSS overwrite box to add custom CSS. In other words, there's no limit to what you can do with the look and feel of your trivia quiz. Your creativity is your only limit!
Above, we talked about customizing social settings. This allows you to do things such as display Facebook comments and customize the Twitter message.
Step 5: Display results in a fun, engaging manner
Getting your audience to complete the quiz is a good start. However, that's only half the battle. You also want to provide users with clear, engaging results.
The text and image presented at the end of the quiz should draw the user in. When they remain excited and truly enjoyed the experience, they're more likely to share the results on social media.
For example, by congratulating users on their completion, they'll want to share it with their friends. And when that happens, you have an opportunity to attract more people to the quiz. Here's an example:
Here's a breakdown of what you see above:
Number of correct answers, which is what the user is most interested in
A fun and catchy description of the score
A one-click option for sharing results on social media
Reminder: you can also use this type of quiz to create a scored quiz. There's one primary difference between the two: with a scored quiz, the user doesn't get a correct/incorrect indication after each answer. Instead, they receive a score at the end of the quiz which can be points (e.g. 85/100) or a percentage (you got 87% correct)
This adds suspense to the quiz, increasing the likelihood that the user will continue. After all, they want to see how they scored. Stopping before the end prohibits them from doing so.
Like in personality quizzes, you can also add a call to action button in the Trivia quiz result screen.
Quiz Features and How-To's
By now, you should have a strong understanding of how to make an interactive quiz (regardless of what you're trying to accomplish). However, you don't want to stop there.
There are a variety of quiz features and how to's that can take your experience to the next level. Here's a good place to start:
How to Integrate a Lead Form
We've discussed many benefits of creating and sharing a quiz with your target audience, but there's one last point worth mentioning: you can also use quizzes to generate leads, which will have a direct impact on your sales pipeline and revenue.
Opinion Stage provides an interactive lead generation tool designed to do two things:
Generate more leads (when compared to static forms)
Generate higher quality leads, as the contact information is associated with the user answers
Start out by visiting the dashboard for the quiz you want to collect leads from. From there, click leads in the sidebar and you'll see this:
Now, you need to create a new lead form or use one that's already saved. Here are all the ways you can customize your form:
Remember to make the form as simple as possible. The less information you ask for, the greater chance there is that someone will provide it.
Note: you have the option to let users skip the form.
Here's an example of a simple lead form displayed just before the completion of a travel-related quiz:
With only a name and email field, you're not asking for much. It'll only take a couple of seconds to complete.
You won't integrate a lead form into every quiz you create, but there are times it makes sense to do so. Don't miss out on those opportunities, as more leads is always a good thing.
Learn more about lead quizzes here
How to Analyze Analytics
When it comes to any type of customer interaction or marketing and sales strategy, data is the king of the jungle. Without this, you're taking blind shots in the dark, hoping that you're on the right track.
Rather than take this risk, keep a close watch on your analytics. There's no shortage of reports you can run and data you can review in Opinion Stage.
It's usually recommended to start by reviewing how well your quiz performed.
This is an overview of six important data points:
Views
Started
Completed
Average Time
Engagements
Leads
This data can help you answer questions such as:
How many people who viewed your quiz started it?
How many peopled who started your quiz completed it?
On average, how long does it take for someone to complete your quiz?
How many leads has your quiz generated?
And of course, you don't want to forget to review the actual results of the quiz. This shows you how respondents are answering. Here's an example:
By selecting a question in the top right corner, you're provided a breakdown of how often each answer was used.
For example, the question "what food takes your fancy" has four potential answers:
Pie and Mash
Goulash
Chicken Balti
Welsh Cakes
The bar graph next to each answer shows the number of total votes and the total percentage of votes. For instance, Pie and Mash was the most common answer, with 489 votes for 40.7 percent.
You can also run reports that dig into the finer details of your quiz. Here's an example of a drop-off report:
It helps answer the question of where people are leaving the quiz, thus allowing you to adjust the questions and overall length to improve your completion rate.
How to Add a Call to Action
Just like a high-converting web page, your quiz may include a call to action.
Opinion Stage allows you to drive users to a call to action based on their results. One of the best examples is a call to action allowing the user to "click here" for more information. You can customize each landing page to display a different product/service or information based on their answers.
Here's another example:
With this, the call to action centers on helping the quiz taker find a store near them. It's your hope that they do so and soon visit in person.
There's no shortage of calls to action that you can use. From displaying a product for sale to driving users to a mailing list, consider all your options. Don't overlook this opportunity to continue to engage with your audience.
How to Use Skip Logic
Skip logic, also known as conditional logic, changes the question or page a respondent sees next based on the answer to the original question. This allows you to create a custom path for each quiz taker, varying it based on their responses. Opinion Stage allows you to set the skip pattern based on predefined rules.
Here's an example:
So, if a respondent indicates they don't have a dog, the skip logic would stop the survey from asking any additional questions related to dogs. Conversely, if the person indicates they do have a dog, the survey would skip questions related to cats.
The benefits of using skip logic include:
A custom path for every respondent
Ability to keep your quiz concise and simple
Fewer questions result in more thoughtful answers and a greater completion rate
Eliminate questions that don't pertain to the user, which reduces the likelihood of them leaving before completing the quiz
Create a Quiz Using Opinion Stage
It doesn't matter if you're making a personality quiz, trivia quiz, or some other quiz type, you now have everything you need to get started.
Don't be afraid to experiment with different quiz types and formats, as it's the best way to learn. Additionally, it'll give you a clear idea of what does and doesn't resonate with your audience, which is invaluable when creating future quizzes.
Opinion Stage was built from the ground up with the idea of making it simple to create and share visual, interactive quizzes that engage. You can use a quiz to build trust, connect with your audience, increase conversions, and more.
What are you waiting for? Click here to get started today. And of course, be sure to let us know if you have any questions. We're here to help you make the perfect quiz!