How to add a Quiz to Wix
1. Create a Wix Quiz using the Quiz Creation Form
2. Locate the Quiz you created in the Items Dashboard
3. Click the Embed & Share button, and from the iframe tab copy the code
4. Open your Wix site's editor (your main site management dashboard – the URL should begin 'editor.wix.com/…'). Click the '+ Add' button on the left-hand sidebar, and hover over the 'More' title (it's the last option in the list)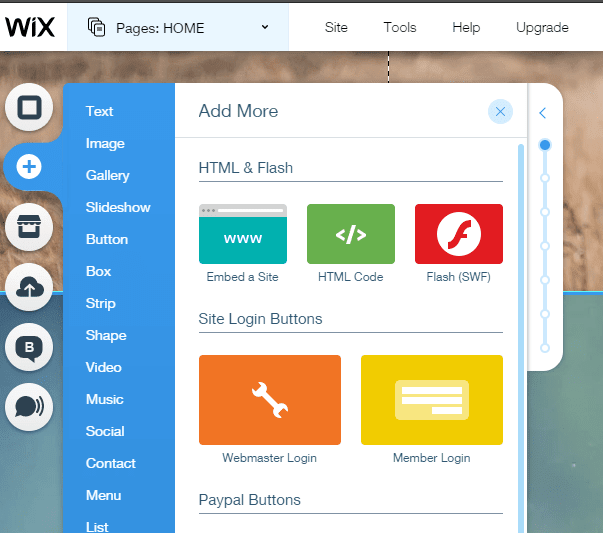 5. Choose the 'HTML Code' option. You should see a gray box appear, with an 'Enter Code' button. Click it. You should see this appear: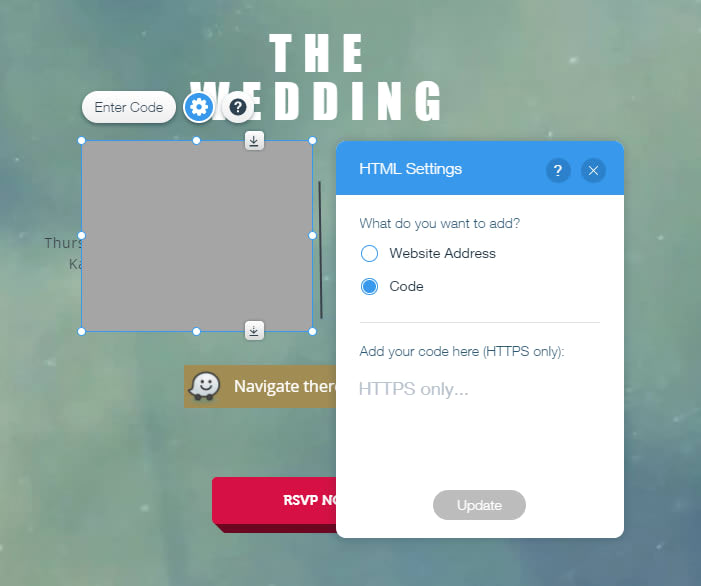 6. Make sure you've selected 'Code' (as in the box above) – now's the time to paste what you copied from your Opinion Stage dashboard earlier (or use CTRL + V to do so). After you've done so, click 'Update'.
Place it wherever you like by dragging the container there.
You're done!
Following is an example of a live personality/outcome quiz – check it out:
View more personality quiz templates & examples
Following is an example of a live trivia/knowledge quiz – check it out:
View more trivia quiz templates & examples
Benefits of Creating a Quiz on Your Wix Site
Boost engagement with a Quiz
Quizzes are a great way to get your audience interesting in your site and offers. Users love to participate in quizzes. With the right quiz, your users will spend a lot of time on your site.
Gathering segmented leads
Integrating a lead form inside a quiz is a great way to generate more segmented leads. You will get more leads and the contact information will be associated with the answers to the quiz questions.
Driving traffic from social sharing
Quizzes are a great way to boost the social sharing of your site. Users love to share an interesting, funny result or a result that says something favorable about them.
Boosting sales of your product/service
Use quizzes to lead your users to an offer that is tailored to them by using a quiz product selector.
Gather data
While users are having fun participating in your quiz, you can gather valuable information. For example, while users complete a "What type of foodie are you?" quiz, you can learn a lot about their preferences and buying patterns when it comes to food.
Best Practices for Creating a Wix Quiz
Focus on your audience
Before writing the quiz title and questions, think about your audience. What quiz question would get them curious or interested? This is the number 1 factor of getting good response rates in your quiz.
Focus on what you want to achieve
As described above, quizzes can be used for different objectives. If you are looking to generate leads, very the quiz isn't too long and asks qualifying questions. If you are looking to generate engagement and social sharing, create a longer quiz that offers valuable insights at the end.
Select an appealing quiz title
Select a quiz title that is appealing to your audience. The quiz title should be short and clear to verify it is quickly picked up by someone screening the page.
Use Visuals in the Wix Quiz
Visuals such as images, gifs, and videos will increase the number of users starting your quiz and the number of questions they will answer. Visuals can also add context to the quiz title and questions.
Keep it short and simple
The more questions you ask the fewer quiz completions you will get. On the flip side, if the quiz doesn't have enough questions it might be viewed us not serious enough. We recommend 5-15 questions depending on the scenario.
Adding a Wix quiz to your site is an engaging and user-friendly way to upgrade your site's experience. Your users will interact with your content more, and you can reap the rewards (leads, data, etc).
For more details refer to the quiz maker page