How to Make a Shopify Poll
Create a Shopify Poll with One of Our Templates
Choose from our hundreds of ready-to-go templates that are optimized to engage your audience, increase product awareness, and boost sales.
View More Templates
Create a Shopify Poll From Scratch in 5 Easy Steps
In just a few seconds, you can create a Shopify poll that will engage your audience and teach you more about their needs and preferences. Follow these 5 easy steps to get started.
1. Create a Poll
Start by creating a poll. All you need to do is type in your question, and answer options and click on the create button.
2. Copy the Code
After creating the poll, go to your items dashboard and click on the "Embed & Share" button associated with your poll. You could also find the same button at the top right of your poll creation form.
Now select the 'Shopify' tab in the popup window and copy the Script/HTML code.
3. Go to Shopify
Log in to your Shopify website and navigate to the dashboard. On the left of your screen, you will see a tab called "Online Store" and if you click on it, you will see a tab called "Pages". Click on it.
If you want to add your poll to a new page, click on "Add page", otherwise click on one of your existing pages.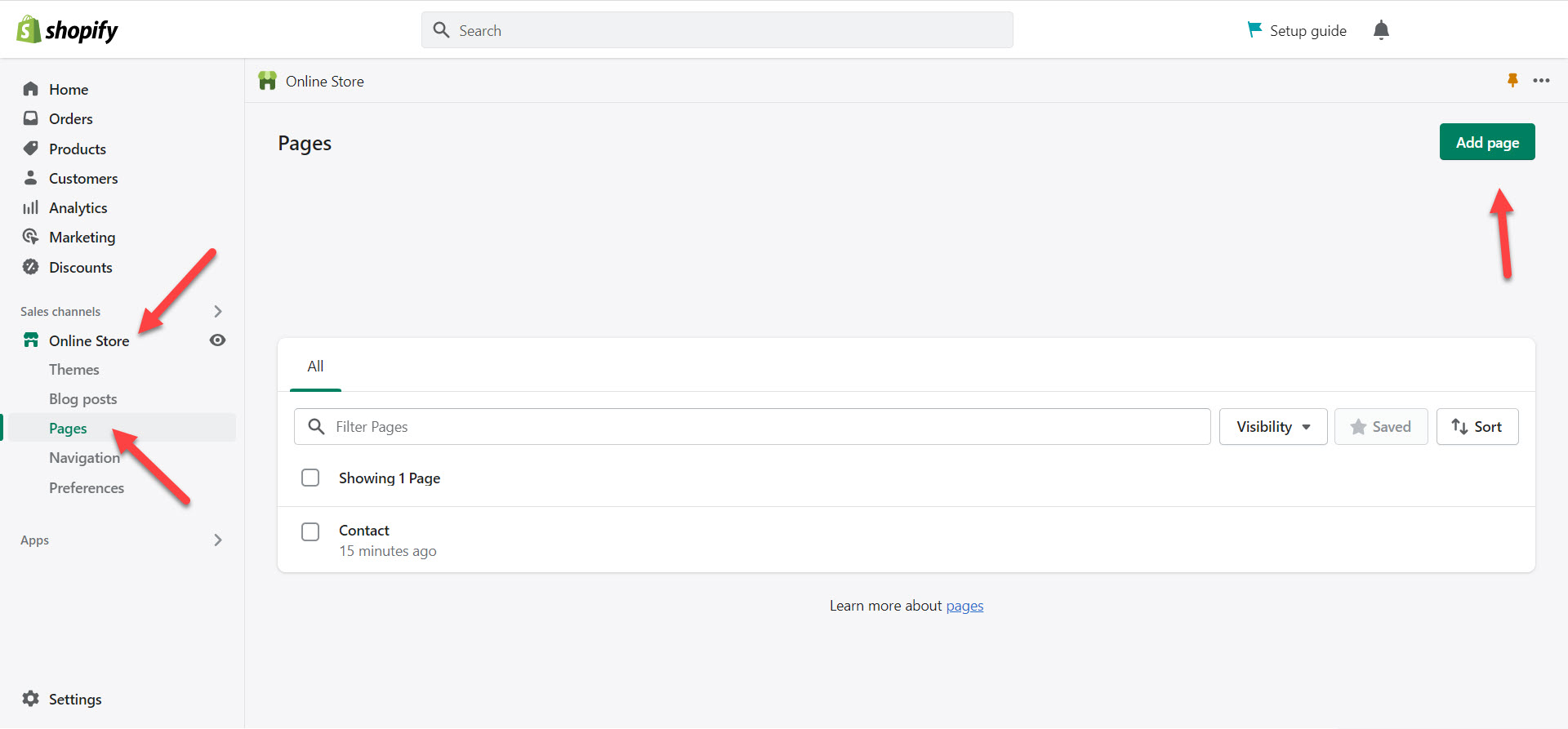 4. Paste the HTML Code in the Shopify Editor
Once you're in your page editor section, you'll see a content box in the center of your screen. Click on the '<>' icon. Here you paste your Script/HTML code for the poll.
When done, click on "Save" in the upper right corner.
5. Preview the Shopify Poll
After having saved your Shopify poll, click on "View Page" to verify how your poll is displayed. You can leave it as it is or make changes to the poll without needing to change the embedded Script/HTML code.
You're done! Don't forget that it's just as easy to create a Shopify Quiz or a Shopify Survey.
Why Make a Shopify Poll?
Do you want to see rapid growth in your Shopify store, improve the level of customer service you offer, or get pointed post-purchase feedback? A Shopify poll can help you do all that and more.
Engage Your Audience
Creating a Shopify Poll, or a Shopify vote is an easy and quick way to boost your customer engagement. People like being asked what they think and are also curious to know others' opinions. Increasing your customer engagement can also help you further increase conversion rates on your website.
Furthermore, a fun poll shared on social media can easily create a buzz and get you unlimited shares and comments. It's a great way to boost brand and product awareness.
Get Quick Feedback With a Shopify Poll
Gathering customer feedback is essential for independent businesses. While feedback forms are often the preferred choice, sometimes one quick question is enough to steer you in the right direction for improvement.
In these cases, using a Shopify poll instead of a feedback form is a great way to understand your business's current condition and ensure its continued growth. Your gathered customer responses can also help you improve customer experience.
Discover Customer Needs & Preferences
Share a quick poll with your customers to find out how they feel about your products and service. For example, you could ask them to vote for the product you should get back in stock, or choose which line to include in next month's special offer. It's a great way to stay top-of-mind and make them feel involved.
Not to be confused with a customer survey, a customer poll lets you pose only one question to your audience. So, it forces you to prioritize and focus and often gets more answers fast.
A customer survey, on the other hand, helps you understand your customers better on a deeper level and improve their shopping experience. It's important to run customer satisfaction surveys and post-purchase surveys from time to time to monitor and improve your customer service.
Boost Sales
We've already established that online polls and votes are great for engagement. And engagement is great for sales.
By adding a call-to-action button to your poll, you can send people directly to your Shopify store or to a specific product page. You could also automatically redirect them to any strategic sales page after they vote. Or, redirect them straight to their shopping cart checkout to try to save lost sales.
Gather Leads
Using a Shopify Poll can help you increase the number of leads you gather and their quality. Simply add a lead form to your Shopify poll. It will appear right after your potential customer answers your poll question.
Lead polls get more answers than regular lead forms because people reach them after a fun interaction with you. Since the leads are associated with specific poll answers you can use the contact information to send follow-up materials that are more relevant, and so, lead to better results.
If you want to get even more leads you could add an incentive to the lead form. For example, you could send unique discount codes or coupon codes to people who share their email with you.
Why Use Our Poll Maker for Your Next Shopify Poll? 
There are many poll and survey apps out there, but ours is designed specifically for engagement and conversion. Plus, it makes it super easy for you to make beautiful polls that get great results.
Quick & Easy to Create
Making a Shopify poll with our poll maker only takes a few seconds and our user-friendly software makes it easy to adapt it specifically to your needs. No need for a developer.
Start from scratch or use a template and change it in any way you like. A few clicks and you're ready to go.
Experiment with a variety of advanced features that are simple to implement, and give your audience a powerful poll experience.
Data collection is easy too with our visual and friendly results dashboard that offers visual breakdowns of poll answers and performance.
Visual & Conversational
Our voting tool makes it easy for you to start a conversation with your customers. Make beautiful polls that get a higher response rate.
Add eye-catching images and videos to your multiple-choice question and/or answer options.
Choose from a wide variety of poll layouts, rounded images, thumbnails, a list, and more.
Pick a color theme that stands out and draws people in.
Customize all questions, messages, buttons, and calls to action.
Offer an interactive experience that responds to your customer's actions and choices.
Trusted Tool for All Businesses
Whether you have a small e-commerce shop, several independent businesses, or a big enterprise, our poll-maker is here to support your journey and keep your data safe.
Our voting tool has multiple built-in mechanisms designed to minimize all forms of poll fraud and promise high-integrity voting while maintaining a positive voter experience.
Our poll maker automatically detects and blocks repeat votes, cheat votes, and bot votes.
All data transit is done over HTTPS only and encrypted at rest.
All the information you gather is stored on secure AWS servers in the cloud.
We strictly comply with GDPR, follow industry-standard security guidelines, and regularly monitor our tools and systems to identify any possible risk factors and keep your voter information safe.
How to Get Even More Out of Your Shopify Poll?
Here are five tips that will help you get the most out of your Shopify poll.
Make It Beautiful
Add visuals to your poll to grab more attention, give a fun and entertaining experience, and make it clearer and easier to understand.
You can add images to your poll question or statement as well as your answer choices in a variety of different layouts. Play around with the different options and choose the layout that works best for you.
Choose fonts and color themes that make your poll stand out, match your brand design and highlight your image choices.
Make It Exciting
Surveys let you ask several questions, and combine closed and open-ended questions to offer an interesting experience. With polls, however, you're not only confined to one question, you're confined to one question type – a multiple-choice question.
But don't be fooled. Even within these restricted grounds, you have many possibilities to choose from and many opportunities to create joy and excitement. For example, you could let people select one answer or multiple answers. You could even let them add their own answer if you want to give them a chance to express themselves fully.
At the end of the day, it's all about asking that one question that matters most. It could be the one that's most important to you if you're looking for feedback. But if you want to boost sales, awareness, and growth it's best to find the one question that matters most to your current and potential buyers.
Ask an intriguing question to get people thinking and enthusiastic to answer. Add some humor to the answer options to encourage people to share the excitement of your quiz with others.
To make it even more exciting and further increase responses, you can make it a competition or raffle and give your customers the chance to win exciting prizes like special coupon codes, gift certificates, or even free products.
Make It for Everyone
When asking close-ended questions it's important to check that you're not excluding any of your customer segments by forgetting to include an answer option they can relate to.
Remember to cover a large range of possibilities in your answer options. Also, make sure your title and answers are short and easy to comprehend so your customers understand everything at first glance.
Make It Count
When your poll gains traction, remember to use the results dashboard to analyze the answers. Using the data you've gathered with your poll wisely can help you shape your business strategy, streamline new and continued services, and refine your product offering.
Consider letting your audience know what you learned from their answers and how they helped you shape your next steps. People like to know that they've made a difference.
Make It Secure
If your polls are used for data collection more than customer engagement, then it's important to make sure you are collecting reliable data.
Our voting tool offers multiple mechanisms to promise high-integrity voting while maintaining a positive voter experience.