A Personality Quiz Maker That's Fun, Easy & Fast
Build responsive, mobile-ready personality quizzes from scratch or from a template using Opinion Stage's free personality test maker. Get a professional beautiful quiz up and running in minutes.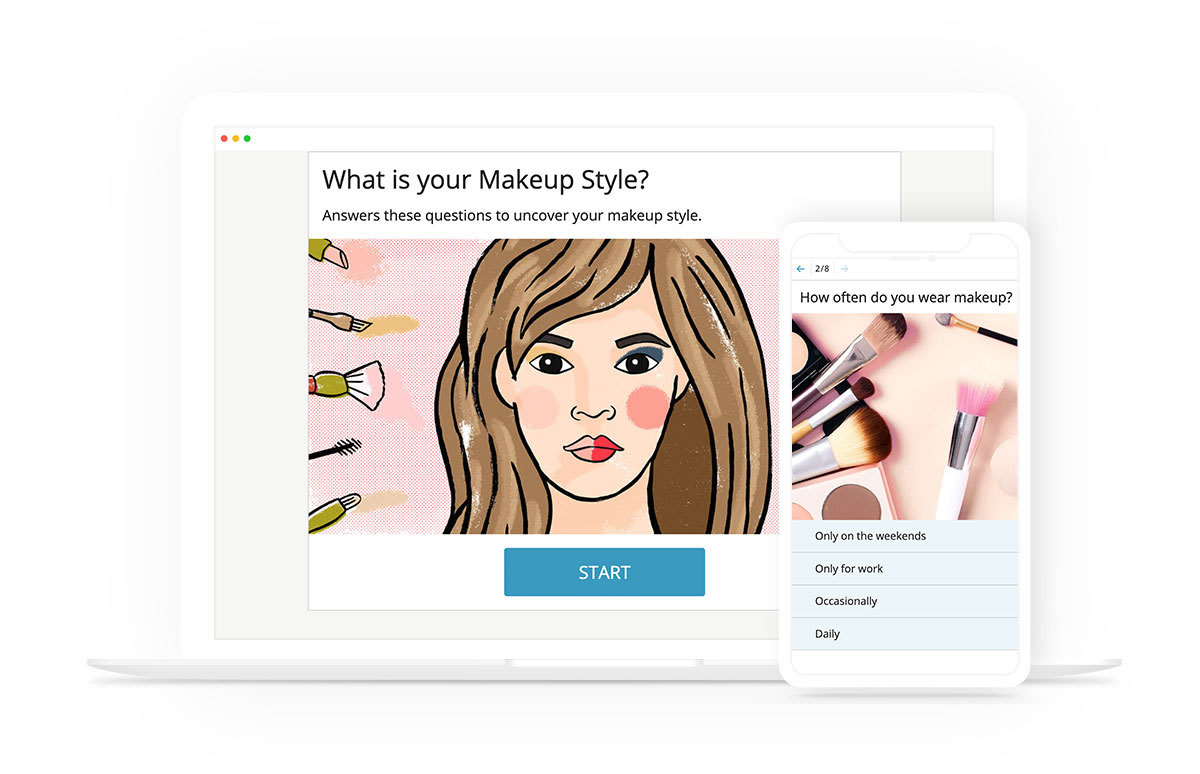 How Our Personality Quiz Maker is Used
Customers use our personality test maker in many different ways, following are the top use cases.
Boost Engagement & Brand Awareness
Make your brand stand out from the competition by using personality quizzes that are fun and exciting to consume. When built right, quizzes can attract the attention of consumers and boost engagement by increasing the average time users spend on your website and brand. Our online free personality quiz maker can help you achieve up to 80% participation rates and 90% completion rates. Use our solutions to create compelling content that audiences won't easily forget.
Generate More Traffic via Social Sharing
Increase traffic to your website using the Opinion Stage personality quiz maker. Due to the engaging nature of quizzes, you can easily capture the attention of prospects, drive them to your website, and keep them there longer. Create a Whatsapp quiz, or share your quiz on Facebook, LinkedIn, and other social media networks. Improve social sharing by creating great content, adding images, and optimizing questions.
Acquire High-Quality Segmented Leads
Classify high-quality leads into various categories based on your personality quiz outcomes. Use our quiz maker to tailor product recommendations and shopping experiences based on your customers' interests. Integrate your quiz with your marketing automation system to create personalized welcome emails and follow-ups for every personality outcome. With Opinion Stage, you can gain up to 500% more leads compared to static forms.
Gain Advanced Insights Into Your Audience
Get to know your audience better by using an Opinion Stage personality quiz. Our analytics dashboard offers an overview of responses, different answer segmentations, result analysis, and drop-off repots. In addition, you can easily export the information you need to an excel or CSV file. Simply specify the date range and enter the email address where you would like the data to be sent.
Increase Sales With a Product Selector
A personality quiz is a quick, easy, and cost-effective solution that can drive high conversion rates and sales. Use our quiz maker to help online shoppers find and purchase products or services that are right for them. Further improve their shopping experience by displaying marketing messages, products, and services that fit their needs and interests. You can feature your items within the quiz itself or redirect quiz takers to a product page, where they can make a purchase.
Generate Ad Revenue With Engaging Personality Quizzes
Increase ad revenue by creating interactive content that your audience enjoys. Combine personality quizzes with ads to generate revenue and produce high levels of engagement. The interactive nature of quizzes drives a lot of attention to your ads. As a result, you can achieve higher clickthrough rates than with any other form of content. Opinion Stage lets you integrate ads in the interface of your content and triple your ad revenue.
Why Our Personality Quiz Maker Stands Out
Opinion Stage gives you the tools to make personality quizzes, share them online, and review the results.
Generate High Response Rates
Our personality test maker lets you create interactive quizzes that people will feel excited to answer and share online. Add compelling visual media such as images and videos to keep participants engaged throughout the quiz. Make the experience fun and entertaining to generate high response rates. Our quizzes are optimized for all online platforms and they load fast.
Drive Viral Traffic From Social Networks With Fun Quizzes
Use a quiz to drive traffic to your website from social media. Each quiz comes with easy-to-use social sharing buttons that encourage quiz takers to post their results directly on various social media platforms, including Facebook, Twitter, and LinkedIn. Use our advanced analytics to determine the most effective networks for reaching the people you want to hear from. Creating fun personality quizzes is a sure way to increase your site traffic.
Build a Quiz From Scratch in Minutes
Use the Opinion Stage personality quiz maker to build a personality quiz from scratch in a matter of minutes. Easily add your logo, and customize font styles, sizes, and colors to align the quiz with your brand. You can also select a ready-to-use template to get your quiz up and running in no time.
Use Professionally Designed Templates
Don't know how to make a personality quiz? That's all right. Our amazing team of designers has made a wide array of responsive, mobile-ready quiz templates that are optimized for conversion. Simply choose a template with pre-written questions and images, use it as is, or customize it to match your brand identity. Our online quiz maker and templates let you build engaging and fully functional quizzes in less time.
Customize all Features of Your Quiz
Whether you use a personality quiz template or start from scratch, you can add a personal touch to every card of your quiz. Insert your logo and modify the look and feel of your quiz with your branding and color schemes. Or use our CSS override function to change any aspect of the design.
Fully Responsive & Mobile-Ready
Make your quizzes look good and perform well across all devices and screen sizes. Every personality quiz template in our selection is responsive and mobile-optimized. They are designed to load fast on any mobile phone, even if the network is slow. We monitor quiz performance issues in real-time in order to give you the best service.
Embed Quizzes on Your Website
Hit the Embed & Share button to share your personality quiz on relevant online channels and from any content management system (CMS). A quiz can be embedded on any HTML web page as we support JavaScript, native WordPress, iframe, and placement among others. You can make it a Wix quiz, Shopify quiz, or Squarespace quiz, whatever works best with your infrastructure. Our quiz maker also supports custom embed configurations if you have other platforms in mind. For those without a website, simply run your quiz from an optimized page on our Opinion Stage website.
Keep User Data Secure & Private
Top brands and organizations trust Opinion Stage with their quizzes. Maintain data security with our trustworthy personality test maker. All your quizzes and submissions will be sent to Amazon AWS servers, where they will be kept safe. The data transit is conducted over HTTPS. We run regular assessments to keep user data secure and private. In everything that we do, we adhere to strict industry-standard security and privacy guidelines. For more details, review our privacy policy.
Segment Your Audience
Improve your marketing efforts and customer relations with audience segmentation. Ask qualifying questions to segment leads and prospects according to quality, relevance, demographics, and more. Identify high-quality leads and direct them to the next step in your marketing funnel. Use the outcomes of your quiz to categorize respondents and send them to relevant content.
Advanced Quiz Reporting & Analytics
Gather comprehensive data on all your quizzes. Learn how engaging your personality tests are by reviewing the average amount of time respondents spend answering them. Discover how many times each quiz was viewed, started, and completed, and find out exactly where people dropped off. Use all this data to determine if and how to modify your quiz to reach optimal engagement.
Apply Answer-Based Skip Logic to Your Quiz
Give every quiz taker a unique and personalized experience based on the answers they provide. Using skip logic, you can prevent respondents from seeing questions that don't apply to them or ask follow-up questions based on their previous answers. Our personality quiz maker lets you tailor every question to your respondents, saving them a whole lot of time and effort. It can also personalize product recommendations. Use skip logic to lead prospects to products that they will like.
Integrate With Marketing Automation
Connect your personality quiz to a marketing, email, or customer relationship management (CRM) system to send and receive quiz data more conveniently. Bringing different platforms together will give you real-time visibility of quiz submissions and data. Use native API or Zapier integrations, as well as custom webhook solutions, for optimal results.
Get Notifications & Alerts on Submissions
Receive email notifications and alerts every time someone completes your personality quiz. Each notification consists of a full report of all submission details, which include lead information, responses, results, and metadata such as a time stamp. With this information, you can find out how your quiz is performing in real-time and apply changes whenever necessary.
How to Create a Personality Quiz
Making a personality quiz is easy, just follow the steps below and your quiz will be up and running in no time.
1. Choose a Topic, Goal & Audience
Before you start building your actual quiz, take a moment to define your "why". Figure out exactly what your goal is, who you want to reach, what type of experience or information you want to offer them, and what you are looking to receive in return. Once you're clear on these points, the structure, tone, and focus of your quiz will fall into place. Now simply decide if you want to build your quiz from scratch or work from a template, and start building.
2. Define Your Outcomes
When building a quiz it's best to start from the end. In the case of a personality quiz, the end is the outcomes. This is where your quiz takers learn something about themselves based on the answers they chose throughout the quiz. We usually recommend defining 3-5 outcomes. Give each outcome a catchy name, a short yet informative description, and an attractive visual. This is also a great place to link to your site and configure a call to action (see step 6).
3. Create Questions & Answer-Options
Most successful personality quizzes have around 10 questions. Less could seem superficial, and more could be tedious. So, ask only the necessary questions and do so clearly and simply. Start with the easy questions and build up to the challenging ones. Add an image/video or multiple images to each question. Good visuals increase engagement. When writing the answer options make sure there's an answer for everyone and that the difference between the answers is clear. You don't want your respondents to get confused or feel left out.
4. Associate Answers with Outcomes
Correct answer association is crucial for the success of your personality quiz. It's what makes your respondents feel that you really get them. That's why we made it super easy to configure. All you need to do is select the outcome every answer option relates to and define the level of association on a scale of 0-4. Our algorithms will do the rest and send your users to the outcome you designated as most relevant to them.
5. Configure Skip Logic
As you develop your quiz you may find that not all questions are relevant to all users. Depending on their answer to a certain question, you may want to skip straight to the end or follow up with another question that digs a little deeper. This is where skip logic comes into the picture. It allows you to very easily devise different paths within your quiz based on the answers participants choose. All you need to do is go to the skip logic section, click on "configure skip logic" and decide which question or outcome each answer option should lead to. Skip logic is a simple and powerful tool that lets you give your users a streamlined and personalized experience.
6. Select the Right Settings
Now that your quiz is ready, questions, images, skip logic, and all, it's time to give it the final touch that will take it to the next level. There are various setting options to consider. First of all, you can choose a color theme, font, and letter size that go with your brand. You can also add your logo, and if you have the technical know-how, use the CSS override option to customize the design. Next, you should take some time to consider your calls to action: customize the microcopy of the various buttons to increase engagement, add social sharing buttons to the outcomes and redirect users to a URL of your choice.
7. Add a Lead Form
You can also add a lead form towards the end of your quiz if it supports your goal. Lead quizzes have proven to be very effective for two main reasons. First of all, quiz takers are fully invested in the process by the time they reach the lead form, and so are more willing to share their details. Secondly, the quality of the leads is very high and you have a better understanding of them based on their quiz answers. Now that you have your respondents' emails, as well as their answers, you can categorize them according to their interests or needs and continue to interact with them in an informed and relevant manner.
8. Publish & Embed
So you've created your quiz and configured the settings, now all you need to do is put it out there. You can embed your quiz on your website using HTML code, iframe, or placement. If you use WordPress you can work directly from our WordPress quiz plugin, and if you don't have a website you can simply run your quiz from an optimized page on our site and share a link.
9. Share on Social Media
No matter how great your quiz is, in order to succeed it needs to get the right exposure. Use your social channels to share it with your audience. You can even share it over WhatsApp or send it to your mailing list. By adding share buttons to the quiz itself and optimizing the outcomes, as explained above, you can also increase the chances of your quiz going viral. If your respondents enjoyed it and liked the results, they'll be happy to share it with others.
10. Review & Optimize Content
Once your quiz is out there results will start flowing in. At this point, we recommend that you keep an eye on your Opinion Stage dashboard. It'll give you important insights on views and engagement, as well as a drop-off report. This data can help you optimize your quiz on the go. You'll also be able to see response trends as they form. If you want to make sure you're seeing every response in real-time, configure email notifications and we'll let you know every time someone submits a completed quiz.
Hundreds of Integrations
---
Send your email leads to mailchimp, sync responses with google sheet. Get it all done automatically.
Loved By Our Customers
---
Our Customers Gave Us Hundreds Of 5 Star Reviews
Great all around package, we've been using it for about a year. After checking all the alternatives there's no better option. The UI design is sleek and it adapts well to embed in our website. The features are everything we need. Customer support is great, quick to reply and super helpful.

Alex F.
G2crowd
This excellent software allows you to make anything from bespoke polls to quizzes, in seconds amending them just as quickly. The results look excellent on and add enormous value to your site.

Jim O.
G2crowd
Opinion Stage is easy to use and is a great alternative to BuzzFeed for businesses looking for a way to engage their customers. There are plenty of options for personalization and implementation.

Haromny W.
G2crowd
Ready To Get Started?
Get Started with a top rated online personality quiz maker