A Survey Maker that Gets More & Better Responses
An online survey maker for creating interactive surveys that maximize participation rates. Make a beautiful free questionnaire that people love to participate in. It takes minutes to get up and running.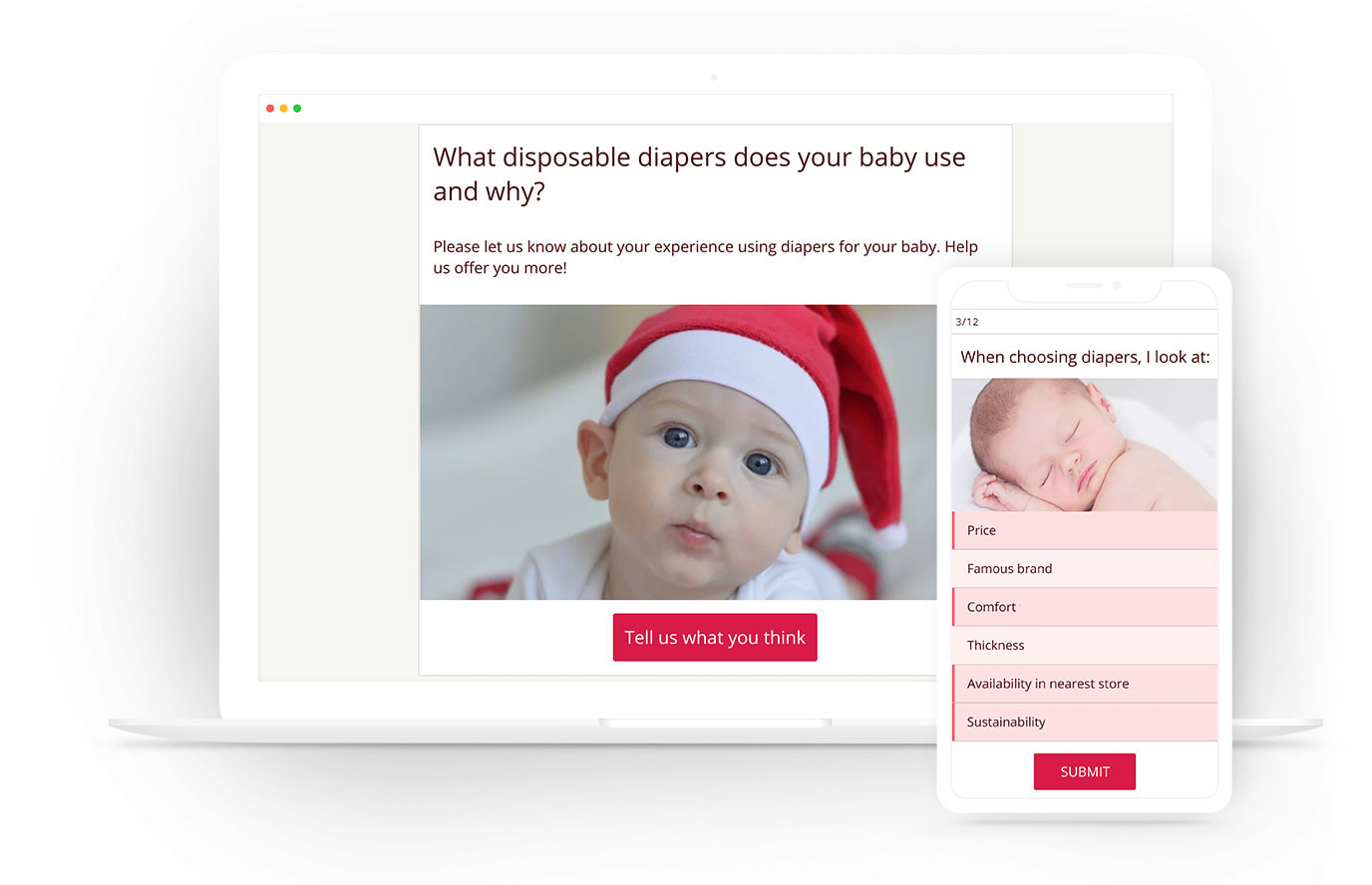 Why Use Our Survey Maker?
Following are the top reasons why our questionnaire maker stands out
Get More Responses
The Opinion Stage interactive survey maker is designed for maximizing the number of participants that complete the survey. This is achieved by creating questionnaires that look great, are interactive, and are designed to optimally display on all devices and platforms. This lets you get the results you need in a more cost-effective way. It also improves the quality of the responses.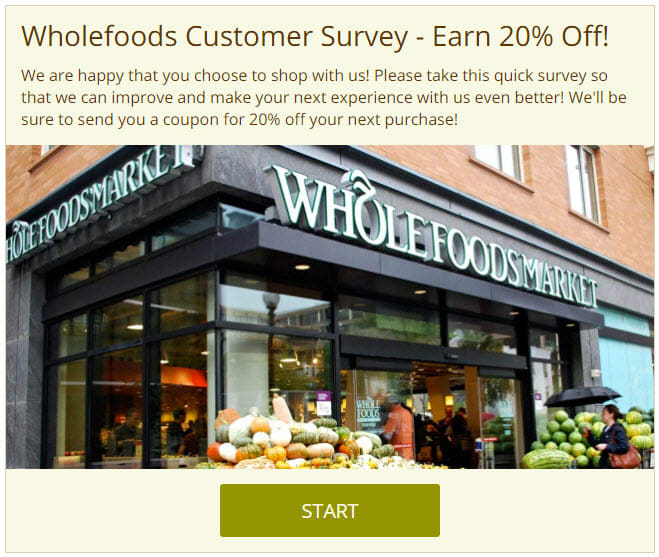 Beautifully Designed Questionnaire
Use visually appealing designs and question layouts to create beautiful online surveys that people love to participate in. Beautiful surveys lead to higher participation rates and better results. The Opinion Stage free survey maker lets you integrate images in both the questions and the answers to help clarify the questions and beautify your Questionnaire.
Easy & Fast to Create
The free survey maker offers an intuitive survey creation form that let's you get up-and-going in minutes. Create from scratch or create from one of the hundreds of optimized templates offered in the survey templates library.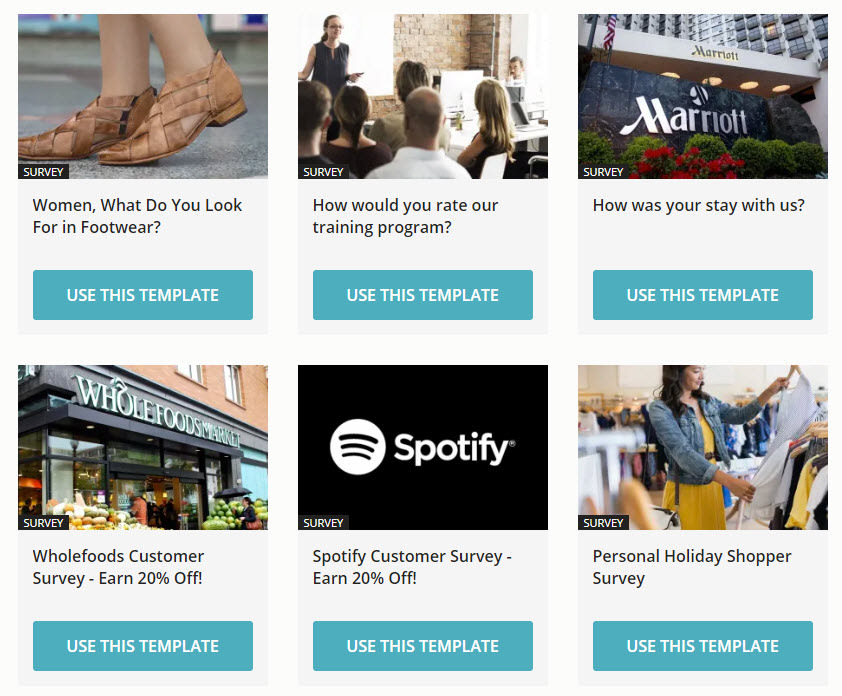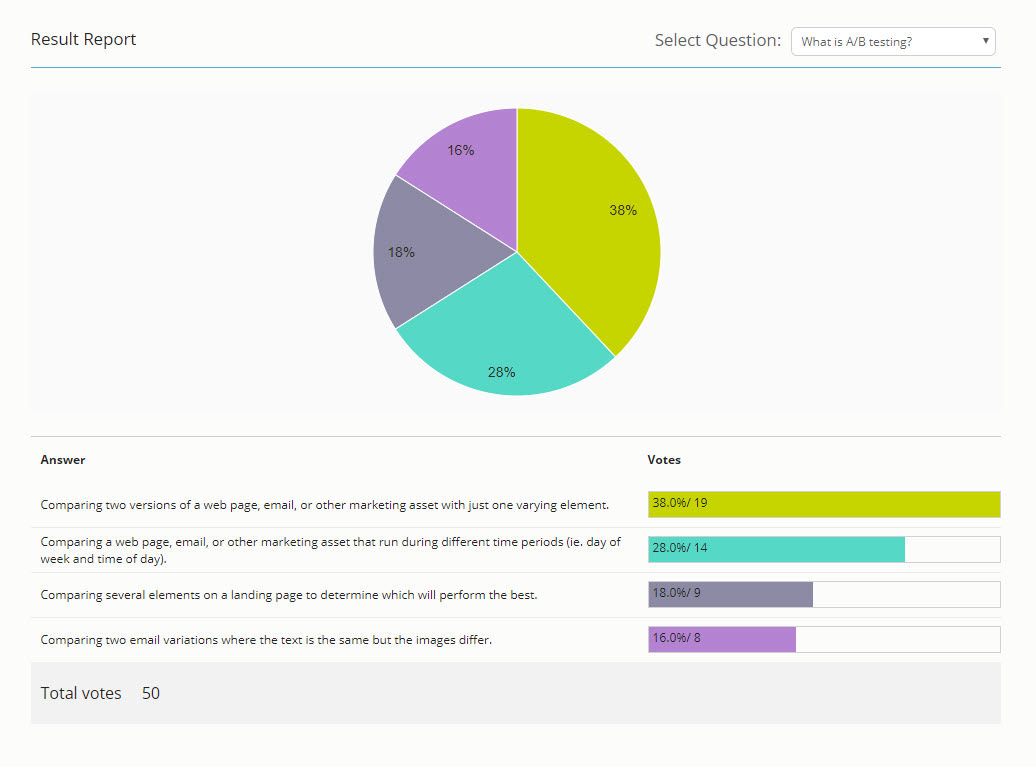 Advanced Survey Reporting
Get detailed reports on all aspect of the survey results and performance. Performance reports let you see views, starts and completion rates of the survey. You'll also be able to see how much time the user spent on your survey and the drop-off report. Result reports include a break-down of answer responses, an outcome report, detailed submission report, a lead report and more. You can also export all the information to a CSV / XLS file for advanced analysis. The survey tool also let's you automatically send all the submitted data to one of the hundreds of 3rd party applications that integrate with Opinion Stage.
Fully Customize Your Survey
Fully customize your online survey tool so that it perfectly matches your brand and site. Select from existing themes and fonts or use your own font and custom CSS to change every design aspect of the survey including color, font, sizes, and more. You can also white label the survey and add your own logo to it.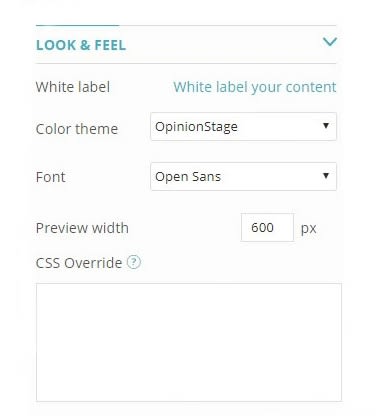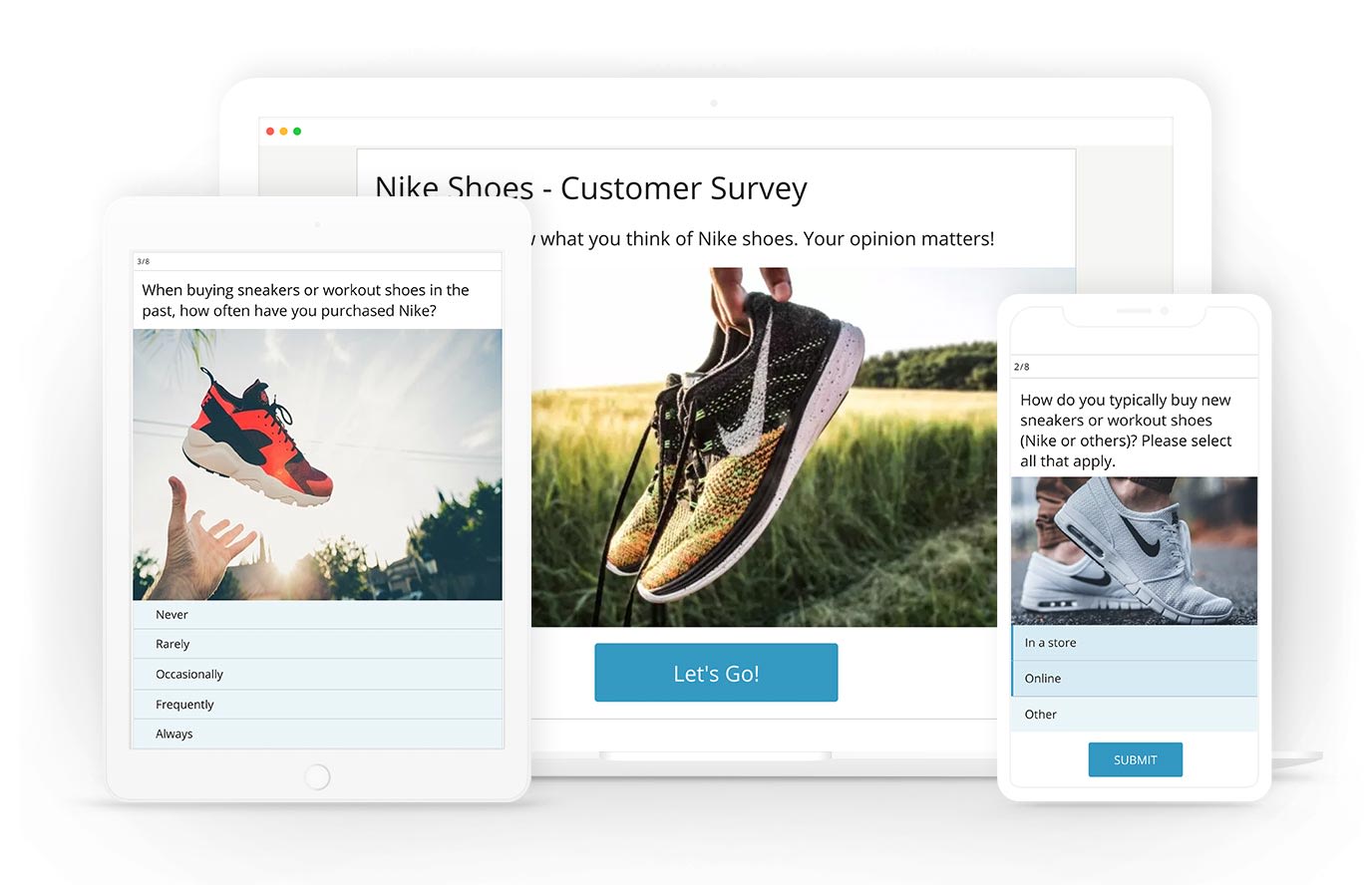 Responsive & Mobile Optimized Survey Maker
A fully responsive design verifies the online questionnaire performs & looks great on all types of devices, including mobile, tablets, laptops & desktops. In addition, the surveys are optimized for fast loading on slower network connections to verify participation rates are maximized in all environments. Images are optimized for the device and network to verify they both load fast and look great.
Get Email Notifications on Submissions
Get real-time emails notifications each time a user submits a survey. Notifications include all the information gathered in the survey including meta data and contact information. This will let you quickly followup with users in case you want to ask them additional questions based on their answers.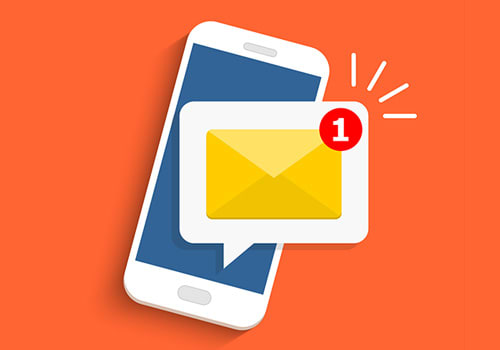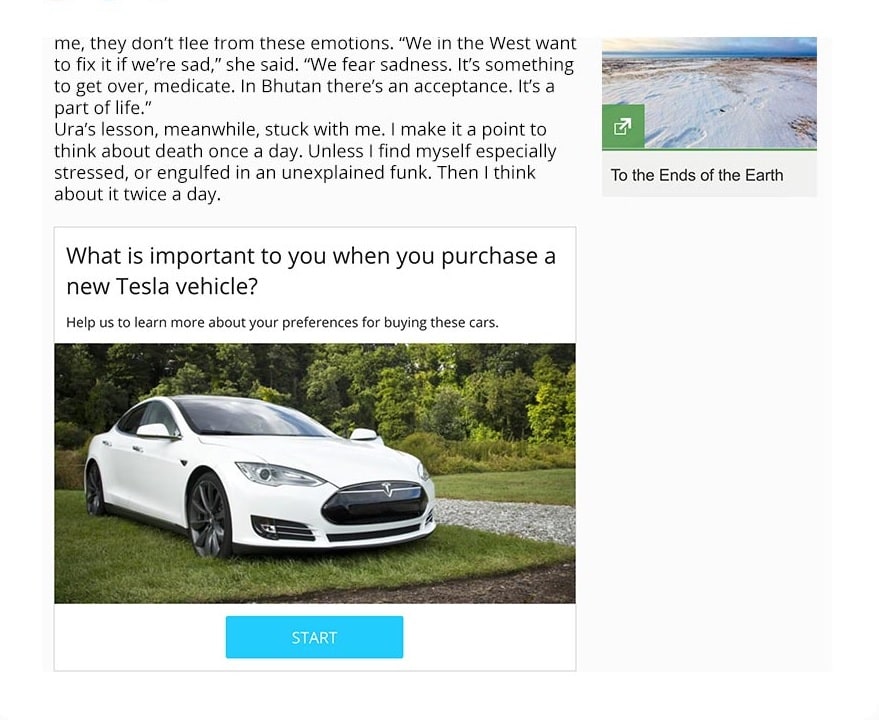 Embed Anywhere or Use our Landing Pages
The surveys or questionnaires can be embedded on any content management system or HTML web page. Opinion Stage free survey maker supports different types of embeds and integrations – javascript, iframe, placements, plugins and more. In case you don't own a website or prefer your brand to stay anonymous, you can run the survey from an optimized landing page on the Opinion Stage site. For more detail on embedding on popular site builders refer to WordPress Survey Plugin, Squarespace Survey, Survey on Wix, Shopify Survey, and Weebly Survey.
Secure and Private Survey
The Survey and submitted data is stored on secure Amazon AWS servers in the cloud. All data is encrypted in transit. We follow industry security and privacy standards to verify the data is not compromised. Regular security assessments and audits are performed to verify your data is secure. Top organizations and publishers trust Opinion Stage with their surveys and data. For more details, refer to our privacy policy.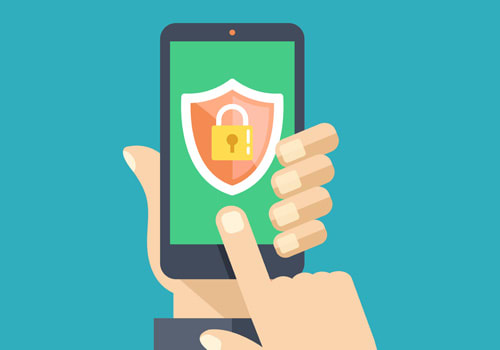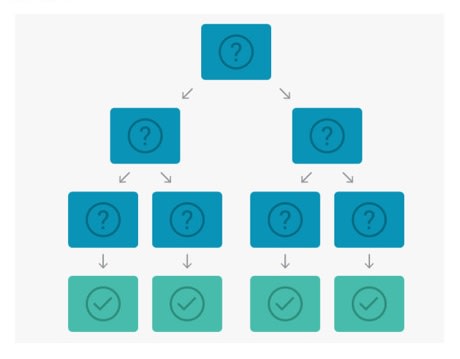 Survey Skip / Branch Logic
Use branch logic (aka skip logic) to ask different follow-up questions based on answers to the previous question. Make your survey questions personalized and relevant to each survey participant. Verify the data you gather with your survey is of high quality, by asking only the relevant questions. You can also qualify the users that answer the online survey to verify only qualified respondents are included in your research.
Gather Contact Information
Gather contact details of the users that participated in the survey or questionnaire by integrating a lead form inside the survey. The lead form can include different types of fields and any number of fields that you like. You can use this contact info to conduct follow up research based on the survey answers.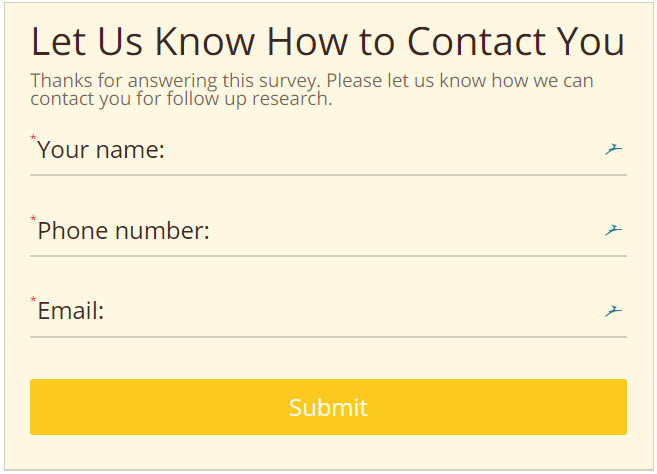 How to Make a Survey in 4 Steps
It takes minutes to get up and going with a fully configured survey
1. Add Survey Questions & Closings
You can create a survey from scratch or based on one of the hundreds of optimized survey templates. Add the survey questions using the different question types (e.g. closed questions, open questions, etc). Configure one or more closings.
2. Configure the Survey Settings
Configure the survey using dozens of features including skip logic, email notifications on submissions, the option to integrate a contact form in the survey, block repeat voting, call to action at the end of the survey and many more.
3. Customize the Survey Maker
You can customize every aspect of the survey look & feel including colors, fonts and sizes. Select one of the pre-configured themes or create your own theme using CSS override. white label your survey and add your own logo.
4. Share the Survey
Share the quiz with your email list or social followers by sending them a link to the survey landing page. If you own a website, add the survey to your site in a single page, a section on your site or in an exit/enter popup.
Recommendations for Maximizing the Survey Response Rate
Following are some recommendations that will help you create more effective surveys that get a higher response rate.
1. Keep it Short
The more questions you will add to your survey, the fewer answers you will get. Verify that you only include questions that are mandatory for getting the insights you need.
2. Make it Easy
When formulating your questions verify that they are easy to answer and that the easier questions are displayed at the beginning of the survey. Whenever possible use simple/easy language in the question and make it as short as possible. Verify that the answers don't overlap and that there aren't missing options.
3. Make it visual
Including images/videos inside your survey will make it much more engaging and therefore you will get a higher participation rate. Match the visuals with the question context to make the question more clear and exact. You can use our internal image search function to easily find images that fit. For more details, refer to this article on images in Opinion Stage items.
4. Personalize the Survey
Personalize your survey so that different users get different questions based on their previous answers. You can achieve that using our skip logic feature, that let's you verify users only get only the quesions relevant to them. Using skip logic, you can also qualify the users so that only information from relevant users is gathered.
Hundreds of Integrations
---
Send your email leads to mailchimp, sync responses with google sheet. Get it all done automatically.








Loved By Our Customers
---
Hundreds of customers gave us 5 star reviews

Was easy to get up-and-going, had all the features I needed with very good support. What I liked most is that the surveys got amazing response rates due to their interactive nature and the fact that they are visually beautiful with images and videos. That's what makes this service so unique. 5 stars!

Moti Radomski
VP Product, Kenshoo


This professional looking plug-in provides us with the opportunity to create surveys, quizzes and add them to our webpage in just a few minutes. One can, as well, add images and videos to increase engagement. The interface to create surveys and quizzes are really user-friendly.

Eran Issler
CIO at OncoHost

I enjoy the features, functionality and great customer support, as well as the helpful tutorials. I love that it is an interactive tool and can really make customers a part of the experience.

Iris Morales
Founder IM Innovations Inc.
Ready To Start?
Get Started with a top rated free survey maker