Use an Online Voting Tool that's Easy, Fast & Secure
Create an online vote using an online voting tool full of features and customization options. Get up and going with the Opinion Stage voting app in seconds.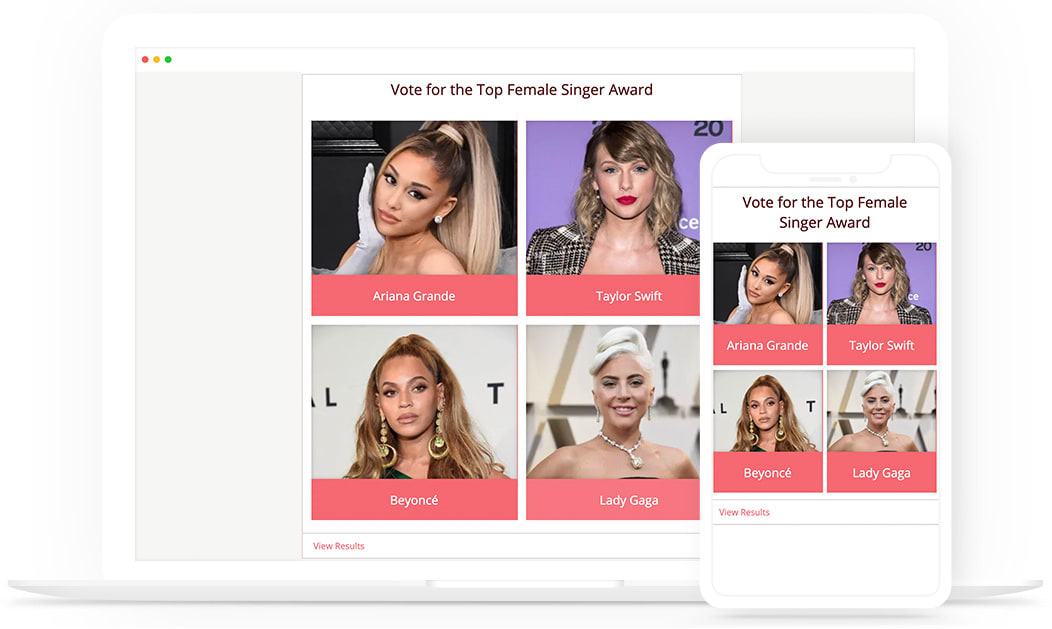 Why Our Online Voting Tool Stands Out
Discover why top publishers, brands and organizations select the Opinion Stage voting app
Maximize Number of Votes
The Opinion Stage online voting system is designed to be highly engaging and easy to vote in. This is done by adopting the interface to the device from which it is loaded, supporting the integration of media (images, video), allowing users to optionally view what others voted and more engagement related features.
Easy to Create
Opinion Stage Online Voting Tool was designed to make it super simple to create online votes. While the voting app includes dozens of advanced features and configurations to help you get the perfect voting configuration, it takes literally seconds to get up and going with the basic features. Opinion Stage offers various templates to help you get up and going even faster.
Embed Anywhere or Use Our Landing Pages
Easily embed the voting widget on any content management system or Web page using the embed option of your choice. Opinion Stage supports iframe & javascript embeds, placements, a WordPress plugin, a chrome extension, and more. In case you do not have a website, you can also use the online voting tool landing page on the Opinion Stage site that is optimized for online voting scenarios.
Vote From Anywhere
Users can vote from any device – desktop, laptop, tablet, or mobile. The voting widget follows responsive design principles and is specially optimized for mobile voting. The voting service verifies that an economic version (smaller images, etc) of the widget is sent to mobile devices to verify the widget loads super fast.
Advanced Voting App Reporting
Track the voting in real-time from an advanced voting app reporting dashboard. You can see how many users saw the poll, how many of them voted, and the aggregated breakdown of votes. You can also see a response report that lets you see all individual votes with metadata (e.g. voting time, etc). Lastly, you can also export all the data to the XLS/CSV file for advanced analysis.
Gather Contact Information
Add a contact form to the voting poll to gather contact information from the voters and associate it with their vote. The contact form is fully customizable so that you can add to it any field you need (e.g. name, email, phone, etc). The contact form is displayed just after the vote and you can configure it to allow viewing the result only to users that leave their contact details.
Online Voting System that Includes All the Features You Need
The Opinion Stage online voting tool is packed with advanced features. You can configure to close the poll automatically at a predefined time, you can configure to display a message with a call to action after the vote, you can configure if users can see the results before they vote after they vote or not at all. You can let users vote on one answer or multiple answers, redirect users to different landing pages based on what they voted for, configure the result format, and more.
Beautiful Designed Voting App
Run your vote with a beautifully designed online voting app. Integrate an image or a video to make it stand out and add value or context to the vote.
Customize the Online Voting Tool Interface
You can customize every aspect of the online voting system design. Select the colors, sizes, and fonts. Use the CSS override feature to fully match the look and feel of the interface to your brand and site. White label the poll and add your own logo to make it your own.
Top Performance for High Volume Voting
The voting widget is located on multiple secure Amazon AWS servers that are geographically set apart to verify both high availability and speedy performance. The service is designed to accept very high loads of voting. The service is also constantly monitored with professional tools to verify there are no performance issues. With billions of votes gathered with our voting tools, you are in good hands.
Sharing Features
In some scenarios, you may want to keep your poll private only for a selected group of users, but publishers and brands that use online voting as a marketing and distribution method want the vote to be shared as much as possible. Opinion Stage includes various social network integrations including the option to share the poll in all popular social networks, to customize the social shares, to integrate Facebook comments, to get users following your social handle, and more.
Block Repeat Voting Mechanisms
Opinion Stage offers multiple mechanisms to block repeat voting. You can block multiple votes based on cookie & IP. You can also require a social profile (e.g. Facebook, Google, Twitter) to vote. In addition, the system has various script detection mechanisms to block cheat voting. Finally, you can track the responses to detect irregular voting patterns.
Hundreds of Integrations
---
Send your email leads to mailchimp, sync responses with google sheet. Get it all done automatically.








Loved By Our Customers
---
Our Customers Gave Us Hundreds Of 5 Star Reviews

I highly recommend Opinion Stage as they offer a fantastic product with exceptional support. Whenever I required additional help, they listened to my needs and promptly replied with a solution. Thank You.

Scott Percival
Ensite


In love with Opinion Stage. What I like most about Opinion Stage is definitely The Polls! I use them all the time and try to implement them to my content whenever I can. I simply love it and will keep using it for sure.

Stephanie P
G2Crowd

An Amazing platform for polling needs. A great all around package. After checking all the alternatives overall there's no better option. The UI design is sleek and customer support is great, quick to reply and super helpful.

Alex F.
G2Crowd
Ready To Get Started?
Create your online vote with a professional comprehensive online voting tool