A Poll Maker that's Fast, Easy to Use & Customizable
Create polls that perform great & look fantastic with a top-notch poll maker. Boost engagement, get insights, gather leads, and more. It takes seconds to start.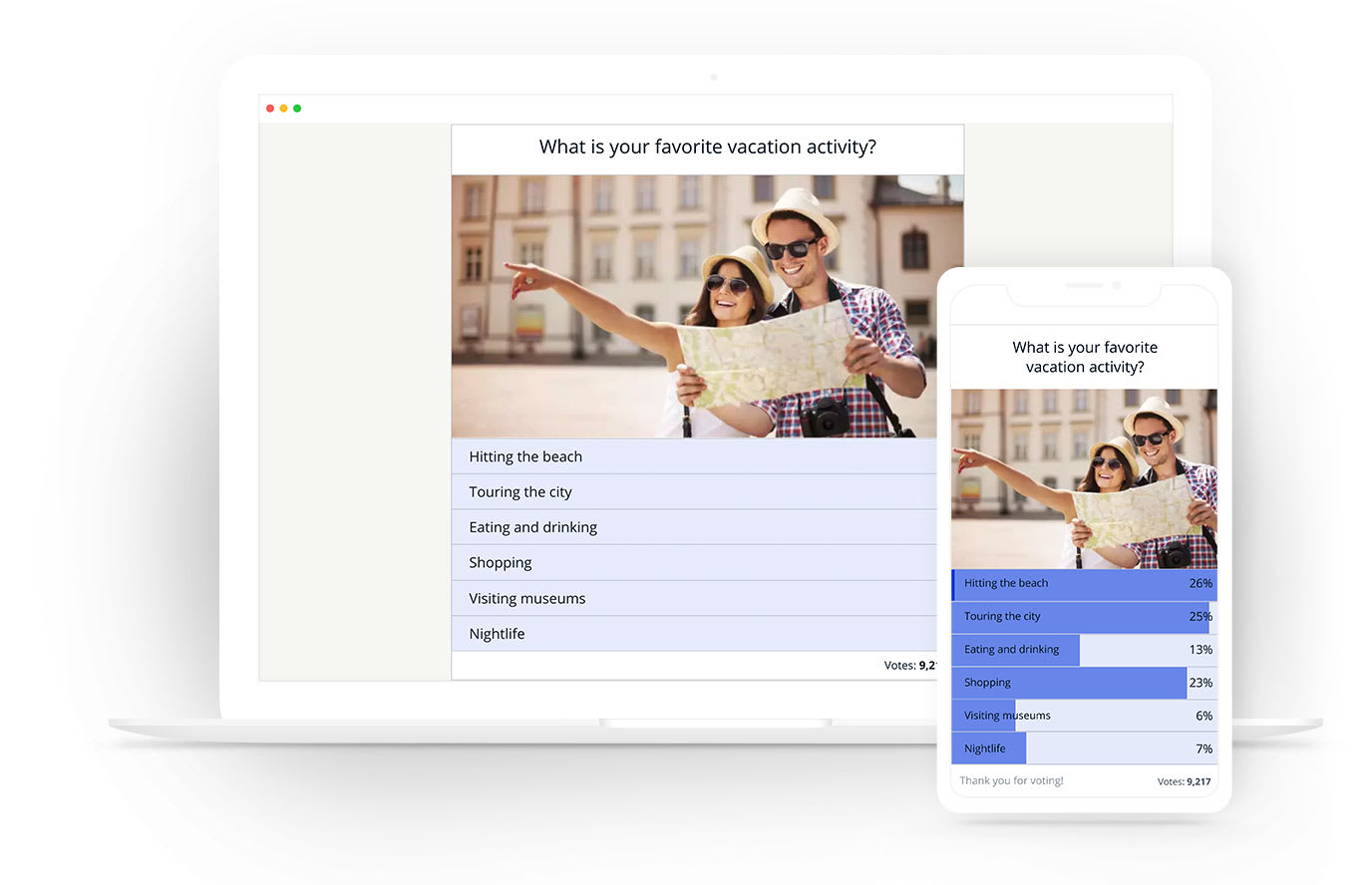 Why our Poll Maker Stands Out?
The top reasons why our online poll creator stands out
Maximize Participation
Select an online polling tool that was designed for maximizing engagement and participation. Get higher engagement levels with an interactive, visual, and mobile-friendly design. In addition, you can get it viral in social networks by using built-in social sharing features.
Easy & Fast to Create
It will take you seconds to get up and running with a fully functional poll. Start from scratch or use one of our optimized templates. For more details, refer to this video tutorial.
All the Features You Need
The online poll maker is designed to make it super easy to quickly get started with the basic features. However, it is also designed for advanced needs. For more advanced usage scenarios, the poll creator is packed with advanced features. Examples include automatic closing, configuring who can view results, allowing users to suggest their own answers, integrating a lead form, redirecting on the vote, and dozens more!
Customize Look & Feel
Customize your poll so that it perfectly matches your site and brand. You can select between different color themes, fonts, and sizes. You can also use custom CSS to change every design aspect. White label and add your own logo to make it seem as if you built it in-house.
Advanced Reporting
Get detailed reports on all aspects of the results & performance. The reports include a summary report with performance data, a result report that details how voters answered each question, a response report that displays all the vote data including metadata such as timestamps. In case of need, you can also export all the information to a CSV/XLS file for advanced analysis.
Social Sharing
In some cases, you want to keep the voting private and share it only with relevant voters. But often, publishers and brands often use online polls as a marketing and distribution method. For these cases, Opinion Stage includes various social network integrations to promote sharing. These features include a sharing bar, the ability to customize the social shares, a Facebook commenting integrations, features to prompt users to follow your social handles, and more. For details instructions, refer to these sharing tutorials: Sharing Polls on Facebook, Sharing on Twitter and Sharing on Instagram.
Beautifully Designed
Use our visually appealing designs & templates to create beautiful polls that people love to vote on. Select between multiple layouts. Beautiful design results in higher participation rates and strengthen your brand perception.
Fully Responsive & Mobile-Optimized
Fully responsive design verifies that your poll functions & looks great on all types of devices, from small mobile devices to large desktop screens. The polls are also optimized to work fast on mobile and slower network connections to verify participation rates and completion rates are maximized. The images are optimized for quick delivery based on the device.
Embed Anywhere or Run from Our Landing Page
The widget can be embedded in any content management system or any HTML web page. Different types of codes are supported – Javascript, iFrame, placements, native WordPress, and more. In case you do not own a website, you can run the web polls from an optimized landing page on the Opinion Stage site. Following are tutorials for embedding the poll on popular site builders: WordPress, Squarespace, Wix, Shopify, and Weebly.
Block Repeat Voting
The service supports a few mechanisms to prevent repeat or cheat voting. These include a browser cookie-based mechanism, a device IP based mechanism, and a mode in which users can only vote using their social profile (e.g. Facebook, Twitter, Google). In addition, the service includes a script voting detection mechanism. You can also export all the voting information to a CSV/Xls file to identify irregular voting patterns. Although anonymous voting can't prevent repeat voting in 100% of the cases, all these mechanisms combined provide a strong line of defense even for anonymous scenarios. Make the voting non-anonymous by requiring users to enter their name, email, phone, or a voting code in order to vote.
High Volume Poll Voting
Opinion Stage polling app is designed to work at top performance in scenarios of high load voting. The voting widgets and data are stored on multiple Amazon AWS servers that are located in different geographic locations. This verifies both high availability and top performance. The service is constantly monitored with professional tracking tools to verify there aren't any performance issues with the voting. With billions of votes gathered over the years, you can feel safe letting us handle your high volume needs.
How The Poll Maker is Used By Our Customers
Following are the most common use cases that our customers use our poll builder
Boost Engagement
Publishers use opinion polls to boost engagement and involvement on their sites. Users love to participate and share their opinions on topics they care about. Users tend to spend a lot of time voting and discovering what other viewers voted for and what the majority thinks. Use a poll tool that is built with engagement in mind.
Gather Leads
Brands & publishers can generate high-quality leads by integrating a lead form. The lead form is presented after voting and before viewing the result. You can configure that voters can only see the results if they submit their contact information. This method of lead generation results with up to 500% more leads when compared to using static forms. The leads are also highly qualified as the contact info is associated with the vote answer.
Quick Feedback & Insights
Polls are a great way to get instant feedback on any topic or service/product. Due to the ease of creation, you can get a lot of valuable insights without much effort.
Contests & Competitions
Create highly engaging and accountable contests or competitions. The voting poll maker includes all the features you need such as contest focused layouts, block cheat voting mechanisms, social sharing integrations, random display of answers, and more. Use our tool to create a viral contest or competition that stands out.
Generating Ad Revenue
Generate ad revenue by integrating ads in the interface. These integrated ads get higher CTR rates and as a result, produce up to 5 times more revenue. Add a poll to each of your articles to increase your ad revenue.
Segmentation and Re-marketing
You can use the polling software to segment your audience and then re-market to them. For example, if you are selling a product/service, you could ask users what their budget is for buying that service/product. Based on what the user answers, you can then send them deals (via email or via re-marketing based on pixels) that cater to their budget and will therefore maximize the chances of a sale/conversion.
How to Make a Poll
How to create a poll in 4 simple steps
1. Ask a Question and add Answers
In the creation form, add a question and then add answers. You can select between different answer layouts and integrate images/videos. Need more than 1 question? Create a Survey.
2. Configure Settings
Review the dozens of settings and customization options, and set/configure the ones relevant to you. Settings include blocking repeat voting, customizing the look & feel, randomizing the questions, and many more.
3. Add a Lead Form (optional)
Polls can be used to generate qualified leads, by requiring users to fill lead form in order to vote. The lead form is displayed after the user votes and before the result is displayed.
4. Share Your Poll
After creating and configuring the poll, click the "Embed & Share" button to embed it on your site or/and send it to your social channels and email lists. Configure how it is shared to maximize click-through rates.
HUNDREDS OF INTEGRATIONS
---
Send your email leads to mailchimp, sync responses with google sheet. Get it all done automatically.








LOVED BY OUR CUSTOMERS
---
Our Customers Gave Us Hundreds Of 5 Star Reviews

In love with Opinion Stage. What I like most about Opinion Stage is definitely The Polls! I use them all the time and try to implement them to my content whenever I can. I simply love it and will keep using it for sure.

Stephanie P.
G2Crowd


An Amazing platform for polling needs. A great all around package. After checking all the alternatives overall it's the best option. The UI design is sleek and customer support is great, quick to reply and super helpful.

Alex F.
G2Crowd

Awesome & Dynamic Software with amazing Support Staff. It is very powerful but easy to use. You can tell a lot of work went into it to accomplish that. I am so glad I found this one. And the service.jeez…

Chel B.
G2Crowd
Ready To Start?
Get started with a comprehensive & top rated online poll maker. It takes seconds to get up-and-going!