A Poll Maker That's Fast, Easy to Use & Customizable
Create polls that perform great and look fantastic with a top-notch poll maker. Boost engagement, get insights, gather leads, and more. It takes seconds to start.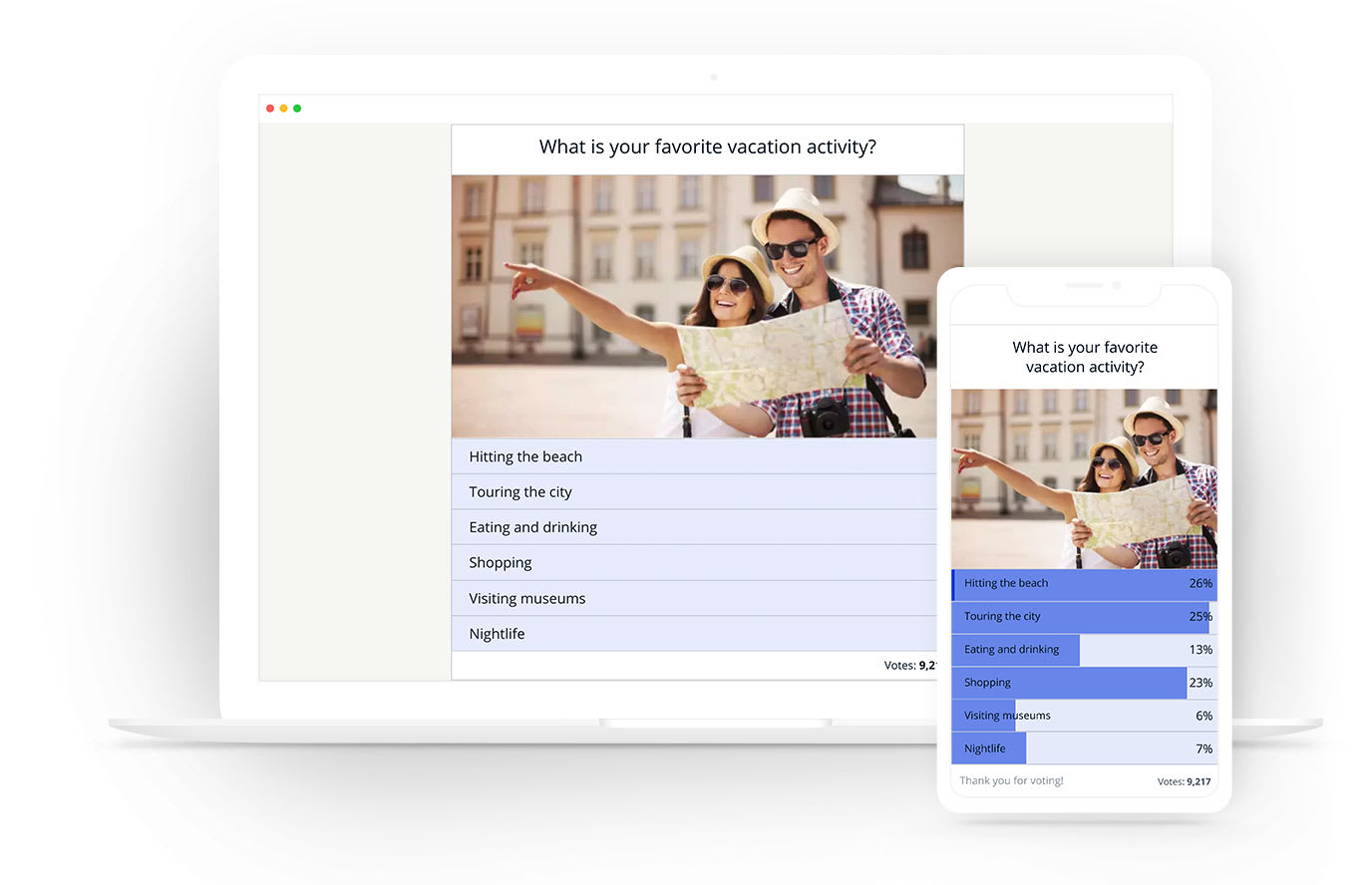 Why Our Poll Maker Stands Out
Polls built with the Opinion Stage poll creator are highly effective and extra engaging. This is why:
Maximum Participation
Our online polling tool is designed to maximize engagement and participation. Increase engagement levels with interactive, visual, and mobile-friendly design. And make it go viral by using built-in social sharing features.
Easy & Fast to Create
Our online poll creator makes it super easy to build a quick poll that includes all the basic features you need. It takes seconds to set up and publish a fully functional poll. Start from scratch or use one of our optimized poll templates. For more details, refer to this video tutorial.
All the Features You Need
The Opinion Stage poll maker is packed with advanced features for different use cases. You can set automatic poll deadlines or decide whether and when voters see the results. You can also integrate a lead form or redirect your voters to any webpage after they vote. These are just a few examples, there are dozens of features you can use to optimize your quiz for your audience and goals.
Customizable Look & Feel
Design your poll so that it perfectly matches your site and brand. Choose between different color themes, fonts, and sizes. Or use custom CSS to change every design aspect. White label and add your own logo to make it seem as if you built it in-house.
Advanced Reporting
Get detailed visual data on all aspects of your poll. Reports include a summary report that covers performance, exposure, and engagement, a result report that details how voters answered each question, and a response report that displays extensive voting data including metadata such as timestamps. You can also export all the information to a CSV/XLS file for advanced analysis.
Social Sharing
Sometimes you want to keep the voting private and share it only with relevant voters. But often, publishers and brands use online polls as a marketing method. For these cases, Opinion Stage offers various social network integrations built to promote sharing. These include share buttons, social share customizations, Facebook commenting integrations, features that prompt users to follow your social handles, and more. For detailed instructions, refer to these tutorials: How to create a poll on Facebook, Twitter poll, and Instagram poll.
Beautifully Designed
Use our visually appealing designs and templates to create eye-catching polls that people love to participate in. You can select between multiple layouts and color themes, and add images or videos to any type of poll you build. Beautiful design results in higher participation rates and strengthens your brand perception.
Fully Responsive & Mobile-Optimized
Our poll maker lets you poll everywhere and anywhere using a fully responsive design. We make sure that all poll functions perform optimally on all types of devices, from small mobile phones to large desktop screens. All polls, images, and buttons are optimized for speedy upload and quick delivery on every device, even on slower network connections. The emphasis we put on responsiveness promises maximum participation and completion rates.
Embed Anywhere or Run From Our Landing Page
Embed your poll in any content management system or HTML webpage. We support different types of code including Javascript, iFrame, placements, and native WordPress. If you don't own a website, you can run your polls from an optimized landing page on the Opinion Stage site. The following tutorials will help you embed your poll on any website. Take a couple of minutes to learn how to create a Squarespace poll, Wix poll, Shopify poll, and Weebly poll, or use the Opinion Stage WordPress poll plugin.
Block Duplicate Votes
When your goal is data-collection, the accuracy and reliability of your poll are vital to its success. That's why we've installed multiple features that prevent repeat or cheat voting. These include a browser cookie-based mechanism, a script voting detection mechanism, and a device IP-based mechanism. You can also export all the voting information to a CSV/Xls file to identify irregular voting patterns. All these mechanisms combined provide a strong line of defense even for anonymous polls. If your poll is not anonymous, you can require participants to vote using a social profile (e.g. Facebook, Twitter, Google), contact details, or voting code in order to further increase its reliability and validity.
High Volume Poll Voting
The Opinion Stage polling app is designed for top performance in high-load voting scenarios. The voting widgets and data are stored on multiple Amazon AWS servers that are located in different geographic locations. This verifies both high availability and excellent performance. We constantly monitor our service with professional tracking tools to make sure there are no performance issues. With billions of votes gathered over the years, you can feel safe letting us handle your poll vote traffic.
How Our Customers Use Our Poll Maker
Our customers use our poll builder to grow their business, connect with audiences, research their ecosystem, and more.
Here are some of the most popular use cases.
Boost Engagement
Publishers use opinion polls to boost engagement on their sites. People love to participate and share their opinions on topics they care about. They tend to spend a lot of time voting and discovering how others voted. Our poll tool is built with engagement in mind.
Gather Leads
Brands and publishers generate many high-quality leads by integrating a lead form in their poll. Present the lead form to poll participants immediately after they vote, and ask them to submit their contact info in order to view the results. This lead generation method results in up to 500% more leads than static forms. Since the contact info is associated with the voters' answers, these leads are also highly qualified.
Quick Feedback & Insights
Many of our customers use polls to collect valuable insights quickly and effortlessly. Polls are a great way to get instant feedback on any topic, service, or product. They require minimum effort from your audience and provide direct, specific, and reliable information. All you need to figure out is what to ask. The next steps of building and sharing the poll are super easy.
Contests, Votes & Competitions
Educators and marketers use our poll maker to create accountable viral contests and competitions that stand out. The voting poll maker includes all the features you need to design a challenging and engaging poll in minutes. These include contest-focused layouts, cheat-vote blocking mechanisms, social sharing integrations, random answer displays, and more.
Generating Ad Revenue
Advertisers and marketers generate ad revenue by integrating ads in the interface of their poll. These integrated ads get higher CTR rates and as a result, produce up to 5 times more revenue. Add a poll to each of your articles to increase your ad revenue.
Segmentation and Re-marketing
Many organizations use our polling software to segment their audience and then re-market to them. For example, if you sell sporting equipment, you could ask participants what their sports budget is. Based on their answers you could then send them relevant offers via email or pixel-based retargeting. By increasing the relevance of your offer you can maximize the chances of a sale/conversion.
How to Make a Poll In 10 Simple Steps
Creating a poll is easy. Follow these simple steps and your poll will be up and running in no time.
1. Set Your Objective
Before you start the actual poll building process it's important to understand exactly what you wish to achieve. This will influence the question you ask, your answer options, as well as your design, settings, and sharing strategy.
2. Define Your Target Audience
After you know what you want to achieve, take a moment to define whom you would like to engage. Defining your audience will help you shape the look and feel of your poll. It will also help you decide where to share it for the best results.
3. Ask a Question
Once you know what your focus is, open the creation form and add your question. Your poll question should be short, clear, and interesting. You want to catch your audience's attention, pique their curiosity, and make sure they understand exactly what you want to know at first glance. You can also add a short description if you need to provide some context or background information. If you find you have more than one question to ask you may want to create a survey instead.
4. Add Answer Options
Now it's time to add in your answers. There are different answer layouts to choose from. You could go for a multiple image layout if you have four answers or a head-to-head layout if there are only two. If you want to offer several answer options you could select the standard or thumbnail list form. We highly recommend integrating images or videos to draw more attention to your poll and increase engagement. If this serves your purpose, consider letting voters add their own answers.
5. Configure Settings
Review the dozens of settings and customization options, and configure the ones that are relevant to your objectives. You could block repeat voting, set a deadline, customize the look and feel, randomize the answers, redirect to a certain web page, and more.
6. Add a Lead Form
Use your poll to generate qualified leads, by requiring users to fill in their contact details to see the results. Simply go to the 'collect leads' section, configure the fields that are relevant to you, and you're done. If you like, you can save your lead form for future polls, integrate it with Mailchimp or Hubspot, and receive email notifications whenever new leads come in.
7. Share Your Poll
That's it! Your poll is officially ready. The next step is to click on 'publish' and go to 'embed & share', where you will see all the different sharing options you can choose from. You could embed it on your site, share it on any of your social channels, or send it to your email lists.
8. Examine the Results
Once you share your poll, the responses will start pouring in. Go to the 'results' tab to see how your poll is performing. Your dashboard will include data about views, engagement, leads, timestamps, and of course different visual displays of the votes.
9. Optimize Your Poll
Depending on your performance reports, you may want to refine the question, add an answer option, change an image or the layout, tweak your lead form, etc. No problem, simply go back to 'edit poll' and make any changes you like.
10. Repurpose the Results
Consider using the valuable information and insights you collected with your poll to create a great piece of content. Us humans, we're curious creatures and we're always happy to learn more about what other people think.
Hundreds of Integrations
---
Send your email leads to Mailchimp, sync responses with Google Sheets. Get it all done automatically.








Loved By Our Customers
---
Our Customers Gave Us Hundreds Of 5 Star Reviews

In love with Opinion Stage. What I like most about Opinion Stage is definitely The Polls! I use them all the time and try to implement them to my content whenever I can. I simply love it and will keep using it for sure.

Stephanie P.
G2Crowd


An Amazing platform for polling needs. A great all around package. After checking all the alternatives overall it's the best option. The UI design is sleek and customer support is great, quick to reply and super helpful.

Alex F.
G2Crowd

Awesome & Dynamic Software with amazing Support Staff. It is very powerful but easy to use. You can tell a lot of work went into it to accomplish that. I am so glad I found this one. And the service.jeez…

Chel B.
G2Crowd
Ready To Start?
Get started with a comprehensive & top rated online poll maker. It takes seconds to get up-and-going!