A Quiz Maker That's Fast, Easy to Use & Customizable
Create stunning & high-performing quizzes with a top-notch quiz maker. Make quizzes that people love to complete & share. It takes minutes to get up-and-going.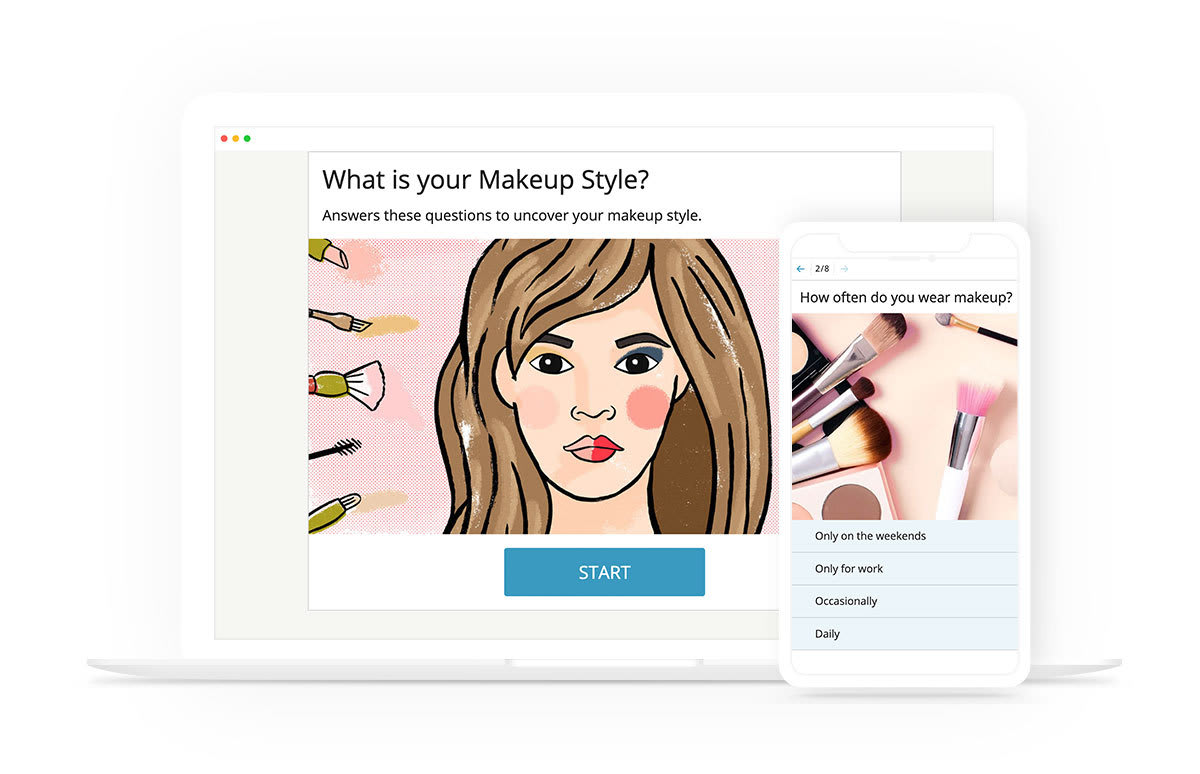 Why Our Quiz Maker Stands Out
Here are the top 15 reasons quizzes created with our online quiz maker work so well:
Fantastic Engagement
Quizzes created with our quiz builder get fantastic engagement rates across a wide variety of topics. It's easy when your content is so interactive, beautifully designed, optimized for all platforms, and super quick to load. You can reach participation rates that are higher than 80% and completion rates that exceed 90%. Get more responses from your audience with Opinion Stage quizzes!
Many Quizzes, Formats & Features
Create personality quizzes, trivia quizzes, true or false quizzes, yes/no quizzes, scored quizzes, multiple choice quizzes, knowledge tests, and more. Choose between a variety of formats for every question: standard text, single or multiple image layouts, you can even add videos if you like. Opinion Stage helps you customize your online quizzes so that they best suit your needs, question types, and users.
Easy & Fast to Create
Make a quiz quickly and easily with our user-friendly tools and templates. Whether you're making trivia or personality quizzes, Opinion Stage offers many templates for you to choose from. Each template answers a different need using a suitable layout, configurations, images, and of course questions. It takes minutes to create a fully functional quiz based on a template. You can change every aspect of it before publishing – text, images, logic, and more. All our quiz templates are optimized for conversion and guarantee great results.
Advanced Reporting Options
Get detailed performance and result reports. Our performance reports show how many times users viewed, started, and completed your quiz. You can also see where exactly people dropped off and how long they stayed. Result reports offer visual segmentation of each answer, in a pie chart, bar chart, and in table form. Use this information to perfect your content, engage your audience, and share results.
Seamless Integration With Marketing Automation
Connect the Opinion Stage quiz maker to your CRM, email, or marketing automation system to collect answers, submissions, email addresses, and user details in real-time. Use our native integrations (Mailchimp, Hubspot, and more), custom webhook solutions, API, or Zapier integrations to collect qualified leads generated by your customized quizzes.
Beautiful Designs & Templates
Create beautiful inviting quizzes that stand out and engage. Great-looking quizzes increase participation and social sharing, reduce drop-offs, and make your brand shine. Our system supports a variety of layouts and lets you easily integrate eye-catching visuals. We also have hundreds of examples and templates you can use and get inspired by.
Customize Look & Feel
Fully customize your quiz so that it perfectly matches your site and brand. Simply choose the theme, font, letter size, and text color, or use custom CSS to change any design aspect. White label your quiz and add your logo to make it look as if you developed it in-house.
Fully Responsive & Mobile-Optimized
Our fully responsive design ensures that all types of quizzes perform and look great on all devices, from small mobile phones to large desktop screens. Your quizzes are automatically optimized to load fast on all networks. We store multiple versions of each image in order to serve your quiz takers the best version for their network connection and device.
Drive Traffic From Social
Quizzes are among the most shared online content. The Opinion Stage online quiz maker integrates with popular social networks and includes features that promote social sharing. Maximize shares by configuring the right cover text and image, adding social share buttons, and encouraging your audience to follow your social handles. Check out our instructions on sharing a quiz on Facebook, Twitter, Instagram, and Whatsapp.
Email Notification on Each Submission
Receive real-time email notifications whenever a user submits a quiz. Get the details and metadata of each submission including answers, results, lead information, and timestamp straight to your inbox. This will give you the opportunity to follow up with your quiz takers and optimize your questions as responses start pouring in.
Embed Anywhere or Share From Our Landing Page
Invite your audience to interact with your content anytime and anywhere. Opinion Stage quizzes can be embedded on any content management system (CMS) or HTML web page. We support different types of embeds, including Javascript, iframe, placement, custom embed configurations, and more. If you don't own a site, you can share your quiz from an optimized landing page on the Opinion Stage site. Take a few minutes to learn how to embed your quiz on WordPress, Squarespace, Wix, Shopify, or Weebly.
Secure & Private
When using Opinion Stage you can be sure that your data is safely stored on secure Amazon AWS servers. All data transit is done over HTTPS. We follow industry-standard security and privacy guidelines and do regular assessments to verify your data is secure and safe. Top organizations and publishers trust us with their quizzes. For more details, refer to our privacy policy.
Top Performance
We take care of all performance issues so that you can focus on creating the best quizzes for your users. Our system adapts the display of your content and uses multiple geographically-separate servers to make sure your quiz loads super fast regardless of geographic location or device type. Opinion Stage performs comprehensive real-time monitoring to ensure the best service at all times.
Export Responses to XLS/CSV
The Opinion Stage dashboard includes a lot of data, views, and segmentations. However, sometimes you need more. In these cases, you can easily export responses and metadata to an excel or CSV file. All you need to do is select the date range and the email you would like the report to be sent to.
Skip Logic
Skip logic, also known as branch logic, lets you send different users to different questions, based on their response to a previous question. This allows you to give each quiz taker a personalized experience based on their choices, preferences, and demographics. Skip logic can also help you qualify and segment users when your goal is lead generation or sales promotion.
How Our Customers Use the Opinion Stage Online Quiz Maker
Quizzes are a great type of interactive content, and there are many ways to use them.
Here are some examples that are popular among our longtime users.
Increase Engagement & Traffic
Quizzes, especially personality quizzes, tend to get a lot of social shares, which makes them a great way to drive new traffic to your site. In addition, publishers and brands often use them to keep their audience engaged on their site for an extended period of time. It's a great way to get new people to your site and keep them around for longer.
Generate Qualified Leads
You can generate high-quality leads by integrating a lead form in your quiz. This lead generation method results in up to 500% more leads than static forms do. The leads you gather are also highly qualified because the contact info is associated with the user's answers. Brands and publishers often use this method to increase the number and quality of their leads and grow their different email lists.
Run Assessments & Tests
Educators and corporate trainers often use quizzes as online assessments and tests. They're super easy to create and distribute via web or email, and students can fill them out from any device – desktop, tablet, or mobile. Result analysis is also very simple and accessible with the Opinion Stage dashboard. When needed, you can even export the results for advanced analysis using your 3rd party tool of choice.
Boost Brand Awareness
Brands use quizzes to delight their audience with content that is engaging, personalized, and fun to consume. The quizzes can be designed to fully match the look & feel of your brand. You can also integrate banners that feature your services and products. It's a great way to create memorable content that strengthens brand perception and awareness.
Enrich Corporate Training
Organizations of all sizes use quizzes as an experiential learning tool in workplace training programs. By answering a series of questions, participants can assess their own knowledge and discover the correct answers to questions they got wrong. Corporate trainers can get a quick read on what their students learned from the course and what they should focus on in future classes. Oftentimes, surveys are also used to gather actionable feedback from employees on the effectiveness of the training program. Check out our survey builder and survey templates to see how.
Create a Product/Service Finder
Quizzes are a great way to lead users to the products, services, or tools that suit them best. Use a quiz to ask them about their preferences, requirements, and demographics. Based on their answers you can determine what to offer them. You can decide whether to display this conclusion within the quiz or automatically redirect your users to the purchase page on your site. A product/service finder is a great way to inform potential customers and interact with them before you even meet them or get on a call.
Host a Competition
Many of our clients use quizzes to tap into the competitive nature that so many of us share. For example, a culinary equipment business could create a trivia quiz about cooking where participants compete for a great product that the business wishes to promote. One could add a time limit to make the competition even more exciting. And, of course, participants would be asked to leave their contact info so that they can be informed of their potential winnings. Trivia competitions usually generate a lot of buzz and traffic to your site.
Grow Ad Revenue
We've already established that quizzes have fantastic engagement rates. That's why publishers often choose to integrate ads in and around their quizzes. The results are not surprising: click-through-rates (CTR) on quiz-integrated ads are much higher than the CTR on ads integrated with static content. This is a great way to boost ad revenue.
How to Make a Quiz in Ten Simple Steps
Here's a quick step-by-step guide to help you make the ultimate quiz with the Opinion Stage quiz maker
1. Set a Goal
Before building a quiz, think about what you want to achieve with it. Do you want to educate your audience, create a buzz, or draw attention to a certain product range? Refining your goal will help you choose the right type of quiz for your needs.
2. Consider Your Audience
Once you know what you want to achieve, turn your attention to your audience. What types of content, images, questions, and information will entertain them and give them value? Tapping into your audience's interests will help you engage them.
3. Choose a Quiz Type
Select the quiz type that suits your goals. For example, if you want to help your audience choose the best product for their needs, use a personality quiz to build a product finder. But, if you want to teach your audience about your field of expertise, a trivia quiz that displays correct answers in real-time is the way to go.
4. Focus on the Cover
Open the online quiz maker and start building! Begin by writing an inviting title and short intro. Follow up with an eye-catching image, and don't forget to configure an enticing call to action. The cover is probably the most important slide in your quiz, it's the entrance gate. As such, its quality and accuracy will highly influence engagement and participation rates.
5. Configure the Outcomes
If you're making a personality quiz, the next step will be defining all the possible outcomes your audience could reach. This is a great opportunity to show your respondents that you get them. Written and designed correctly, outcomes can be powerful and insightful. Add a title, description, image, and call to action to each outcome. Consider using it to direct respondents to further reading or to relevant pages on your site.
6. Write Your Questions
Engaging questions are easy to understand and interesting to answer. Make your questions and answer choices even more engaging by adding images or videos that amplify their meaning. If you're building a trivia quiz consider adding explanations that will be displayed upon answer selection. If you're making a personality quiz remember to associate each answer with the relevant outcome. Don't ask too many questions. The sweet spot is usually between 7-15 questions. Otherwise, users are likely to drop off before the end.
7. Configure Settings
Once you're done with the questions, it's time to configure the settings. Add a lead form and/or social sharing buttons. Set the right look & feel by choosing a font and color theme. You can also use more advanced features to make your quiz feel personal like skip logic, which allows you to set different question paths based on your users' answers. Or add a timer to increase the tension of your trivia competition.
8. Embed & Share
After creating and configuring your quiz, go back to step 1 and 2 and decide where you want to share and display it based on your goals and potential audiences. Then simply click the "Embed & Share" button to add it to your site, share it on any social network, or send it to your email lists. If your site is built on WordPress you can also work directly with the Opinion Stage plugin.
9. Keep an Eye on Your Dashboard
Once you're live, answers will start flowing in giving you the opportunity to analyze user behavior, including results, engagement, time on page, and drop-offs. This will give you a chance to fine-tune your quiz to further increase engagement. Your dashboard is also a great source for new content. Check out the different segmentations, you may discover an interesting trend or two. Think about sharing some insights with your team and audience based on the responses you received.
10. Optimize User Experience
Here are a few recommendations to keep in mind when finalizing your quiz. Make it beautiful, good images will keep your audience engaged. Keep it simple, use language that's easy to understand, and ask only the important questions. Build your question path gradually, starting with the easy questions and moving on to the more challenging ones. Finally, be friendly. Use positive, empowering, and humorous language that will make your users feel good.
HUNDREDS OF INTEGRATIONS
---
Send your email leads to Mailchimp, sync responses with Google Sheet. Get it all done automatically.








LOVED BY OUR CUSTOMERS
---
Our Customers Gave Us Hundreds Of 5 Star Reviews

Great all around package, we've been using it for about a year. After checking all the alternatives there's no better option. The UI design is sleek and it adapts well to embed in our website. The features are everything we need. Customer support is great, quick to reply and super helpful.

Alex F.
G2Crowd


This excellent software allows you to make anything from bespoke polls to quizzes, in seconds amending them just as quickly. The results look excellent on and add enormous value to your site.

Jim O.
G2Crowd

Opinion Stage is easy to use and is a great alternative to BuzzFeed for businesses looking for a way to engage their customers. There are plenty of options for personalization and implementation.

Haromny W.
G2Crowd
Ready To Start?
Get Started with a top-rated online quiz maker