A Fast Form Maker that gets you 3x More Submissions
Get more responses using a top-performing online form maker. Get up-and-going with a fully functional and customized form in minutes.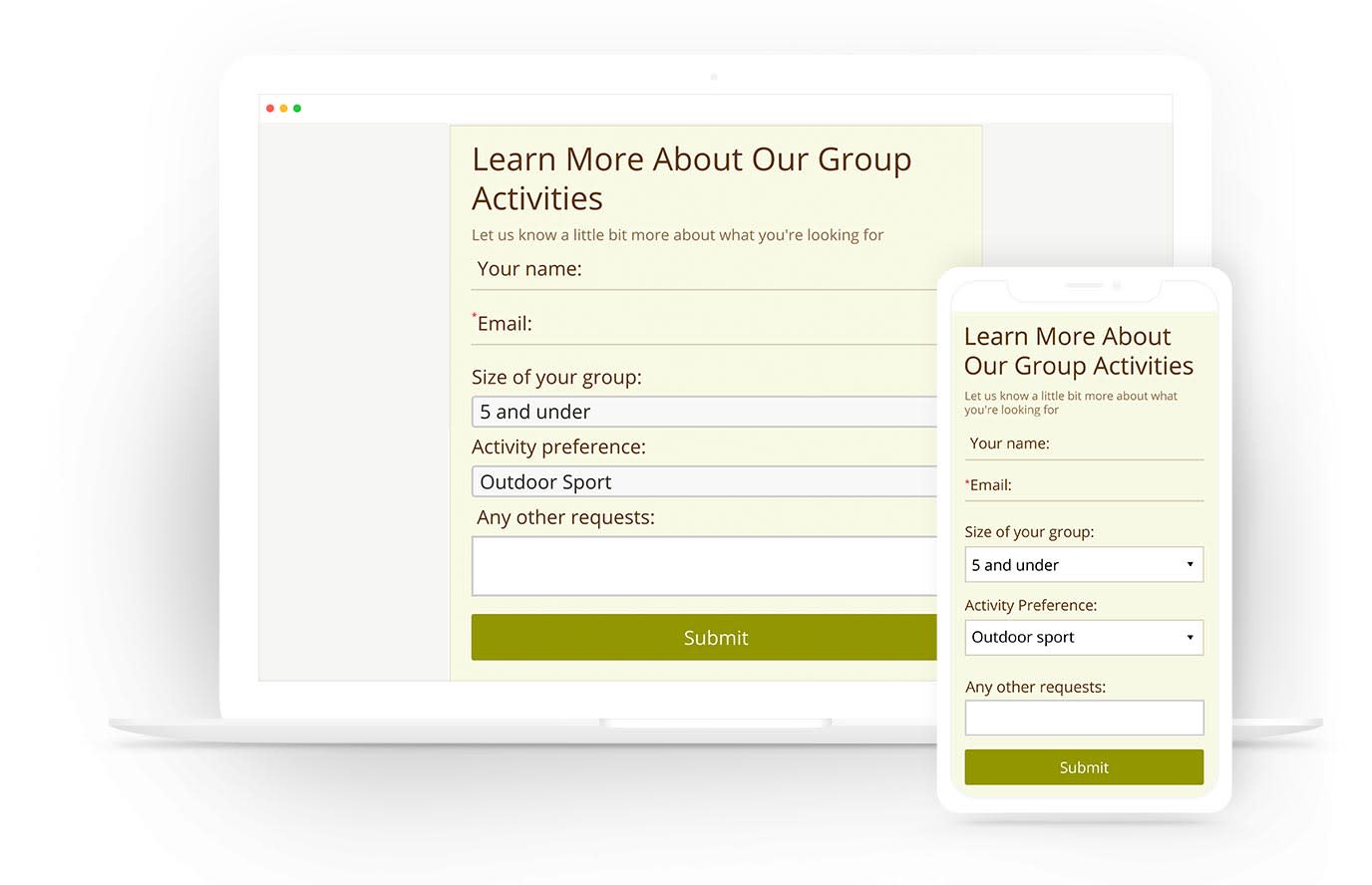 Why Use Our Online Form Maker?
The top reasons why our form maker stands out
Great Conversion Rates
Use an online form builder that is optimized for conversion and for gathering high-quality data. This is done by optimizing both features and design for maximum conversion and data quality.
Supports Both Standard & Interactive Forms
You can create a standard form in which all the questions/fields are displayed on one page. Alternatively, you can create an interactive form in which the questions are displayed one after the other. Select the form type that fits your scenario.
Add Questions to Qualify Leads
Generate qualified leads by integrating a lead form inside a quiz. In this case, the answers to the questions will be associated with the contact information you gather in the lead form. Not only will you get more leads in this way, but you will also get highly qualified leads.
Beautiful Designed Form
Use our built-in visually appealing themes to create beautiful forms that stand out. An appealing design not only helps strengthen your brand perception but also results in higher conversion rates.
Easy & Fast to Create
Build forms either from scratch using intuitive creation forms or from a large list of conversion-optimized form templates. Using templates is a guaranteed way to bring great results. It takes seconds to create a fully functional form using a template. You can then make all the changes you like (texts, colors, fonts, etc) before publishing.
Fully Customize Your Form
Fully customize the form so that it optimally matches your brand. The form maker includes a library of ready-made themes. You can select the colors, sizes, and fonts of the form. Use custom CSS to change every design aspect of the form. White label the form and add your own logo.
Embed Anywhere or Run from Our Landing Page
Forms can be added to any web page or content management system. Supported embed types include javascript, iframe, placement, plugins. We also offer custom embeds when required. In case you do not have a site, you can run the form from an optimized landing page on the Opinion Stage site.
Fully Responsive & Mobile Optimized Form
Responsive design verifies that your form looks & performs great on all device sizes and types. The forms are built for fast loading on mobile and on slower network connections to maximize participation rates.
Advanced Form Maker Reporting
Get detailed reports on the form performance & results. Reports Include a summary report, a responses report and more, You can also export all the report information to an xls/csv file for advanced analysis.
Secure Form Maker
The data submitted in the form is stored on secure AWS Amazon servers. All data submission is encrypted in transit (e.g HTTPS). Industry privacy and security standards are applied to verify your data is safe with us. At any time, you can download or remove the data from our servers.
Get Notified by Email on Submissions
Get notified after each form submission by email in real-time. Notifications include all the form fields, metadata, and answers to qualification questions in case the form is integrated into a quiz or poll.
Hundreds of Integrations
---
Send your email leads to mailchimp, sync responses with google sheet. Get it all done automatically.








Loved By Our Customers
---
Our Customers Gave Us Hundreds Of 5 Star Reviews

Overall experience was great, a solid program and the best form company we have used to date. Pros: The Clean professional look of the templates, customization options and the fact that it integrate seamless with the website.

Rob J.
Capterra


This excellent software allows you to make anything from bespoke polls to quizzes, in seconds – and amend them just as quickly. The results look excellent on the page and they can add enormous value to your site.

Jim O.
G2Crowd

I love this plugin. It helps you to create fantastic looking Quizzes, Polls, Surveys and Slide Shows. It is very easy to use, and for ideas or just a starting point, many templates will help you out. So far what I have seen and tested, this plugin really stands out from its competitors and I am amazed by the results

Charles Vanveen
WordPress
Ready To Start?
Get Started with a top-rated online form maker