Follow these 4 steps to create a poll on Facebook
1) Create a Facebook poll using the poll creation form
2) Locate the poll  in the dashboard
3) Click "Embed & Share" button, and then the "Link" tab
4) Copy the link and paste it into your personal or business Facebook Feed
You're done!

Here's an example of how a Poll created using OpinionStage looks like: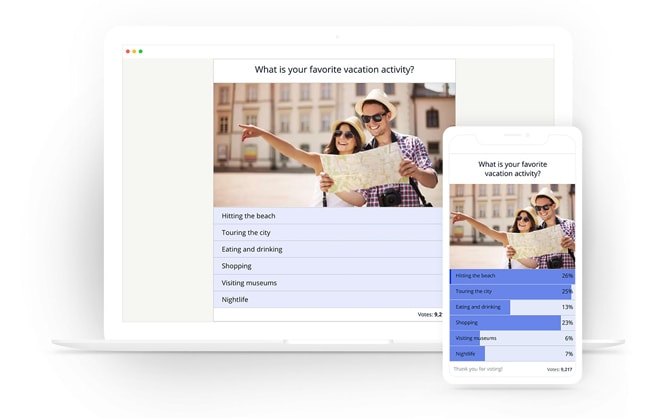 Want to view live examples of polls? Visit our Poll Examples & Templates
Benefits of Using Facebook Polls
Facebook Polls are crafted for improved interactive social media experiences. Brands and publishers use polls on Facebook for many different reasons such as improving their direct user engagement, better understanding their audience, giving their audience a voice, and more. We have listed below the major benefits of using polls:
Get Direct Customer Feedback
Before the arrival of social platforms like Facebook, where companies could directly engage with their consumers, there used to be other social listening tools that were paid and relied on general survey methods to get consumer feedback. Such practices were often under the authenticity radar due to a lack of customer verification for specific products or services. With Facebook, companies can now directly engage with their consumer base and get honest feedback that can help them improve their products or service offerings. 
Better Understand Your Customer
Facebook polls act offer a perfect way to poll your customers in a natural and casual way. Get insights on what your customers think and want. For example, publishers can use polls to understand which topics they should write about. Brands can learn what their users are looking for and why they would prefer one product over another.
Gather Leads
Polls offer a great way to get qualified leads. This can be done by integrating a lead form inside the poll. Users that vote, will be requested to enter the contact information before viewing the results of the poll. This method works great since users are involved in the poll content and are curious to discover the poll results. It is recommended to add further incentive to leave contact information such as getting valuable periodic emails or getting the poll results emailed to you.
Generate Content Through Polls
Facebook polls give you direct insight into what consumers think about your products and service offerings and about topics related to your business in general. Based on the poll responses, you can make your case studies or blog post more insightful and compelling as they are based on real customer data. 
Boost Your Social Traffic
Creating a poll on Facebook is an excellent way to improve your social engagement. It is a proven marketing tool that can boost your traffic on other channels, too, like blogs or product pages. Some users also share your poll on their own Facebook profiles that result in increased engagement scores for your page. 
According to a report that sheds light on how the Facebook algorithm works, the decision to show a post to most users depends on its engagement value. When users engage with a post like a poll, the Facebook algorithm deems it important as the engagement level on polls is higher than a generic post or media shared on your page or timeline. This results in increased social traffic for you.
Segment your audience
Polls offer an easy way to segment your audience and remarket based on the poll answers. For example, if you offer multiple products, you can ask your users what products they are interested in the most. You can then follow up with different offers to different users.
Create a Sales Funnel
Polls can be used to create a buyer funnel. You could ask your users questions and based on the answers redirect them to different products or services. Create different URL's that focus on different offerings and then redirect users to the relevant URL based on their poll answers.
Community Build-up
Facebook polls are a great way to build up your community on Facebook. Polls spark lively communication between users on your page about your services and products or about topics your page or group focuses on. 
How to Improve Participation in Facebook Polls
There are several ways to enhance the participation metrics on your page: 
Ask Questions with an Edge
Try to ask questions that are controversial or humoristic or have an edge in some other ways. "Edgy" questions tend to get more responses and more social shares.
Post During Peak Traffic Times
Posting your polls when your audience is most active on the platform will improve the chances of participation. You can find the peak timings in your page insights. 
Respond Promptly
Track the polls you post and respond to the results and comments users add to them. This will fuel the conversation around the poll and improve participation. 
Offer a Giveaway
You may want to build a campaign around polls. A typical way of doing that is by offering a prize or voucher for a selected amount of poll participants. Another option is to run contests between members of your Facebook community. This method will not only boost the engagement of your poll but will also attract new users to your page. 
Make their Participation Matter
People tend to participate if they know they can influence or make a difference. Communicate to your users that their poll participation matters and that you will make decisions based on the poll results. For example, if you develop a software product, you could ask your users what features to develop next and make it clear that their answers will affect your product development roadmap.
How to add a Poll to a Facebook page
There are a lot of good reasons to prefer embedding your poll on a page on your site or on an optimized opinion stage landing page and then sharing it on your Facebook page or stream. The main ones being that your poll will be optimally displayed in all platforms (desktop, mobile, etc) and the fact that you can fully control the text & design surroundings of the poll. However, in some cases you may prefer adding the poll directly to your Facebook page and directing your users from the Facebook stream to the page. To add a poll to a Facebook page, use the FREE Static HTML: iframe tabs Facebook application. After copying the poll embed code from the opinion stage dashboard, paste it into the Facebook page tab using the static HTML application.
Best Practices for Creating a Facebook Poll
Focus On Your Audience
Select a poll question that will build interest in your voters. Think about topics they care about or are curious to discover what other people think about.
Keep It Short & Clear
Keep the question and answers short and straightforward. The faster it is to comprehend your poll, the more responses you will get.
Make Poll Answers Distinct
Write answers that don't overlap so that it is easy for the user to answer the poll without hesitation. Adding distinct options will also ensure that you get better insights from the results.
Make it Easy to Answer
Verify that the user will always have an appropriate answer to select. If you can't cover all possible answers, then add an option for voters to add additional answers. It's is recommended that you don't automatically add these answers as they may be spam or duplicates. Review the suggested answers and decide if they should be added to the poll.
Block Repeat Participation… Or Not
In case you are using the poll to learn something, it is best to block repeat participation to verify the results are representative of your audience. On the other hand, if you are focused on engagement, you may want to allow your users to vote multiple times, preferably on a preset time interval (for example, they can vote once every hour or day).
Add Visuals
Adding images is a great way to engage and attract voters. A good image can dramatically increase participation rates in your poll. You can add an introduction image that is displayed just after the poll title and also images to each of the poll answers. Images can also add context to the questions and answers.
Display Results After Voting
One of the main motivations to participate in a poll is to discover what other voters think.  Take advantage of this motivation by displaying the poll results only after the user voted.