Follow these 4 steps to run a WhatsApp Poll:
1) Create a poll using the poll creation form
2) Locate the poll  in the dashboard
3) Click "Embed & Share" button, and then the "Link" tab
4) Copy the link and paste it into your WhatsApp channel
You're done!

Here's an example of a Poll created using OpinionStage –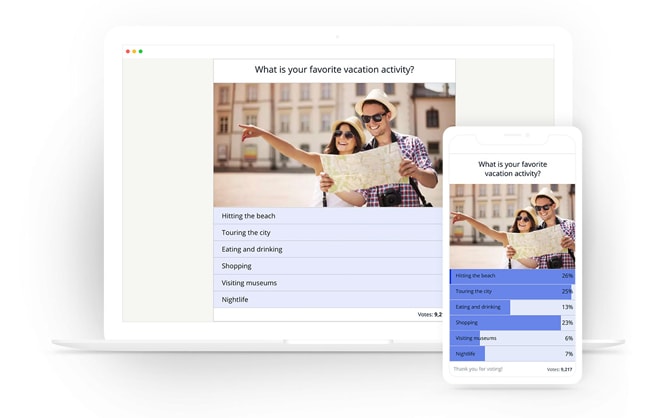 Best Practices While Creating a WhatsApp Poll
Focus on your Users
Think about who your audience is and what question would catch their attention.
Get them curious
Get them curious by requiring them to answer in order to see what other people voted.
Keep your WhatsApp poll short
Create polls that have a short title and short answers.
Make It Easy To Answer
Make it easy to find an answer that fits. Avoid overlapping answers. Allow users to suggest additional answers when relevant.
Make It Visually Appealing
Add images or a video to your WhatsApp poll to catch your audience's attention. Select an appealing poll theme to make it stand out.
Analyze Results
Use the analytics dashboard to analyze the number of responses, the response rate, and more so you can learn how to optimize your poll
Main Reasons to Create a Poll
Engage your audience
Polls are an easy, quick, and effective way to engage your Whatsapp audience. Uses love participating in polls to express their opinions, influence others, to learn what others think and more.
Gather feedback
Polls are a great way to gather quick feedback from your audience on your service, product, on the topic of the day, or any other topic for that matter.
Learn about your audience
Ask questions that help you understand who your audience is, what are their interests, and likes.
Gather leads
Integrate a contact form inside your poll for collecting leads. You can associate the parameters (e.g. name, email, phone, etc) you gathered with the answer of the poll. This lets you qualify the contact information you gather.
Community building
Running WhatsApp polls is a great way to build and engage your community. Run polls on a one-time basis or make it a regular thing (e.g the daily/weekly poll, etc)
Learn more about our Poll Maker