A Review Funnel That Gets More Positive Reviews
Create a top performing review funnel in minutes. Reach more people. Get better reviews. Collect insights from automatic reports that are easy to analyze. Smooth & secure access on any device.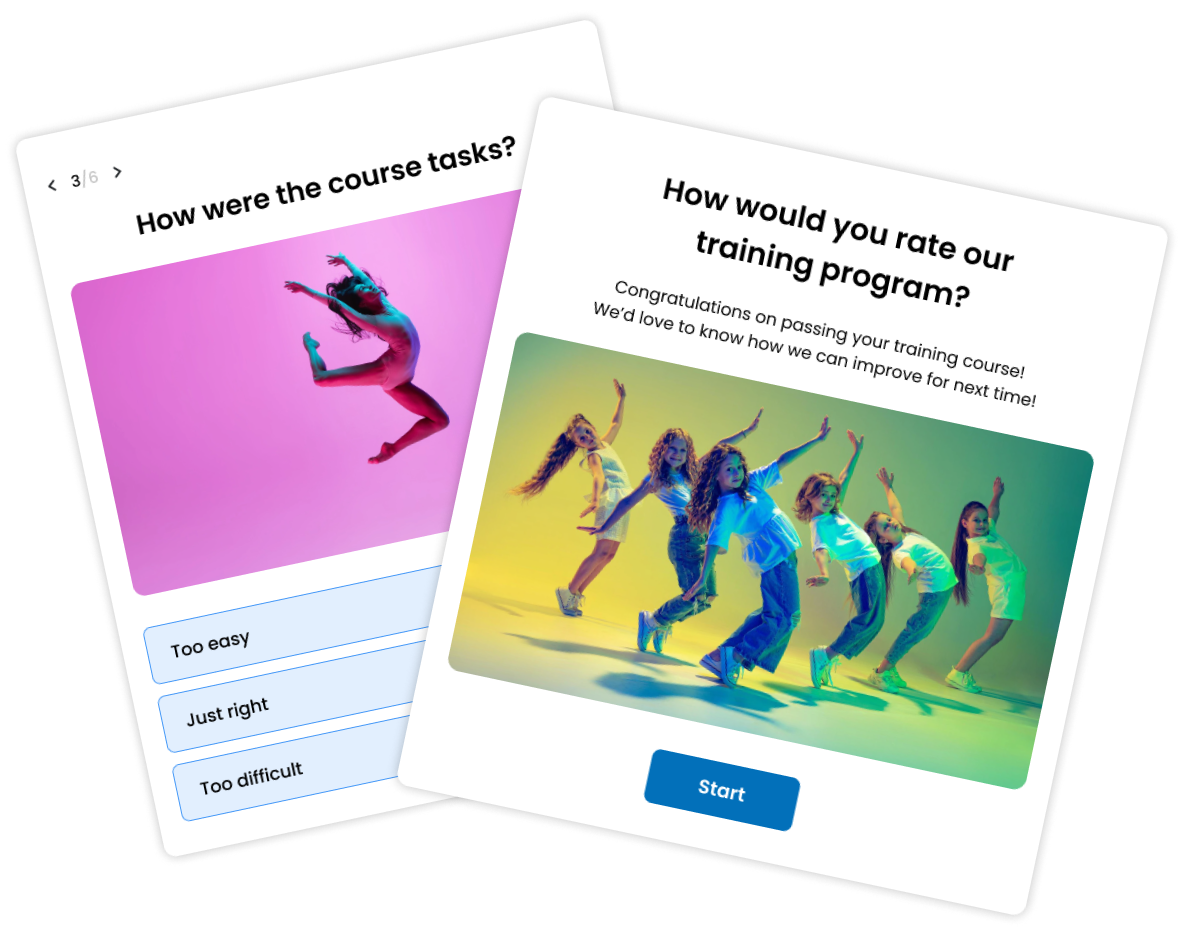 Trusted by 100,000+ customers across 190 countries
Make a Top Performing Review Funnel in 1 Minute
1. Create
Create a review funnel survey from scratch or use one of our templates.
Pro Tip: To encourage your audience to review, consider adding an incentive, such as a discount or a coupon.
3. Respond
Engage with your customers by responding to their reviews and feedback, showing appreciation for positive reviews, and addressing concerns quickly and professionally.
Why Your Business Needs a Review Funnel 
Use a simple review funnel to bring in more positive reviews, spread the word about your business, nurture customer relationships, and more.
Boost Your Social Media Presence
Get more people talking about your business by sharing your positive reviews on social media channels like Twitter, TikTok, Facebook, and Instagram.
You can also encourage your customers to post their reviews of your business on social media, which can increase your chances of going viral and attracting more followers.
Build Credibility & Trust
A review funnel is a powerful tool for building credibility and trust with your target audience. By collecting and showcasing authentic, positive reviews, you can demonstrate to potential customers that your business is trustworthy and reliable.
Each genuine review not only adds to your credibility, but also sparks interest and conversation. It's a snowball effect—the more positive reviews you receive the more it shows that people genuinely like what you offer.
Gain Valuable Insights
Review funnels give you valuable insights into your customers' experiences. Use this feedback to highlight areas for improvement, make informed decisions, and refine your products or services.
Prevent Negative Reviews
People tend to post negative reviews when they're disappointed and feel unheard. A review funnel gives you the chance to learn about their frustrations and respond to it – before they decide to make it public.
When you hear from your unhappy customers directly, this gives you a chance to answer them personally, show them that you care, and solve their problem. It's a great opportunity for you to salvage your relationship with the customer instead of losing it.
Improve SEO 
Review funnels can generate consistent positive reviews, which improve your rating and help you rank higher in Google search. Google also values recent reviews because it shows your business is active and consistently engaging with its audience.
Plus, many reviews have relevant keywords that people use to express their opinions, which can also give you a boost in Google search.
Stay Ahead of the Competition
Think of a review funnel as a spotlight on your commitment to customer satisfaction—it shows you care about making your customers happy.
It not only helps you stand out from competitors, but also sets the bar high in your industry, showing your proactive approach to delivering great experiences.
How to Create a Review Funnel in 3 Easy Steps 
Learn how you can create a review funnel in minutes using our user-friendly survey tool.
Make a plan
Start by deciding where you'd like customers to share their feedback. Do you want them to send you their reviews directly, so you can showcase them on your website or in your marketing content? Or is it better to guide them to review platforms like Yelp, Google, G2, Capterra, or Trustpilot?
Create your review funnel
You can use our intuitive survey tool to make a review funnel from scratch or choose from one of our survey templates. Add fun images, videos, GIFs, switch up the color themes, or upload your own custom CSS to change everything. 
Add skip logic to your survey to guide customers to appropriate actions. For example, customers that love your product are directed to a review request, while unhappy customers are directed to a feedback request. 
Send, embed, or share
Once you've created your review funnel, decide where and how you can share it with your audience.
Email: Send your review funnel via email by pasting the survey URL into the body of the email or create a visually appealing linkable image. You can also share it with your entire email list as part of a routine feedback request or in an automatic email after customers make a purchase.  
Website: Embed it on your website or run it from an optimized landing page on the Opinion Stage site.
Pro Tip: Before you share your review funnel survey, test it out with a small group first and ask for their feedback. This way you can fix any potential issues before you officially present it to your audience.
4 Ways to Encourage Your Audience to Review
To make a review funnel effective, you need reviews. Encourage customers to share their thoughts and get those reviews flowing in with our top tips.
Offer a Reward
People love a good incentive. Offer a small discount, a coupon, or a chance to win a prize for leaving a review. This helps motivate customers to take a few minutes and share their experience.
Make the Review Process Easy
It's important to keep the review process simple and hassle-free. Take a cue from platforms like Google and Facebook, who use straightforward star reviews and easy-to-answer questions.
Share on Social Media
Use the power of social media to encourage your audience to review.
Ask Questions: Start discussions related to your product or service on popular social media platforms and encourage users to share their experiences through your review funnel.
Run Review Contests: Create a review contest and entice participants with appealing prizes. As part of the contest entry, encourage your audience to leave reviews either through your review funnel or on popular review sites. You can also invite them to share your contest post with their friends to help you reach a wider audience.
Request Reviews via Email
You can add review requests to routine feedback emails or to your email signatures. Just remember, balance is key—avoid overwhelming requests for reviews to maintain a respectful approach, making sure that even your unhappy customers feel heard and valued.
Why Choose Opinion Stage for Your Review Funnel? 
Create a review funnel with Opinion Stage to collect customer reviews, reach a wider audience, and show people that you care.
Quick & Easy to Create
It takes only a minute to create a fully functional review funnel survey. Start from scratch or use one of our predesigned review funnel survey templates to save even more time.
All templates are fully optimized for maximum engagement and a friendly user experience.
Use the templates as-is or change anything you like. Switch up the images, text, CTA's, and more to match your brand's unique style.
Better Reviews
You can get more thoughtful and accurate reviews by making your review funnel fun, personal, and accessible.
Present one question at a time to reduce survey anxiety.
Add images for clarity and engagement.
Make it friendly and inviting by customizing all text fields, instructions, call-to-action buttons, and error messages.
Combine closed and open questions to let people express themselves without taking up too much of their time.
Easy to answer anytime and anywhere.
Faster Reviews
Our survey maker is designed to get you reviews quickly and easily.
Create your review funnel in no time by using our intuitive tools and rich template library.
Reach your audience wherever they are. Share your review funnel survey on any social media platform, website, or messaging app. It's as easy as copy and paste.
Your audience can take your survey on any device. Our review funnel surveys work great on all screens and perform well on any connection.
Build Relationships
Strengthen connections with your audience by responding quickly to their feedback and making your review funnel personal and customized.
Make it feel like a personal conversation by using skip logic and answer piping to automatically adjust follow-up questions based on previous answers.
Ask for people's emails by adding a lead form and send them tailored content based on their answers.
You'll get real-time email notifications for every submission, making it easy for you to address feedback, solve issues, and show your audience that you care.
Share Anywhere
Share your review funnel survey wherever your audience is. Add it to any page on your site or share it from an optimized landing page on our site. It only takes a couple of clicks.
Get your audience talking about your business by sharing a link to your review funnel on Instagram, Facebook, TikTok, Twitter, or any messaging app.
Interested in getting feedback about your products? Send your survey via email to your customers after they make a purchase.
Mobile First
All surveys created with Opinion Stage are fully responsive and mobile-friendly.
Your review funnel surveys will look great and perform smoothly on any screen – from desktop computers to mobile phones.
No matter how many images and videos you use, your survey will always load fast – even on slow internet connections.
Customize Everything
With our survey maker, you can create a beautiful review funnel in only a few clicks.
Choose different question types and answer layouts.
Switch up the color themes, question layouts, and fonts to make your review funnel shine and match perfectly with your brand.
White label your survey, add your own logo, and upload your own custom CSS to change any design element you want.
Advanced Reports
Keep track of your review funnel data in real-time using our detailed visual analytics reports. All reports are updated automatically and you can integrate them with your data collection or marketing automation systems. Export them to CSV/XLS files for deeper analysis.
Performance reports show you how people are responding to your review funnel and what you can do to improve and get even more responses.
Answer reports give you a visual snapshot of the answers to each question in pie charts and bar graphs.
Response reports offer a detailed table of all answers organized by answer and user.
Secure & GDPR Compliant
Any review funnel survey you collect with Opinion Stage is stored on secure Amazon AWS servers in the cloud. All your data is encrypted in transit and in rest.
We follow strict industry security and privacy standards to verify that your information is never compromised. To verify that your data is always secure, we perform regular security assessments and audits.
Refer to our privacy policy for more details.
FAQ
What is a review funnel?
A review funnel is a structured system designed to encourage customers to leave reviews about a product, service, or business. It guides customers through the review process, aiming to generate authentic and positive feedback.
Where can I find a review funnel template?
Opinion Stage's template library offers a wide range of optimized templates that make it easy to gather valuable feedback from your audience. Whether you're looking to create a simple review funnel or a more complex one, we've got you covered. Our templates are easy to use and set up, so you can start collecting reviews in no time.
What are the four stages of the marketing funnel? 
In marketing, the journey from prospect to customer is divided into four stages:
Awareness: Also known as the "top of the funnel," this is where potential customers become aware of your brand, product, or service. In this stage, marketing efforts focus on attracting attention and generating interest.
Consideration: In the "second stage", prospects actively explore and consider your offerings, looking for more information and evaluating whether it fits their needs.
Conversion: The "bottom of the funnel" is where the prospect decides to make a purchase decision. This stage focuses on providing the right incentives, offers, or messages to convert them into a customer.
Loyalty: After a successful purchase, the focus shifts to retaining the customer. Satisfied customers can become advocates for your brand, leading to referrals and further brand promotion.
What are feedback funnels?
Feedback funnels are like organized pathways for collecting thoughts from customers about your products or services. It's a way to listen to them, categorize their opinions, and use those insights to make your offerings even better. By understanding what customers like or dislike, you can fine-tune your products or services to ensure they match what your customers want.
How does a review funnel work?
A review funnel involves steps where customers are asked for their feedback—either through a survey or by directing them to review platforms. This straightforward method makes it easy for customers to share feedback, which, in turn, helps you collect more reviews.
Can any business use a review funnel?
Yes, many types of businesses, including retail stores, service providers, e-commerce platforms, content creators, and hospitality businesses, can use review funnels. Any business looking for customer feedback and aiming to improve their online reputation can use a review funnel.
What is social proof and how can I use it in my review funnel?
Social proof is displaying genuine online reviews from actual customers that have used your products or services. It's like saying, "Hey, look, others enjoyed it, so you might too."
You can use the power of social proof in your review funnel by posting positive reviews on social media. Sharing real testimonials from happy customers lets people see for themselves that your business consistently delivers good services. When potential clients see a stream of positive experiences, it builds trust that you'll deliver the same exceptional service to them too.
What is a sales funnel? 
A sales funnel is a roadmap that the potential customer takes from the first contact with your business to the finalized sale. It involves stages like awareness, interest, decision, and action, each aimed at guiding the individual towards making a purchase.
This is different from the marketing funnel, where you're trying to catch the attention of as many potential customers as possible and gradually leading them towards that final purchase.
Loved By Our Customers
Hundreds of customers gave us 5-star reviews
Best survey plugin I have ever used. It is user-friendly and it makes it super easy to create almost any kind of survey. I was really surprised when I first started it. Super helpful!
Alfonso Pacheco
A seamless platform for doing any kind of survey. The survey themes are good so it has a good look and feel. Seamless integration with other platforms.
Hitesh Dhingra
By using Opinion Stage, we have a user-friendly built-in system that allows us to get better responses. The product is so simple to use, that we've seen nearly a 50% increase in feedback submitted, which has been a tremendous help for my team!
Kari Gilbert