Personality Quiz Maker: How to Make a Personality Quiz
In this article, we'll explain the basics of personality quizzes and how to make your own personality quiz using the Opinion Stage personality quiz maker.

Consider this number - more than 75% of the quizzes created by brands, agencies, bloggers, & publishers are personality quizzes. Furthermore - more than 80% of users will engage with a personality quiz if it appears in their news feed. Personality tests are probably the most engaging type of content on the internet, especially when it comes to social media.

For example, if you were interested in health & lifestyle topics there is a very high chance that you will find the following quiz interesting and participate in it:
What is a Personality Quiz?


Personality quizzes comprise of a few questions, with answers usually in the form of multiple choices. The intention of such quizzes is to reveal something about people who take them. Unlike knowledge-based quizzes, personality quizzes do not have correct or incorrect answers. Instead, answers provided by people are used to arrive at results that are indicative of their personality, traits or preferences.


What are the different Kinds of Personality Quizzes?


Personality tests and quizzes come in different forms, and can be designed to suit different purposes. The serious kind, such as the popular Myers-Briggs assessment, offer insight into distinct personality traits, and these are typically backed with extensive research. Jung's character typology and the Dominant trait test are other examples of such personality tests. The popularity of the Myers-Briggs assessment is such that close to 90 of all Fortune 100 companies make use of it.

From the marketing perspective, personality quizzes tend to focus on the fun element. These quizzes are not limited to any particular kind of model, and you may adapt them to suit different styles, sensibilities, and outcomes. Examples of fun personality quizzes include, "What animal do you represent best,"  "What kind of a traveler are you," and "What kind of a foodie are you." Depending on the answers you get through a quiz based on food, you may recommend suitable restaurants.
How are Personality Quizzes Used?

Taking part in a personality quiz gives your readers great personal content experiences that revolve around their likes and dislikes. Most quizzes end up revealing surprising or interesting facts about participants' lives. The results, more often than not, are shared with their peers through different social networking channels. These quizzes, as a result, give you easy means to package your message in a way that work as an eye-opener for your readers. In addition, you may use results of these quizzes to get valuable target audience insight.


Marketers successfully use personality quizzes to:


1) Collect leads - Quizzes motivate people to give out personal information so they may find out the results. These leads are of high quality, as the gathered email is associated with the answers of the quiz taker.
2) Increase viral traffic - Since people very often post results of their quizzes on social media, it encourages others to participate and creates a viral loop.


3) Increase brand connect - Personality quizzes provide a direct and fun way for your target audience to connect with your brand. The connection increases further when the results of peoples' tests align their needs with your offerings.

What are the Basics of Creating a Personality Quiz

Just about every personality quiz has questions that are based on personalities, interests, and even product preferences. You may think of a personality quiz as a diagnostic test, where the goal is to help the reader arrive at an answer or a solution. Creating an effective personality quiz becomes considerably easy when you follow a step-by-step process.


1) Audience research - this will help you find a suitable subject and title.


2) Formulate a design - this includes the template and layout you plan to use for the quiz.


3) Create outcomes - creating outcomes for the quiz first makes it easy for you to formulate questions.


4) Create questions - keep the questions fun, with the aim of categorizing people differently.


5) Weigh every answer - every answer should strengthen one or more outcomes.


6) Launch & Promote - get your quiz out in the public domain by promoting it using your organic site traffic or/and social media & ad platforms such as Facebook, Twitter, Instagram, and LinkedIn.
How to Make a Personality Quiz?


Start by selecting the "Personality Quiz" option in the "Create New" button drop-down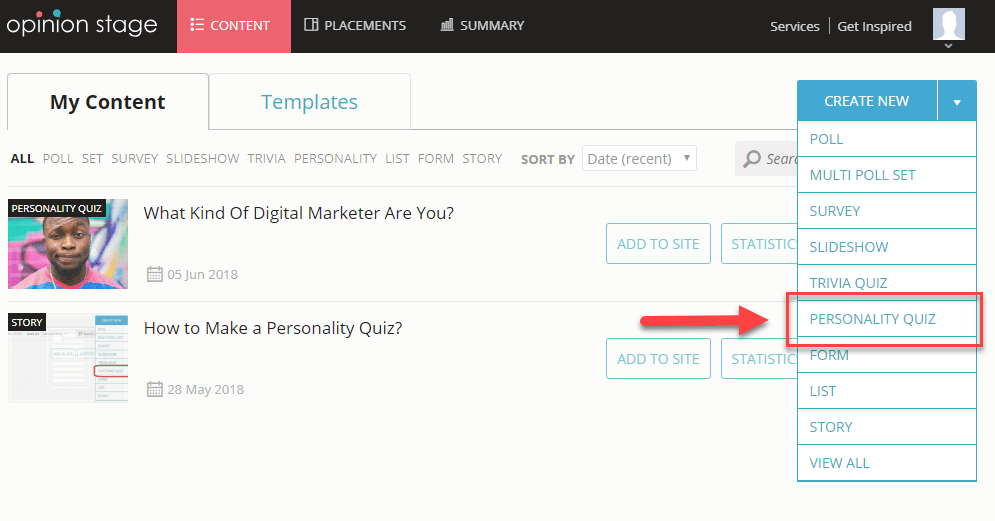 1) Add a title, a description, and a cover image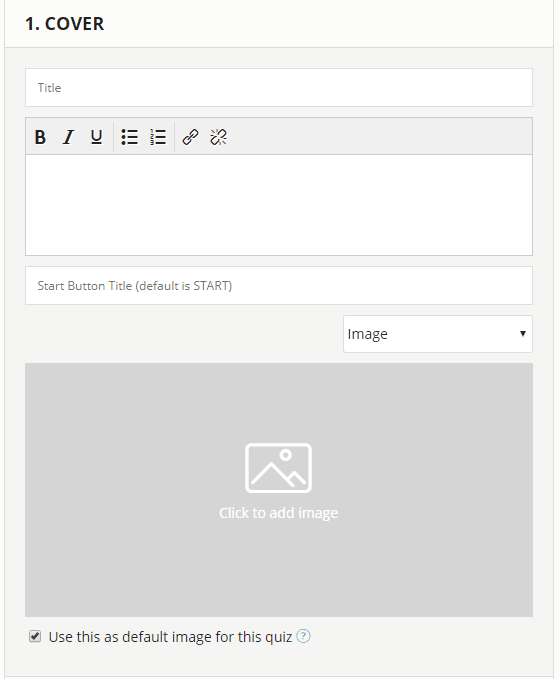 2) Set results, and choose from adding calls-to-action and redirecting readers to landing pages based on their outcome.
3) Determine if you wish to collect leads.
4) Add questions and their answers, preferably with images. Ensure that you associate the answers with the results of the quiz in the right manner.
5) Save the draft and preview the quiz.
6) If you're happy with how your quiz looks, click on "Publish," and you're personality quiz is good to go.
How to Craft Outcomes


It is best to create outcomes before you get to formulating questions and their possible answers. Ideally, the outcome of a personality quiz should have an effect similar to that of a joke's punch line.  What this basically means is that the result a participant gets to view should be memorable and short, while giving the individual a positive feeling, no matter what the outcome.
If you feel that any particular outcome is not positive or encouraging enough, consider adding a warm and fuzzy feeling to it. By giving all the outcomes of your personality quiz a touch of positivity, you increase the likelihood of people sharing their results with others. If you look at the more popular personality quizzes online, you will notice the positive messaging their outcomes deliver.


How to Associating Answers with Outcomes


While each question should have at least two answers, keep the maximum to four or five so creating the quiz remains simple. Answers can come in the form of text or images or a combination of both. You then need to associate the answers with the outcomes, ranging from a scale of zero to four. While zero represents no association, four stands for a strong connection.


Take this example into consideration. There's a quiz that asks, "What type of weather are you?" The outcomes include:


1) You're as delicious as sunshine


2) You're as refreshing as rain


3) You're the wind that braces people up


4) You're as exhilarating as the snow

The first question of the quiz is, "What is your favorite flower?" The answers include tulips, gladiolus, asters, and violas, each distinct to a particular season.

Since the gladiolus is a summer flower, its association is the most with the sun. In this case, gladiolus would come with a "strong connection" to the outcome, "You're as delicious as sunshine."
Similarly, if the participant is to select violas, followers that bloom in the winter, a strong connection with "You're as exhilarating as the snow" follows.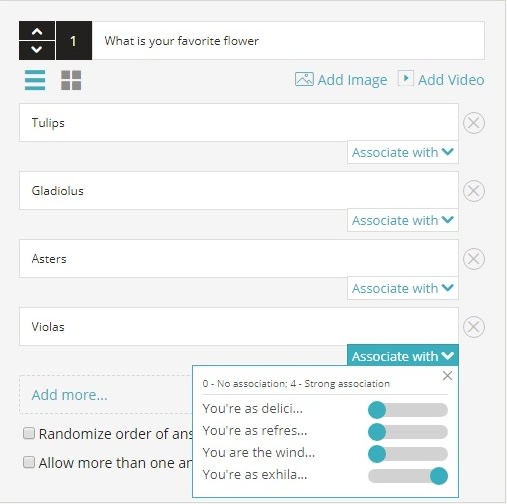 You may simplify creating your personality quiz by following a set pattern for the answers, and their leading to predetermined outcomes. Here's how you can get your quiz to work.
Make sure all questions have four answers:


1) If the answers are mostly "A", participants are led to the Results A page.


2) If the answers are mostly "B", participants are led to the Results B page.


3) If the answers are mostly "C", participants are led to the Results C page.


4) If the answers are mostly "D", participants are led to the Results D page.


5) If the answers are a mixed bag, participants are led to the Results E page.


In case you're finding it hard to assign scores to outcomes, there is a possibility that you have not crafted suitable outcomes. Assigning scores to outcomes becomes considerably simple when the outcomes are distinctly different and when you limit how many outcomes your quiz has. It is also important that all the outcomes seem possible. While they might not be weighted equally, they should definitely remain plausible.
Calls-to-Action


An important aspect of personality quizzes used from a marketing perspective is getting people to visit different websites or perform varied actions. This is where using outcome-specific calls-to-action (CTAs) come into the picture.
CTAs that are part of your quiz give you the means to increase its reach through social share buttons and you may also use buttons to redirect participants to specific pages on your website. You may also get users to sigh-up for your newsletters or promotional offers, adding to your lead generation campaign.
Personality Quiz Maker Checklist


Before you hit the "Publish" button, make sure you consider the following:


1) You know exactly what question your quiz aims to answer, and you have formulated possible outcomes and results accordingly.


2) You have created a title that your target audience views as a relatable question.


3) You have a list of the most relevant personality categories associated with the results of your quiz.


4) You have the same number of questions for each category type and have formulated corresponding answers suitably.
Personality Quiz Maker Best Practices


Keep the following points in mind to make the most of the personality quiz you make:


1) Include a minimum of 5 and a maximum of 10 questions.


2) Use high-quality images that convey the message you want to deliver as and when possible.


3) Questions may be a bit more lengthy but keep the answers short.


4) Limit the outcomes to three to five alternatives, because including more will make your quiz more difficult to quickly answer.


5) Include sharing buttons so participants may share their results on different social networking platforms such as Facebook, Twitter, Instagram, and LinkedIn.


6) Make use of an optional sign-in form to collect information from users.

Now that know what it takes to make a good personality quiz, you should be ready to craft one and tap into the minds of your target audience. With the potential that social media offers to spread your quiz, the going can only get better.
Performance Reports

Opinion Stage lets you easily analyze the result of your quiz and optimize it. An overview report lets you see how many people viewed, started & completed your quiz as well as how much time they spent on the quiz, the number of engagements and how many leads you gathered. You have many additional reports, including a result report that lets you see what users answered in each question, a drop-off report that lets you optimize your report for maximum completion rates, an outcome report and more.