How to Make a Personality Quiz in Minutes | Opinion Stage
In this tutorial, we'll explain how to make a personality quiz. We will also demonstrate some live examples, and offer personality quiz creation best practices.
What is a Personality Quiz?
Personality quizzes comprise of a few questions, with answers usually in the form of multiple choices. The intention of personality quizzes is to reveal something about people who take them. Answers provided by people are used to arrive at results that are indicative of their personality, traits, preferences or the product/service that best fits their desires or needs.



Personality Quiz Example
If you were interested in health & lifestyle topics there is a very high chance that you will find the following personality quiz (create with the Opinion Stage Online Quiz Maker) interesting.

Try out a live example:
How to Create a Personality Quiz from a Template
1) Go to the personality quiz template page

2) Select a template that is most similar to what you want to create, and click "Use this Template" button

3) Make your changes and click "Publish"

You're Done!
2) configure the quiz cover (title, description & image)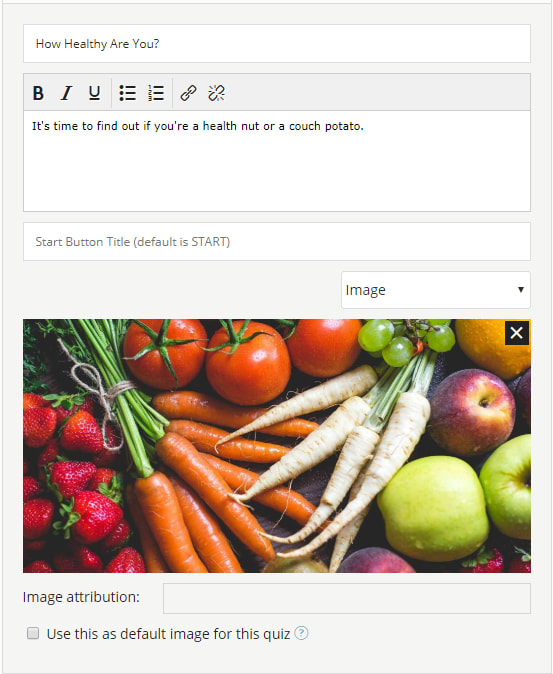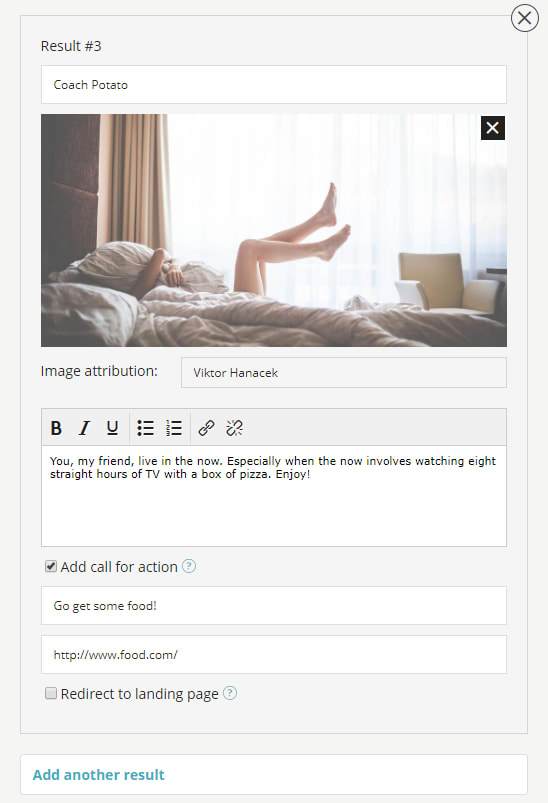 Optionally configure a lead form (it will be displayed just before the result is displayed)

4) Add the quiz questions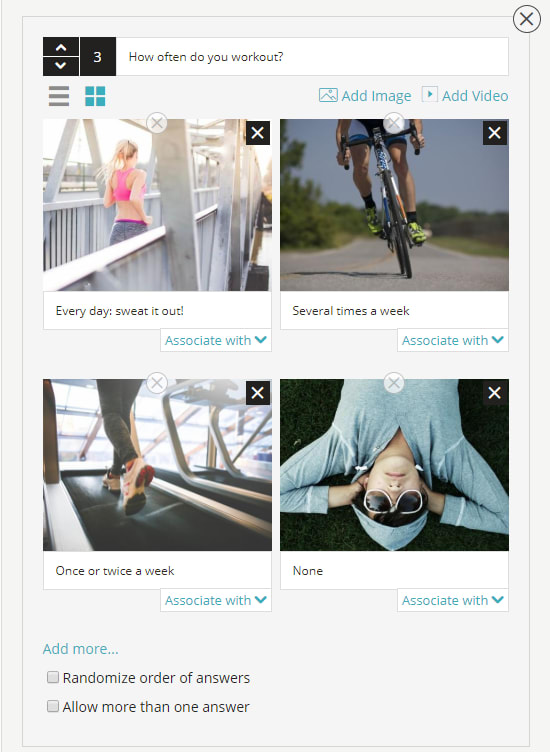 5) Associate answers with results

Each answer can be associated with one or more Results. Click "Associate with" and use the sliders to decide if the answer gives each Result 0 (default position), 1,2,3 or 4 points. In the example below, 4 points will be given to "Good Apple" result.

The result that gets the maximum points, will be the result that will be displayed when the user completes the quiz.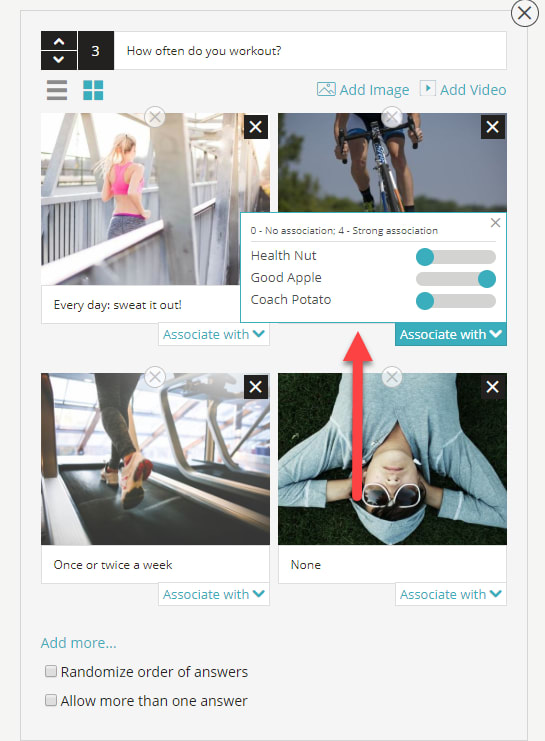 Save the draft and preview the quiz. Once you are happy with the results, click "Publish".

You're done!
Personality Quiz Maker - Advanced Features
In addition to the basic functionality, the Opinion Stage personality quiz maker offers a lot of advanced features, here are some highlights:

1) Configure call-to-action buttons in the different personality result screens
2) Configure to redirect users to a landing page based on the result they get
3) Randomize the order of the answers to avoid biased answers
4) Support answering more than one answer for each question
5) Customize the look & feel of the quiz (e.g. custom font, custom colors, custom css, etc)
6) White label the quiz and add your own logo
7) Social integrations (e.g. customize facebook shares, gather facebook likes & twitter followers, etc)
8) Integrate a lead form in the quiz and automatically send the form results associated with all answers to your marketing or email automation tool
9) Use pixel tracking to optimize ad-campaigns that send traffic to the quiz
10) Integrate a banner or ad in the quiz interface
Personality Quiz Templates
While you can create a quiz from scratch, Opinion Stage also offers a wide range of templates which you can use to get up-and-going quickly. Just create a personality quiz from a template in 1 click, make your changes and publish.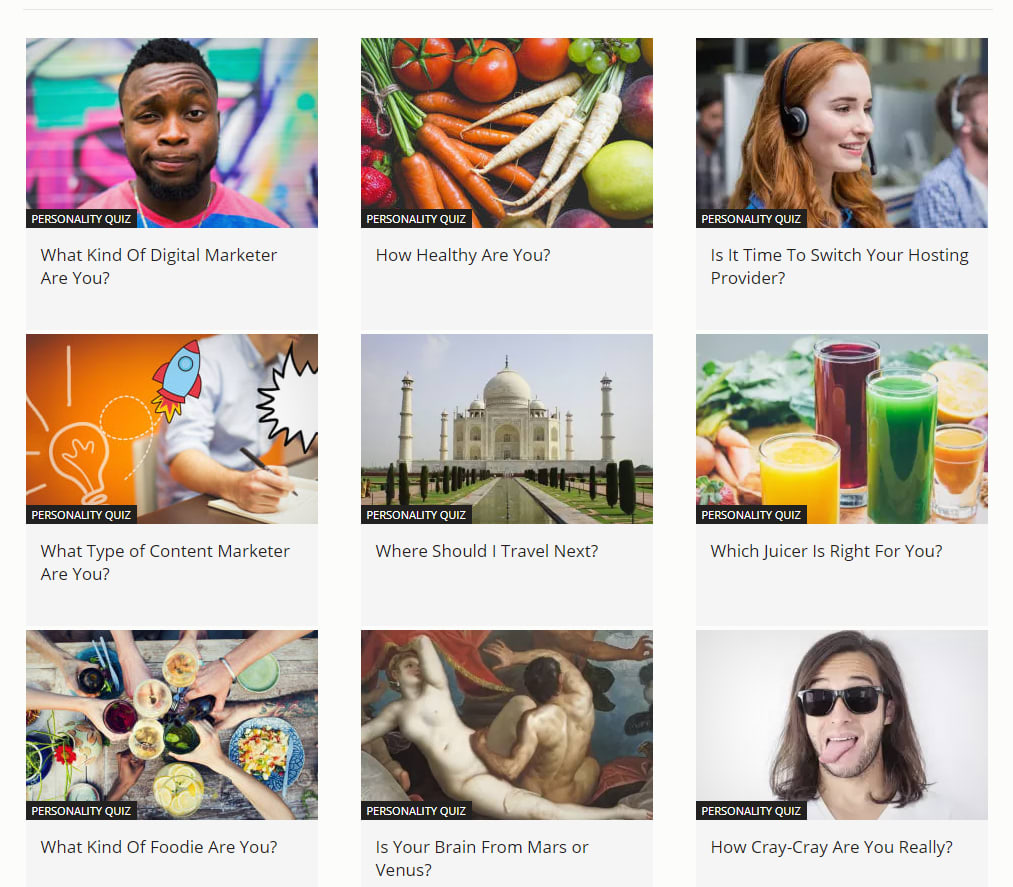 Personality Quiz Reports
Opinion Stage lets you easily analyze the result of your personality quiz and optimize it. An overview report lets you see how many people viewed, started & completed your quiz as well as how much time they spent on the quiz, the number of engagements and how many leads you gathered. You have many additional reports, including a result report that lets you see what users answered in each question, a drop-off report that lets you optimize your report for maximum completion rates, an outcome report and more.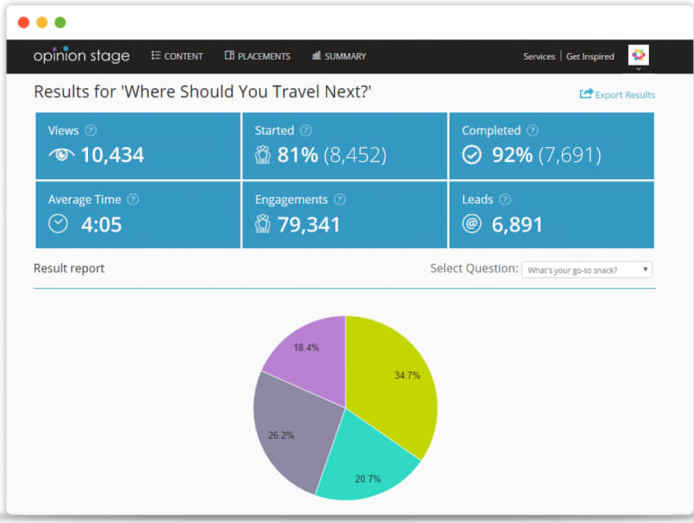 WordPress Personality Quiz Maker
Opinion Stage personality quizzes can easily be embed/added to any website regardless of how it is built. However, for Wordpress opinion stage offers a plugin that lets you deploy your WordPress quiz directly from the WordPress dashboard. To download the plugin, click here.
Why Create a Personality Quiz
Personality quizzes can help you attract, engage, and retain your readers. Taking part in a personality quiz gives your readers great personal content experiences that revolve around their likes and dislikes. Most quizzes end up revealing surprising or interesting facts about participants' lives. More than 80% of users will engage with a personality quiz if it appears in their news feed. The results, more often than not, are shared with their peers through different social networking channels.

These quizzes, as a result, give you easy means to package your message in a way that works as an eye-opener for your readers. In addition, you may use the results of these quizzes to get valuable target audience insight.

Personality quizzes are also very effective in creating produce/service selectors or sales quizzes, as based on user answers they can redirect them to the best product/service for them.
Best Practices for creating a viral personality quiz
Think about your audience: As with all engaging content, the most crucial thing is having a clear concept of who the audience is, and matching the content to their interests and needs. Make sure the quiz content is appealing to your audience.
Plan results first: It's a good idea to plan out the possible results first, and even try and break them down into the things that characterize each one. This will be very helpful in deciding what questions to ask, what answers to provide, and which answers should be associated with each result. (You can create up to 30 results, but 4-8 are usually enough.)
Plan results well: Your results have to give participants something they can identify with. This is what will usually motivate people to share a personality quiz, so think it through.
Keep it positive: Make all of the results positive – people usually don't want to share something that makes them feel bad or look bad! A great personality quiz makes readers feel good about themselves, no matter what result they get!
Be tactically wrong: That said, you can also get a lot of engagement by giving people results they will disagree with – so long as you don't actually offend them. Ask them to leave a comment to tell you whether you got it right or wrong, and many actually will.
The number of questions: The more results you have, the more questions you will need to differentiate between the different "personalities." At the same time, too many questions might cause people to give up midway and leave the quiz before completing it. We find some 7-10 questions to be a comfortable range for personality quizzes.
Start small: When you first start, you may want to begin with a minimal quiz just to see how it looks – put in a question and a result, save a draft, and get a preview of how your quiz is shaping up. It's easier to adjust your content before publishing it.
Start strong: The first question in the quiz has to be appealing and relatable – if people aren't compelled to answer the first one, they won't even see the rest. It's okay for some questions to be a little more niche, just make sure to start with something that will have everyone answering and moving ahead.
Use images: Images catch people's eyes and imaginations, attracting attention to your quiz and keeping participants around. Choose good-looking images, especially for the quiz's cover photo.
Image sizes: Quizzes look best with images, and quizzes with images look best when all of them can be displayed in the same size. We recommend cropping the photos to a uniform aspect ratio – we like using the wide 16:9 or 2:1 aspect ratios. These have the added benefit of faring well in previews on social networks
Prompt to share: when users get their result, suggest they share their result. You can configure that the result they got is/is-not shared based on the scenario