How to Make a Trivia Quiz that Delivers Great Results
In this tutorial, we'll explain how to make a Trivia quiz in 4 short steps. We will show some live examples, and offer trivia quiz creation best practices.
What is a Trivia Quiz
A Trivia Quiz is made of a set of questions for assessing knowledge on a subject. The trivia quiz creator writes the questions and marks the right answer(s) for each question. The reader answers each question and at the end of the Trivia quiz gets a result. You can also configure that a correct/incorrect indication is displayed after answering each question.

Following is an example of a live trivia quiz, try it out!
How to Create a Trivia Quiz in 4 Short Steps
Step #1 - Start by opening the trivia maker creation form

Step #2 - Configure the quiz cover (title, description & image)

Step #3 - Add the trivia questions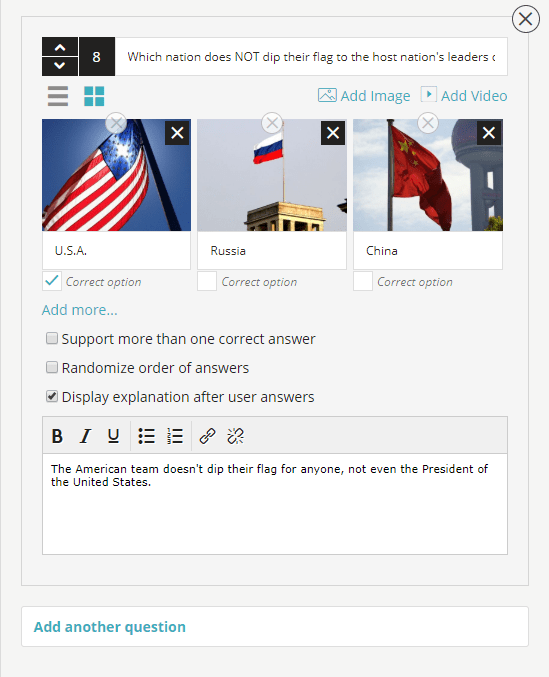 Optionally configure a lead form (it will be displayed just before the result is displayed)

Step #4 - Configure the results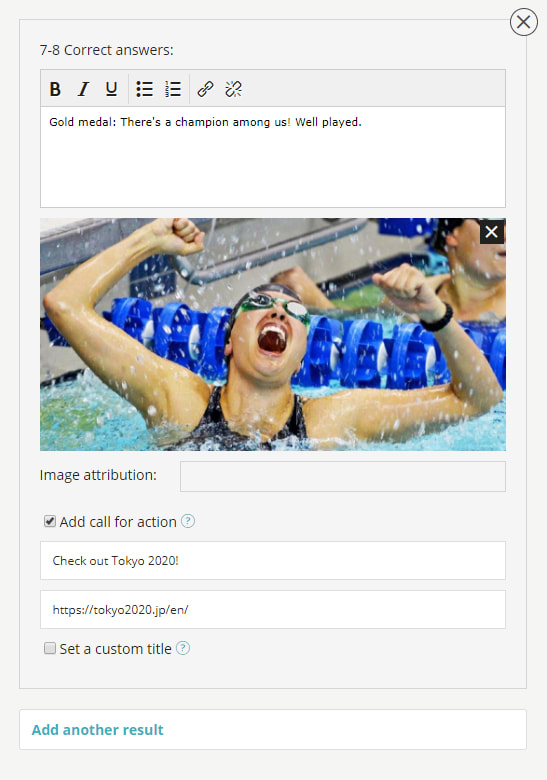 Save the draft and preview the quiz. When satisfied with the results, click "Publish". You're done!
Trivia Maker Advanced Features
In addition to the basic functionality, the Opinion Stage trivia maker offers a lot of advanced features, here are some highlights:

1) Configure call-to-action buttons in the different result screens
2) Configure to redirect users to a landing page based on the result they get
3) Randomize the order of the answers to avoid biased answers
4) Support answering more than one answer for each question
5) Customize the look & feel of the quiz (e.g. custom font, custom colors, custom css, etc)
6) White label the quiz and add your own logo
7) Social integrations (e.g. customize facebook shares, gather facebook likes & twitter followers, etc)
8) Integrate a lead form in the quiz and automatically send the form results associated with all answers to your marketing or email automation tool
9) Use pixel tracking to optimize ad-campaigns that send traffic to the quiz
10) Integrate a banner or ad in the quiz interface
Trivia Quiz Examples
Following is an example of a live trivia quiz, try it out!
Why Create a Trivia Quiz
A Trivia Quiz is a unique way to provide your audience an opportunity to test and prove their knowledge about any topic, interest, or subject.

Marketers usually use Trivia quizzes to for the following purposes:
Increase market awareness for a brand - Trivia quizzes provide a direct and fun way for your target audience to connect with your brand. The connection increases when the results of quizzes align their needs with your offerings and propositions.
Learn about their users - trivia quizzes give marketers insight on how knowledgeable their users are on the given subject
Collect leads - Quizzes motivate people to share personal information (for example, emails) so they may find out how well they performed in the quiz. These are high-quality leads, because the gathered emails are associated with the answers of the participants.
Increase web traffic - People quite often post results of their quizzes on social media and it encourages others to participate. This causes a ripple effect and more traffic is diverted to your sites.
Educators
use Trivia quizzes to quiz their students either for learning or grading purposes
Best Practices for Making a Great Trivia Quiz
Audience Analysis: Just like any other content you develop, the most important thing is to have a clear concept of who your audience is, and match the questions in the quiz to their interests, needs, and abilities. Make sure the content in your quiz is interesting to your audience.
Keep it short: Start with baby steps. When you start, begin with a minimal set of questions to see how your quiz is shaping up. Write first few questions, save a draft, and see the preview of how your quiz appears. It is easier to adjust your quiz before publishing it.
Start easy: It is recommended that you start with the easiest question and increase difficulty of the questions step-by-step. This way, people will not be scared by the first questions, and will be interested to proceed to the next question in the series.
Look your best: Try to put in your best work while creating a quiz. There is a lot of not-so-good content available on the Internet. So, make sure that you set high standards for yourself.
Make your audience smile: Don't just be a scorekeeper. Add light humor and make your quiz entertaining to the audience by adding images, animations, and videos.
Set the Right Number of Questions: Keep the number of questions between 10 and 15. If you add too few questions, you will miss out on the crucial questions. If you add too many questions, people may lose interest and quit before completing the quiz.
Do not give it away: Create questions that make your audience think before they select the answer. Make sure that the quiz is neither too hard nor too easy.
Results matter: The text and image presented at the end of the quiz are very crucial. Make sure to create results that will encourage people to share your quiz results on social media site. For example, congratulating the participants on their successful completion in the quiz is a great way to get them sharing it on the social media sites.
Keep it positive: Keep the outcome of the results positive even if the score of a participant is not to good. Usage of a negative wordings in the outcome is a complete turn off. People usually do not share something that makes them feel bad or look bad on the social networking sites.
Use visuals: Images and videos catch people's attention and imagination. Usage of visuals keep your participants glued to the quiz and keeps them engaged. Choose good quality images, especially for the quiz's cover photo. Check out our favorite sources for good-looking free images.
Image sizes: Quizzes look best with images. Great trivia quizzes with images look best when all of them are displayed in the uniform size. We recommend cropping the photos to a uniform aspect ratio – we recommend using the wide 2:1 aspect ratio. With good images, quizzes have the added benefit of performing well in previews on social media sites.