How to Create a Poll
In this tutorial, we'll show you how to create an online poll, and then offer some tips and suggestions
How to Create a Poll
While creating a simple poll on can take seconds, the service also includes many advanced features for different scenarios and a lot of customization options. Start by opening the poll maker form

1. Enter Poll Question
You can also optionally add a description if you'd like to explain the question

2. Select a Poll Layout
You can select between 4 different layouts:

Standard
Image layout
Thumbnail layout
Head-to-head layout

3. Add Images or Videos
Depending on the selected layout, you can optionally add one or more images/videos. Images can be added either from your computer, from a web address, or using search widget from across the web.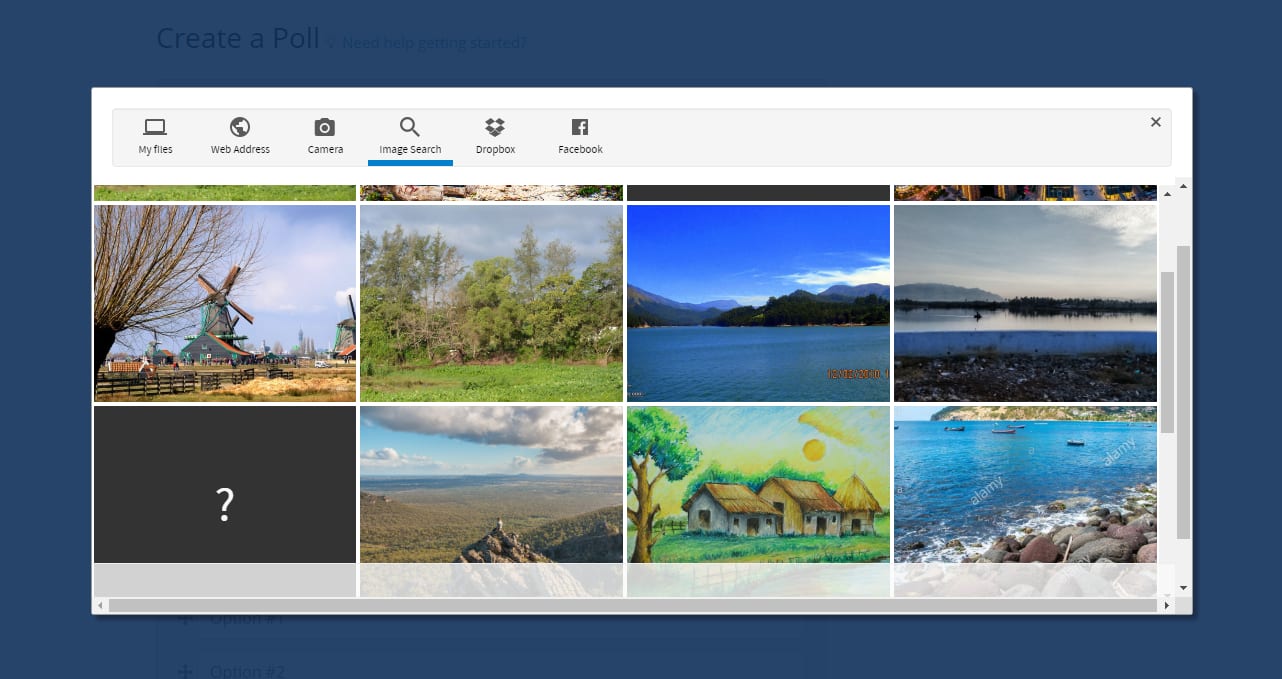 4. Enter Answer Options
The poll supports adding up to 100 options. You can configure that it is allowed to vote for one or multiple options. You can also configure to allow users to suggest their own answer. In this case, the answer will be displayed in the report/statistics screen and you can decide if you would like to add it to the poll

Click the Publish button and you're done!
Poll Examples
Following is an example of a poll in the multi-image layout, try it out!
Following is an example of a poll in the standard layout, try it out!
Poll Features
Following are the main poll features:
Repeat voting blocking - you can configure to block repeat voting using cookies and IP. You can also configure to allow users to vote once every 1 hour, 6 hours, 1 day or 1 week
Require a social profile (Facebook, Twitter or Google+) to vote
Display a message to user after voting
Close the poll automatically in a future time
Redirect users to different URL's based on their vote
Configure the order in which the options are displayed (as configured, most votes on top or random)
Display results before voting, after voting, or display the results only to the poll creation in the statistics dashboard
Show results in percent only, numbers only or in both
Allow users to change their vote after voting
Send poll results to a webhook for processing in a 3rd part application
Poll Customization
You can customize almost every aspect of the poll using the following options:

Select from built-in color themes
Select your own font
Configure the title alignment (right, left, center)
White label the poll
Add your own logo to the poll
Configure CSS override to customize almost all aspects of display
Social Integrations
You can use the following social integrations with the poll:
Add a social sharing bar to the poll
Add Facebook comments to the poll
Customize twitter shares
Suggest users to like your Facebook page before viewing results
Lead Generation
You can optionally configure to integrate a lead form inside the poll for collecting personal information such as email & phone. In this case, the user will be prompted to fill the form before viewing the poll result.
Generate Revenue
If you use ads on your site, Opinion Stage has a feature for integrating ads inside the poll interface. These ads are highly visible and therefore get great CTR levels (up to x3 times more than regular ads on the page). This is an opportunity to boost your ad-based revenue generation.
Poll Report
To view, the results & advanced statistics click the "Statistics" button on the dashboard. Besides the results, you'll be able to see the number of impressions the poll got, the number of leads you gathered (if you configured a lead form), a voting report (including side vote, time stamp, etc), and more. Finally you'll also be able to export the poll to an excel/csv file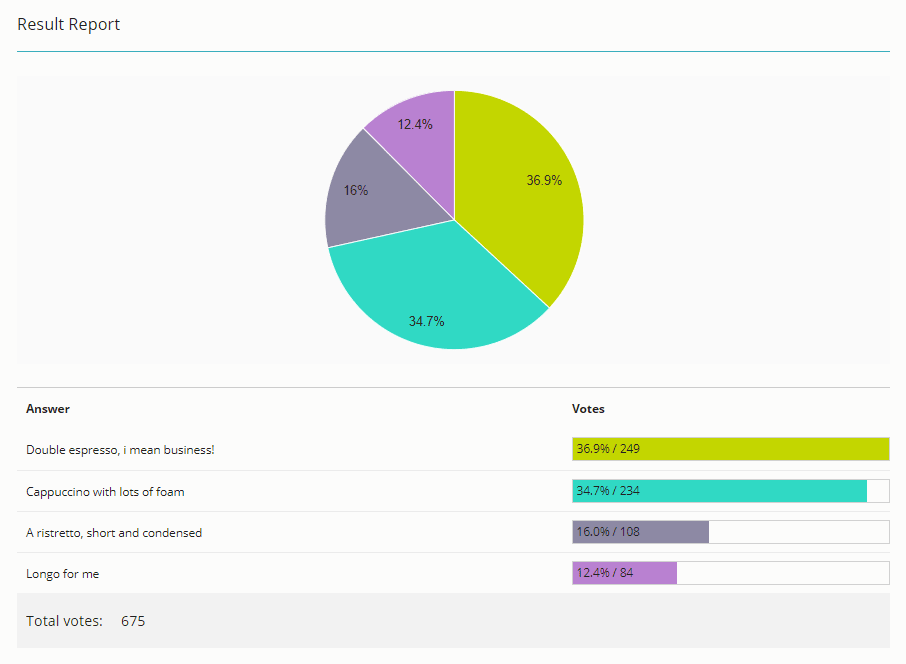 Tips for Creating a Poll
Think about your audience: As with all engaging content, the most crucial thing for polls is having a clear concept of who the audience is, and matching the content to their interests, needs, and abilities. Make sure the poll question is appealing to your audience.
Keep it clear and short: Polls look best and perform best when you keep the question and answers short and easy to understand.
Keep the mystery alive: Show the poll result only after the vote – many people will vote out of curiosity.
Voting options: Where possible, allow voters to select only one option – multiple options take more clicks to vote, so less people vote.
Size matters: Displaying the poll in a large size and in a prominent location will make it perform much better.
Choose a good theme: Select (or create) a theme that fits in with your site's UI, but also makes the poll stand out.
Track and optimize engagement: use the opinion stage statistics dashboard to track and optimize the performance of the poll.
Use images: Images catch people's eyes and imaginations, attracting attention to your poll and keeping participants around.
Need More than One Question?
If you would like to ask multiple questions, you have a few options:
1) Display a few polls one under the other
2) Group polls in a poll set
3) Use a survey instead of a poll
Need more info? check out the Poll Maker product page.