Follow these steps to add a Wix survey to your Wix site
You first need to create a survey to use for your Wix site. You can choose one you've already made with Opinion Stage, or

create a new survey

.

After you've finished creating your survey, go to your Opinion Stage dashboard. Choose which survey you'll be using on your Wix site, and click on the 'Embed' option.

There, you'll see several tabs. Choose 'Script'. Copy the whole code you see there.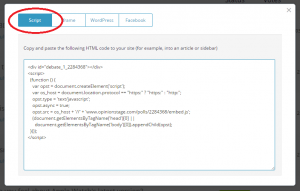 Tip: Holding down CTRL + A will select the whole code in the box, and holding down CTRL + C will copy everything that is selected. CTRL + V will paste everything you've copied and selected.
Go to your Wix site editor (the dashboard you use to manage your site – the URL will begin 'editor.wix.com/…' if you're in the right place). On the sidebar, choose the '+Add' option, then hover over the 'More' title (this is the last option on the list).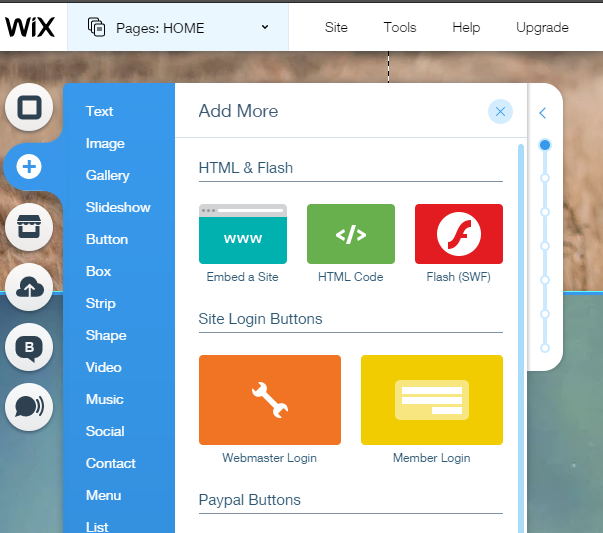 5. Choose the option saying 'HTML Code'. You will see a gray box appear, with an 'Enter Code' instruction. Click that. You will then see this appear: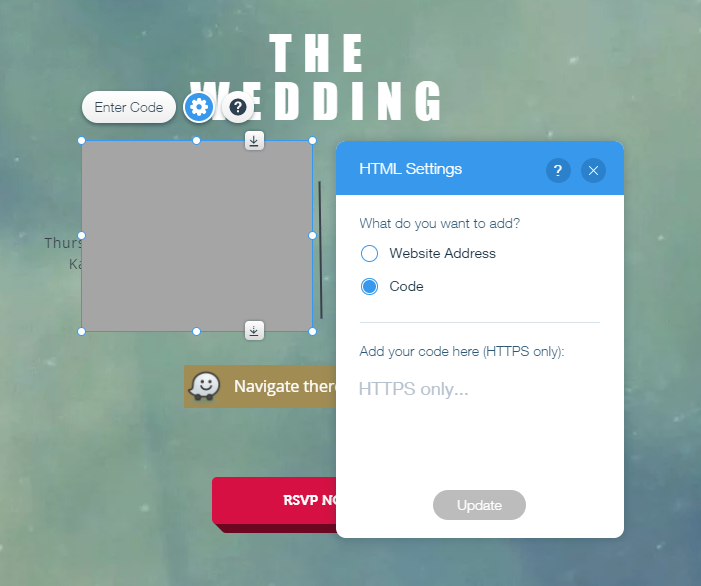 6. Check that you have the 'Code' option selected (as shown in the image above)- and then paste the code you copied from your Opinion Stage dashboard earlier (or use CTRL + V). Once you're done, click 'Update'.
7. Success! Your Opinion Stage survey will nowe have been added to your Wix site. You can move the survey's container around the page by clicking and dragging it.
Adding a Wix Survey – Best Practises
If you want users to actually take your survey and give you their feedback, try to grab their attention. Your Wix survey should use engaging, well-thought out images. Wix-designed sites are typically very visual, with many focal points for users, therefore your Wix survey should be clear and inviting to draw your user to it.

Use your Wix survey for a specific, data-gathering purpose – you can guide users to it by asking a specific question, or organising your content around the survey's theme. 

Make sure your Wix survey is related to your content. Yes, it sounds like common sense, but you'd be surprised. If your survey is not relevant, or clearly related to the content around it, your users are much less likely to take it – which results in no feedback.

Make your survey to the point – it's there to gain answers, after all. Be direct to your users in what you want from them – phrase the questions and response options in a short, pointed way, to avoid user confusion.
Adding a Wix survey is a surefire way to receive in-depth user feedback. It's also a valuable content upgrade, allowing your users to express their opinions and interact with your site. You'll surely be reaping the rewards (and data!) that it brings.