Discover Actionable Insights using Quizzes & Surveys
In this article, we'll review how to use Opinion Stage quizzes & surveys to extract actionable insights from your users.
There are many situations where you'll want to extract insights from your audience. Maybe you're about to launch a new service and want to find out what features it should include. Perhaps you want to discover your customers' buying habits on your site. No matter the scenario, you can use Opinion Stage's survey & quiz tools for extracting deep insights about your audience. Interactive surveys and quizzes created on Opinion Stage will have higher participation rates than standard surveys and will produce more authentic insights.
Extract Insights using Personality Quizzes
As a method for extracting insights from your users, personality quizzes have 2 main strengths compared to alternatives:

1) High participation rates - people really like participating in personality quizzes, because they are curious to discover something new about themselves. This results with extremely high start & completion rates compared to standard surveys. Well crafted personality quizzes that are displayed to users in their stream get over 80% participating rates and over 90% completion rates

2) Authentic responses - when participating in a personality quiz, users want to discover something real about themselves, so there is a higher chance they will be very authentic in their answers. This overcomes the inherent biases of standard surveys, in which users might answer questions just to complete the survey quickly and get some reward.  There is also a bias resulting from the fact that the users are aware that they are surveyed.

As an example, assuming you were a content writer, there is a very high chance you would participate in the following personality quiz:
Extract insights using Surveys
While personality quizzes are a great way to get user insights, in some cases you will need to include open-ended questions and other types of questions that don't fit into personality quizzes. For these cases, Opinion Stage offers a full-featured interactive survey tool. The Survey's visual & interactive design combined with its mobile-centric design will get you much higher participation rates than standard alternative survey software (e.g. SurveyMonkey) options.
Track Performance
With Opinion Stage, you can track every aspect of your quiz or survey. The reports include both result reports and performance reports.

Result reports offer detailed result presentation and analysis. They include reports on how many people participated, the breakdown of their answers in different graphic presentations, the outcome results & a detailed entry for each submission including the answers and metadata such as timestamp, referral, and more. 

Performance reports are focused on the participation rates and include reports on the number of users that viewed, started and completed the quiz/survey, the time they spent on the content, a drop-off report for optimizing the questions and more.

In addition to the built-in reports, you can also export the full raw data into a csv/excel file for running your own custom advanced analysis.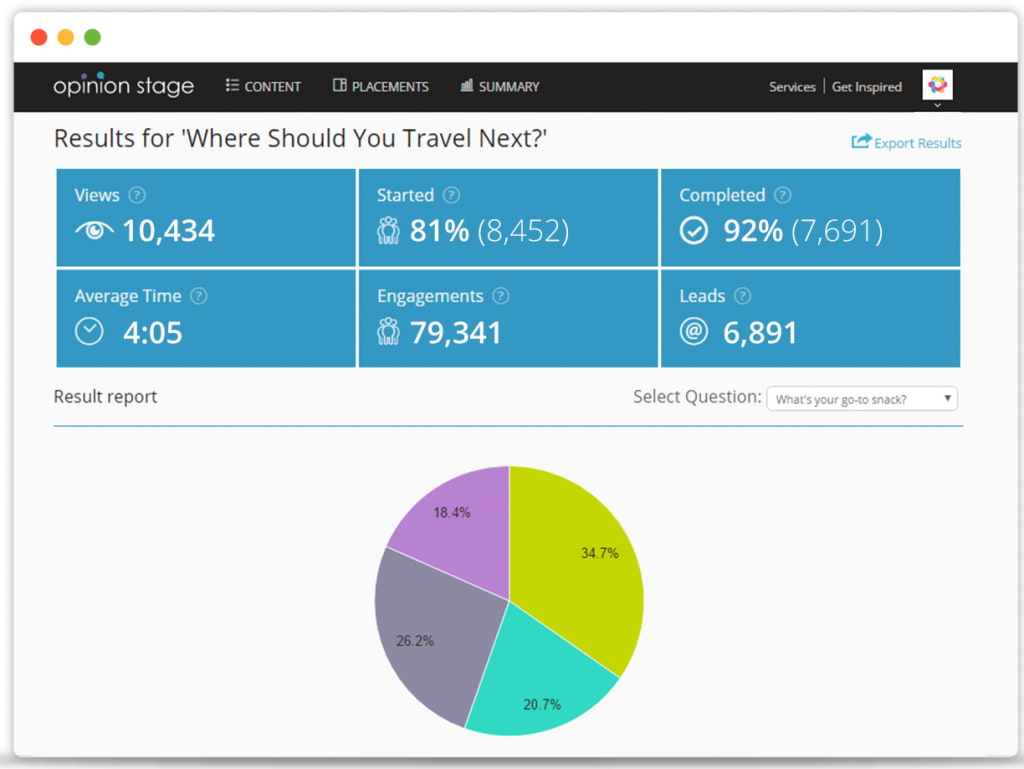 Easy & Fast to Get Up and Going
You can create quizzes and surveys in Opinion Stage in a matter of minutes. You can either create from scratch or use our templates to further accelerate creation.

Ready to start extracting insights? Create a free account on Opinion Stage