What Type of Tumblr Girl Are You?
We all know that there are different types of girls. But did you know it can be further broken down into types of Tumblr girls? Today, we want to ask you a few questions about yourself and your Tumblr account, of course, so we can tell you which type you are.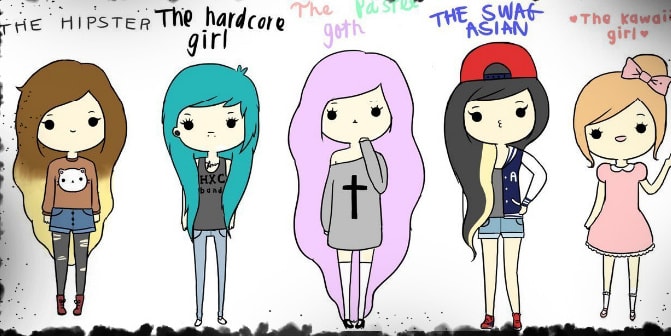 How would your friends describe you?
How would you describe your sense of style?
Which of these colors is most prominent in your closet?
Which of these shoes do you have the most of?
Which of these accessories do you always wear?
Which makeup product can you not leave the house without?
What do you like doing for fun?
If your friends asked you to host girls night, what would you plan?
Which of these artists is your favorite?
Which of these jobs would you be best at?
What's your current relationship status?
Which social media platform is your favorite?
How long have you been on Tumblr?
Do you post more pictures or videos?
What kinds of posts do you usually like and follow?
The Girly Girl
If this quiz told us anything, it's that you're the girl Tumblr girl. This means that you're into all things pink and glittery, you love high heels and skirts and your phone is probably filled with your selfies. It also means that you're stunning and that the sight of your face alone makes others smile.
The Hippie Girl
You got the hippie Tumblr girl! You're the kind of girl who is very slow to anger and loves nature, animals and everything that comes with it. You're very much into flower crowns and maxi skirts and you're wishing that you were around for Woodstock.
The Grunge Girl
Based on your answers, you're the grunge Tumblr girl. What that means is that you like lots of dark (mostly black) clothing and unconventional hair colors like pink and green. It also means that you're not afraid of bugs and you love alternative music.
The Swagged-Out Girl
You're the kind of Tumblr girl who isn't scared to wear baggy clothes, snapback caps and sneakers and skate shoes. You're a big fan of sports, and you probably have more guy friends than gal pals. One thing's for certain, no one has more swag than you.
SHARE YOUR RESULTS: