Create Quizzes & Surveys That Get Better Results
Easy & fast for you to setup. Engaging & fun for your audience. Customize everything. Integrate anywhere.
No credit card required
No time limit on free plan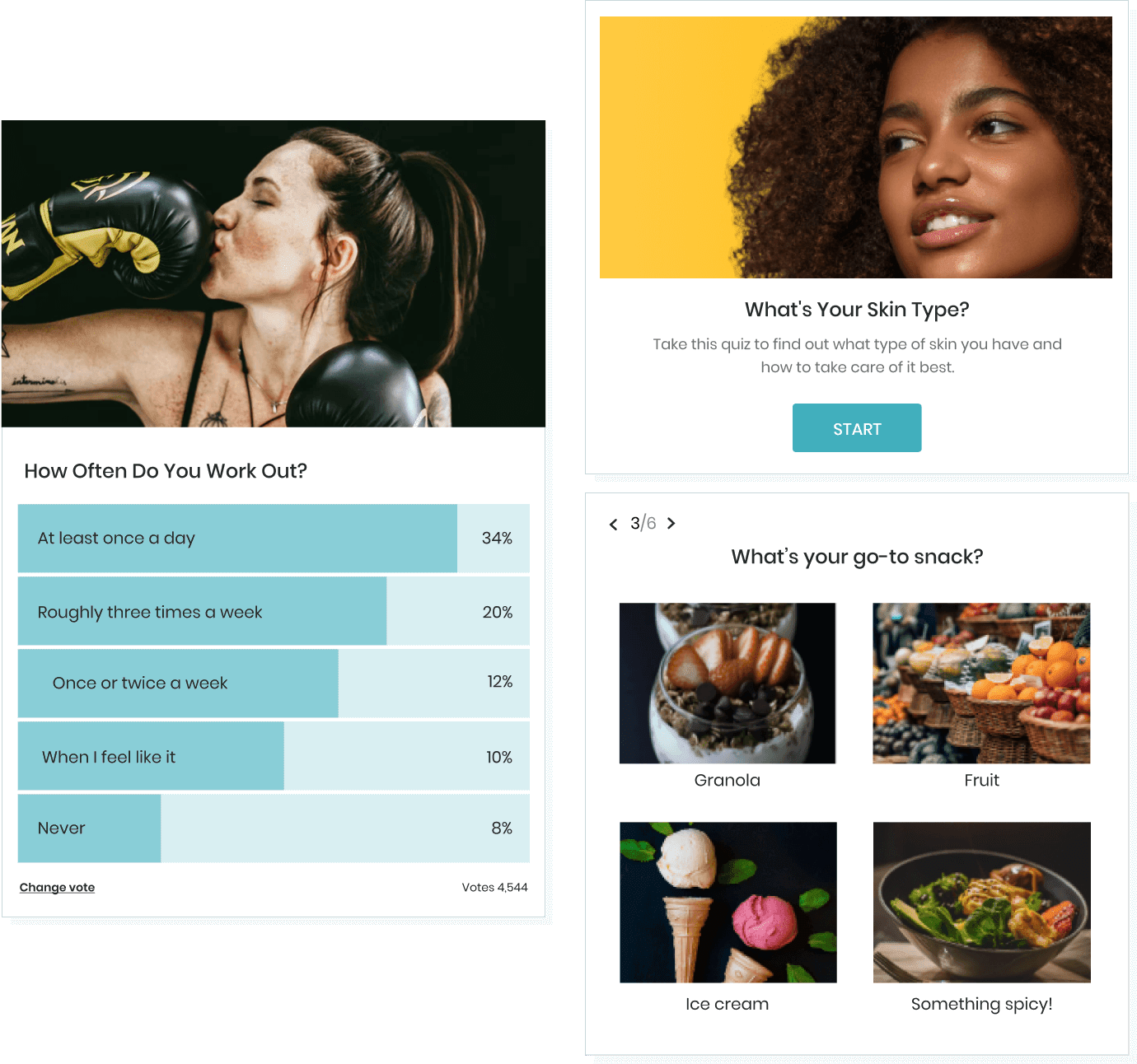 Trusted by 100,000+ customers across 190 countries
How It Works
1. Create
Create from scratch or from a template.
It takes minutes to get started.
3. Analyze
Track results & performance. Optimize to maximize conversions (e.g. submissions, leads, revenue, etc).
Templates & Examples
Hundreds of templates for every use-case or scenario.
Conversational
Interactive design leads to a conversational experience that results in more submissions. Impressive experiences make your brand shine in the eyes of your customers.
Visual
Built-in image and video integrations with leading providers let you create engagement that is both visual and delightful. Fully customize the tools with your fonts, colors, and sizes to match your brand.
Smart
Add brains to your interactions. Use skip logic to lead different users on different paths based on their answers. Use advanced outcome logic to personalize the results displayed to your users.
Hundreds of Integrations
Send your email leads to Mailchimp, sync responses with Google Sheets. Get it all done automatically.
Case Studies
Zulily Case Study
Use Cases: Engagement, Insights Overview: Zulily is a global e-commerce company that sells apparel, home goods and family finds at up to 70 percent off.
Outbrain Case Study
Use Cases: Insights, Brand lift Background: Outbrain is the world's discovery feed technology for the open web supported by the only end-to-end native advertising stack…
IHG Case Study
Use Cases: Insights, Training Some Background: InterContinental Hotels Group is a multinational hospitality company, with 5,656 hotels across nearly 100 countries.
Loved By Our Customers
Hundreds of customers gave us 5-star reviews
Opinion Stage is the best quiz software I've used. It's feature rich, easy to use and creates attractive content.
John Dykstra
Fat Stacks Entrepreneur
I enjoy the features, functionality and great customer support, as well as the helpful tutorials. I love that it is an interactive tool and can really make customers a part of the experience.
Iris Morales
Founder IM Innovations Inc.
This tool does a great job at grabbing attention, keeping visitors engaged and capturing leads! I highly recommend 🙂
Mickey Bates
All Things Food & Wine
You Can Easily Do It Yourself, No Need For A Developer!