How Well Do You Know Opinion Stage?
Opinion Stage offers you a world of ways to connect with users. Boost engagement, generate qualified leads, promote sales, extract actionable insights and much more. Discover what Opinion Stage has to offer.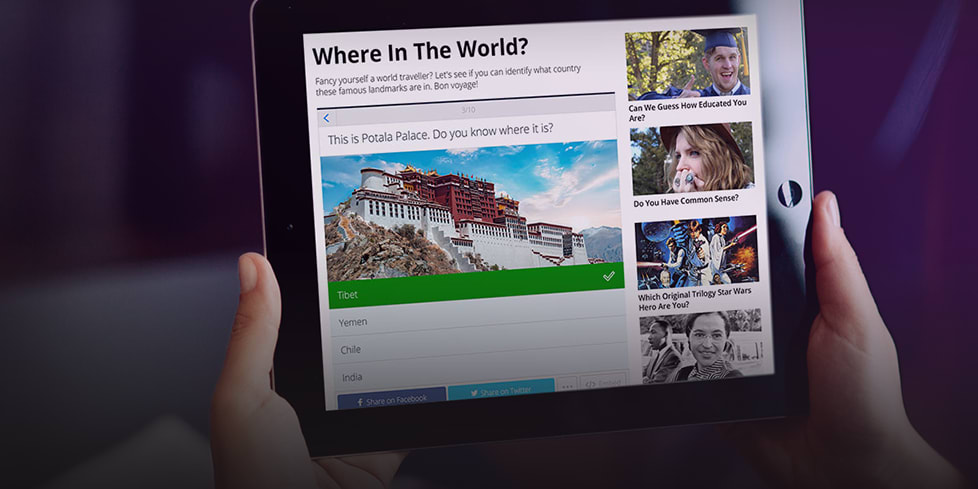 What benefits can you get by using Opinion Stage?
What interactive tools can you create on Opinion Stage?
Opinion Stage allows you to create Polls, Surveys, Trivia Quizzes, Personality Quizzes, Slideshows, Forms & Interactive Stories. Check out the templates page for a variety of examples.
Next
What options are available for customizing the look and feel?
What Features Does the Opinion Stage Poll format support?
How can you generate leads with Opinion Stage?
You can require participants to fill out a lead form before viewing the results. Read more...
Next
Can you integrate ads inside the Opinion Stage content interface?
Does Opinion Stage support Entry Popups or Exit Popups?
Opinion Stage allows you to configure popups triggered when users enter your site, exits it, or both.
Next
Can you use Opinion Stage to promote sales?
Opinion Stage let you create a quiz that educates users on your products/services and leads them to purchase the product or service best suited to their needs. Read more here...
Next
Does Opinion Stage support responsive design?
Responsive web design (RWD) is an approach to web design aimed at allowing webpages to be viewed in response to the size of the screen or web browser one is viewing with. We fully support responsive design of course!
Next
Does Opinion Stage support pixel tracking?
Sure - we support adding pixels in quizzes and surveys for different scenarios. Contact us for details!
Next
You still have a lot to learn about Opinion Stage! But fear not--we are here to help.
You're an Opinion Stage pro! We're so glad to see you're making the most of your Opinion Stage experience.
SHARE YOUR RESULTS: