Liverpool FC Top Trumps Special
Liverpool FC Top Trumps Special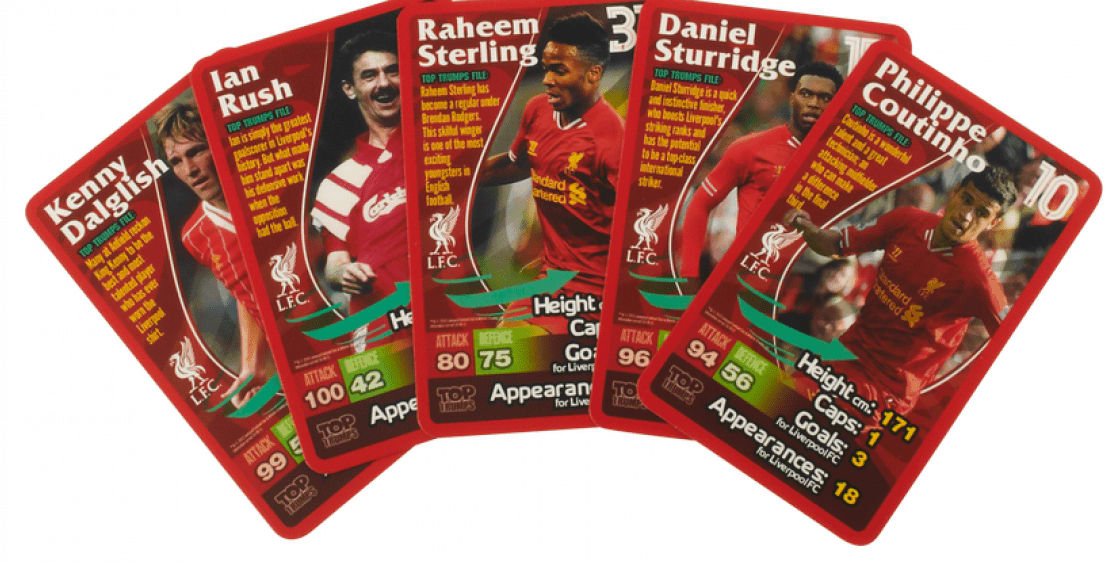 Who played the most games as captain?
Hyypia had the honour of captaining the Reds 205 times, Rush 113, Barnes 111 and Carragher 91.
Who scored the most Champions League goals?
Kuyt wins this with 12 goals, beating Crouch's 11, Garcia's 10 and Torres' 8.
Who made the most Champions League appearances?
Carragher pips Gerrard by four games. The former defender played 91 Champions League games to Gerrard's 87. Hyypia enjoyed 67 outings, while Reina played 56 times.
Who scored more Premier League own goals?
Skrtel leads the way by a distance with 7 own goals. Ruddock netted 3 while Hyypia and Johnson found their own net twice.
Who missed the most penalties?
Owen had the worst record from the spot, missing a staggering 10 penalties. Fowler missed his fair share with six, with Barnes missing 5, while Murphy never missed a spot-kick.
Who posted the highest win percentage?
Benitez left Anfield with a win rate of 56.29 percent, beating Rodgers' 51.20, Houllier's 52.12 and Hodgson's dire 41.94. No surprise there.
Who was the oldest when scoring their first Liverpool goal?
McAllister was the oldest, scoring his first Reds goal aged 35years, 10 months and 18 days. Toure was next at 34 years 10 months, with Lambert at 32 years and 9 months.
Who was the youngest when scoring their first Liverpool goal?
Woodburn is the Reds' youngest ever scorer aged 17 and 45 days, taking the record from Michael Owen by 98 days. Rossiter was the third youngest scoring aged 17, 183 days, while Sterling was 17, 317 days when he first scored.
Who was the most expensive signing?
Big Virgil was the most expensive at £75million, with Alisson second at £65m, Naby Keita third at £52m and Fabinho next at £43m.
Who scored the most goals as a substitute in the Premier League?
Babel takes this with an impressive 12 goals from the bench. Cisse scored 7 times as a sub, with Benteke and Smicer netting 6 each.
Who made more Premier League starts?
Riise leads the way with 196, beating Kuyt's 176, Agger's 156 and Finnan's 134.
Who was youngest when making their Reds debut?
Sinclair made his debut aged just 16 years and 6 days old – a younger age than Robinson at 16 years 8 months, Woodburn at 17 years 1 month, and Sterling at 17 years 3 months.