Which Juicer Is Right For You?
There's nothing like owning your own juicer for fresh fruit and vegetable juices daily. But which one to buy? Tell us your preferences, and let us do the work.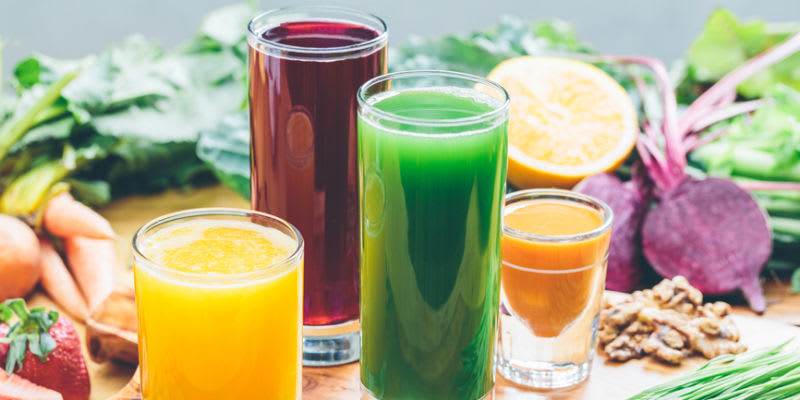 What's your ideal price range?
What will you be juicing?
Does having a loud juicer bother you?
How important is it that your juicer works very quickly?
Do you prefer a juicer that generates as little heat as possible?
How much juice do you expect to get from your produce?
Do you have a lot of free counter space?
Are you okay with hand-washing a few machine parts?
How long a warranty do you expect?
Breville 800JEXL
The Breville 800JEXL is effective, quiet, and able to extract a lot of juice from a lot of different produce with a powerful 1000-Watt motor. It's especially miraculous producing juice from leafy greens such as kale. Cost: $300

Omega J8006 Nutrition Center Juicer
Because it has what's called a masticating motor, the Omega J8006 Nutrition Center Juicer creates the minimal amount heat for the purest, healthiest juice around. It can also be used to make pastas and ground coffee! Featuring an outstanding 15 year warranty. Cost: $300
Jack Lalanne's Power Juicer Deluxe
For those who hate to see any fruits or veggies go to waste, this is the juicer for you. It yields an impressive amount of juice from produce, and does so more quietly than virtually any juicer out there. Cost: $150
Omega Mega Mouth Juicer BMJ330
As the name suggests, Omega Mega Mouth Juicer features large shoot for produce, which means that you can juice whole pears, apples, etc. into glasses of fresh juice. (It does not come with a pitcher.) Cost: $150
Kuvings NJ-9310U Centrifugal Juicer
This perky orange juicer can handle almost anything you throw its way, creating pulp-free juice from a variety of produce. It's also super quiet for those who want to make juice without waking up the whole house. Cost: $120
Juiceman JM8000S
The compact Juiceman JM8000S is notable for not taking up a ton of counter-space. It has special features for those who want to make fresh citrus juice, while also handling larger, denser produce with ease. Cost: $65
Cuisinart CJE-1000
A solid, stainless steal option that is built to last, the Cuisinart CJE-1000 is a 1000-Watt, 5-speed juice extractor capable of handling anything you throw its way. It's an extremely quiet model that is easy to clean. Cost: $135
Breville BJE200XL Compact Juice Fountain
Another heavy-duty option from Breville, this model takes up less counter space. It does yield moister pulp than other models, which means that it is a less effective juicer than pricier options. Cost: $99
Black + Decker JE2200B
This is the ideal option for someone looking to try out the healthy juice lifestyle why staying on-budget. At 400-Watts, it is not the most powerful juicer out there, but it's a cost-effective way to get those greens. Cost: $39
Hamilton Beach 67608 Big Mouth Juice Extractor
One of the more affordable options on the market, this is not the most efficient juicer but it gets the job done with a wide chute that can fit whole apples. It is, however, loud and not entirely dishwasher safe. Cost: $60