10 Corny Jokes That Will Make You Laugh
We've all heard one really corny joke. Or maybe two. We may have even told our fair share of corny jokes to our friends, co-workers or audience in an attempt to lighten up the mood. Utterly hilarious to some, many people find these jokes very dull and annoying. And whereas in some cases, these jokes may bring about an uproar of laughter, they sometimes catch the rolling of eyes instead. Those of you who find them incredibly entertaining may believe that you have heard the best of them all. But I am here to tell you, in this massive world of corny jokes, you have not. Listed below are the corniest jokes in existence.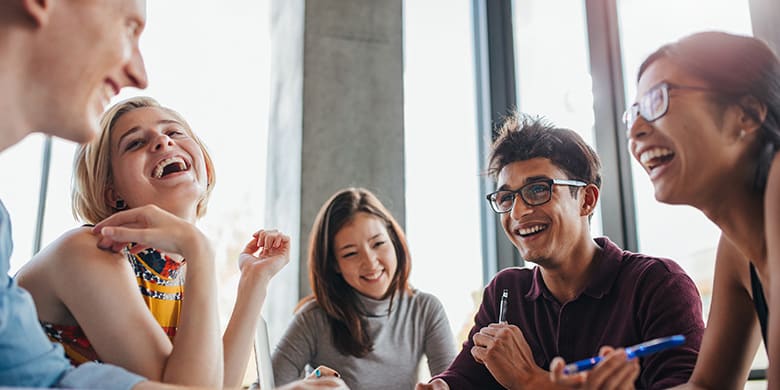 What kind of concert only costs 45c? 50 Cent featuring Nickelback.
Would you really want to attend a concert that cheap? A joke as old as time itself, this corny joke has been making its rounds from singer 50cents' inception. The 43-year old American rapper made his debut in 2002 after his first attempt in 2000 was literally shot down before it even took off. Although no longer thriving in the hip-hop music genre, his name lives on in this joke. In case you don't get it, fifty cents less a nickel leaves you with forty-five cents.
Two mice were chewing on a film roll when one of them goes "I think the book was better."
So we're taking this one from cheesy all the way to corny! It is a well-known fact that mice chew on about anything. As rodents, this is a result of their constantly growing teeth. Their chew toy for the night may be wires, wood, ducts, paper and just about anything. In this corny joke, it's a film, which in comparison to a previously chewed up book, is not all that great. Most of us can relate to that.
Why can't you hear a pterodactyl going to the bathroom? Because the "P" is silent!
Perhaps one of the most popular and easily identifiable dinosaurs, the pterodactyl was the only flying reptile of its time. The bird of the Jurassic period, the pterodactyl had wings of skin and muscle membranes. These large-billed reptiles were carnivorous and fed mainly on fish. Like many other dinosaur names, the pterodactyl is slightly tricky to spell thanks to the "p" in its name which happens to be silent. And according to this corny joke, so is its bathroom break.
How do you turn soup into gold? Add twenty-four carrots.
Fancy golden soup? A dish served since the seventeenth century, soups are made primarily with liquids, vegetables and meat. In traditional French cuisine, thickeners may be added such as pumpkin. Carrots are also a popular ingredient in soups. Especially in this corny joke. You only need to add twenty-four of these golden vegetables to turn your soup gold.
What type of computer sings? A Dell.
Who does not love a play on names? This corny joke is as popular as its references; Grammy-Award winning R&B singer Adele and computer manufacturer Dell. Created since Adele's introduction into the music industry in 2008, this joke has made its round on the internet via several social media platforms. If this isn't the corniest joke you've heard, then you can keep on reading.
Two farmers were in the field working, when the first farmer said, "Wanna hear a corny joke?"
A corny joke within a corny joke. This one seems pretty well-thought out. Of course, upon reading the first few words, your mind immediately puts together men in broad hats with blue overalls, pitchforks, a scarecrow in the background and a cornfield. You better be sure, that all jokes told on a cornfield are bound to be corny.
What do you call a group of unorganized cats? A cat-astrophe!
This one is for the cat lovers. It should be an easy guess, right? Imagine unorganized balls of fur rolling around your living room and knocking everything over. Cute and adorable to some maybe. But according to this corny joke, a cat-astrophe to the neat freaks.
Why can't you play poker in jungles? Too many cheetahs.
We are maybe all too tired of hearing this one or the many others similar to it. One of many jokes told referencing animals, this corny joke relies on the fastest land animal; the cheetah. Currently vulnerable, this dying species is found mainly in Africa. So why can't you play a good game of poker in African jungles? Because of its seemingly large population of cheetahs. Unfortunately for this joke, if poaching continues, there won't be any left.
How many tickles does it take to make an octopus laugh? Ten-tickles.
Not to be confused with pointy-head squids, octopuses are soft-bodied mollusks which exist in the vast ocean in nearly three hundred different species. They inhabit corals reefs and seabed. A few may also be found at abyssal depths. Their defense strategies include camouflaging, ink expulsion and quick mobility in escaping. The eight arms of an octopus are often mistakenly referred to as tentacles as is done in this corny joke.
Why was the mermaid wearing seashells? She grew out of her B-shells.
Love the beach? Love mermaids and sand and shells? Then you just might find this corny joke intriguing. It's all about the mermaids' boobies. The stories of mermaids were first told by seamen who believed that they had seen a creature who had the upper body of a woman and the tail of a fish. Originally associated with peril and love curses brought about by songs sang, today mermaids are often portrayed as princesses of the seas. Popular images depict them sunbathing on rocks with long flowy hair covering their breasts. While others paint them with shells. According to this corny joke, a mermaid fits seashells to her bosom as a woman fits bras to hers. The pun is played on the sound of "sea" to be interpreted as "c."
Thank you!
There's no doubt that corny jokes will keep being made, but until then, these are the worst of the worst kind of jokes, or rather, the best of them all.