PROSTHETICS Issue 3 Quiz
How well do you know Issue 3 of PROSTHETICS Magazine? Put yourself to the test!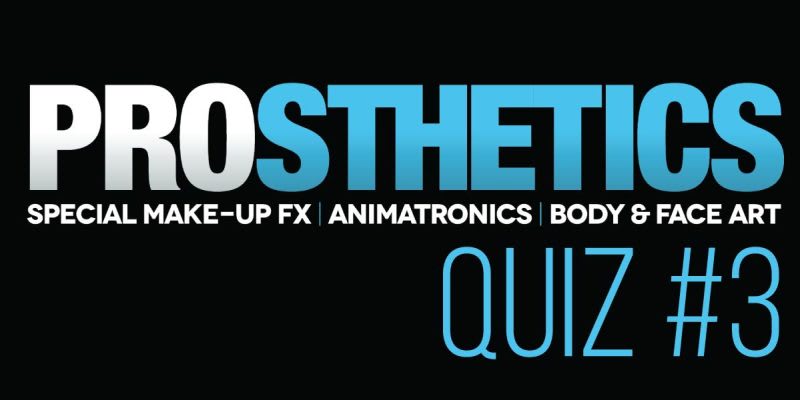 In this edition's 'Words of Wisdom', double Oscar winner Mark Coulier writes on the importance of inviting and interpreting criticism when developing your craft. Learning a lot from HONEST, constructive criticism, in which city did Mark study illustration in the UK?
In 'Seeing Red : The Creature FX of Crimson Peak', a feature by Joe Nazarro, we read about the concept and creation of the ghosts designed and built by DDT Effectos Especiales. But which two veteran suit performers played the ghosts?
In the concluding part of 'Rising Stars', the UK's Barrie Gower gives an insight into the inauguration and development of his company, from small beginnings to Emmy success. Our cover image of 'Night King' by BGFX is from the 4th series of Game of Thrones. But for how many years previous had GOT been nominated before winning an Emmy for Outstanding Prosthetic Makeup for a Series?
In the feature 'Victor Frankenstein', Neill Gorton tells us of the challenges in reimagining arguably the most interpreted make-up design in cinema history. The first featured creature was to be Victor Frankenstein's first attempt at reanimating a corpse, fabricated from a chimpanzee, a hyena and other nameless parts. By what name did this creature come to be known?
Are the gender scales tipping in the world of prosthetics? Laura Sutherland investigates the male/female balance within the make-up FX industry. American Educator Gary Christensen observes what percentage of women are populating modern FX courses?
In Part Two of Colour Theory with Stuart Bray and Todd Debreceni, we are taken through base tones, foundations and mixing. In the section titled 'Mixing PAX Bases' what are we told that acrylic paints typically do when they dry out?
In this feature, triple Primetime Emmy Award winner and American Horror Story's key prosthetic make-up artist Mike Mekash takes us through some of the incredible make-up FX that brought the menacing characters in the latest instalment Hotel, to life. But which one of the following titles is not a part of the hit television series?
In Part One of a Two-Part Tutorial on Prosthetic Mouldmaking, Neill Gorton takes us through Silicone Block Moulds. In Step 6, making a master negative mould, Neill uses which popular mouldmaking silicone?
In the latest FX Cribs, Neill takes a peek around the professional home of Mike Elizalde's globally renowned company Spectral Motion Incorporated in Glendale, California. The company was incorporated in 1994 and its Dana Street location opened its doors in 2002 for which blockbuster movie?
In the Step-by-Step Tutorial 'Sculpting the Eye' by Andrew Sinclair, he shares 5 important rules to make an eye resonate with life. Following Rule 2, should the upper eyelid be further forward or backward then the lower lid?
You may need to refresh yourself on this Issue! Did you know PROSTHETICS Magazine is available worldwide? To find a supplier near you, please visit 
www.prostheticsmagazine.co.uk
Not bad but you may benefit from going back to this Issue! Did you know you can now buy digital versions of PROSTHETICS Magazine to view on laptop, tablet and mobile devices. To find out more please visit 
www.prostheticsmagazine.co.uk
You're good at this! Why not treat yourself...PROSTHETICS Magazine is now available as a subscription. To find out more please visit 
www.prostheticsmagazine.co.uk