Snowmobile Photo Quiz
How knowledgeable are you about current and past snowmobiles? Try our quick quiz and find out.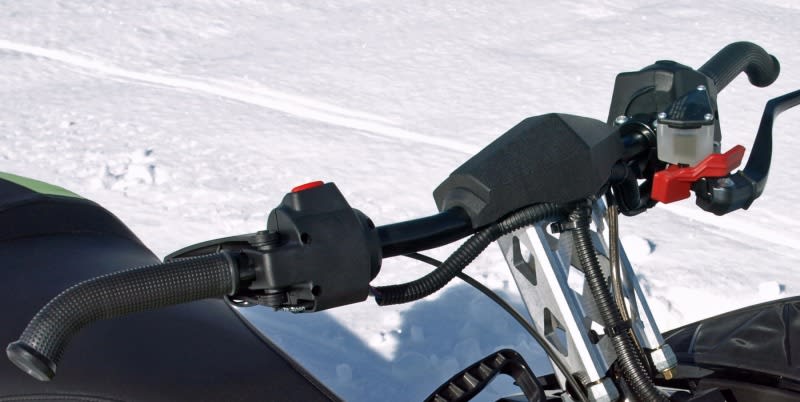 A company that frequently fits its snowmobiles with unique proprietary features that it borrows from its motorcycle or automotive engineering groups and adapts to sleds includes this year's front suspension technology that connects the two front shock absorber bodies hydraulically. Which company and model uses this concept and what is it called?
These KYB high performance brand shocks feature multiple adjustments and enhanced valving and are a staple on this brand's top-of-the-line trail and crossover models.
Fox brand shocks has innovated snowmobile handling with its unique blend of high performance designs, but this latest style combines ease of adjustment with multiple settings. You'll find this shock on various performance and "adventure" models in 2018. It is what?
SHOT is a unique lightweight starting system that weighs substantially less than previous electric start designs and has created excitement among deep snow riders and is a key selling point for riders seeking this brand and model.
Handlebar-mounted pod-style windscreens have been used on various sleds over the years to include Yamaha and select Arctic Cats, but it first appeared in the early 1970s on which brand?
Each sled brand uses its own distinctive power supply for its top performance models. This 160-plus horsepower two-stroke engine was designed, engineered and manufactured by this modern-day sled maker and is known as what?
In the early days of snowmobiling virtually everything was new, including favored handlebar designs. This style found popularity with select Arctic Cat riders but was more famous as one of two handlebar options on Scorpion models. It was known as…?
When Ski-Doo designers styled the current GEN4 REV models, they sought to incorporate some sense of linking past history with a new modern style. The broad painted nose pays homage to which past Ski-Doo model?
A long time fixture in the snowmobile industry, Hayes hydraulic brakes have been used on generations of Polaris sleds. One intriguing concept developed by Hayes and offered to consumers in 2014 was its Trail Trac system. What made it special?
Gearbox transmissions are not new as the use of high/low speed gearboxes with a neutral lockout and reverse have been around since the Ski-Doo Alpine. Lynx pioneered a gearbox with a synchromesh component. Who makes this gearbox and what makes it unique?
No other sled maker has this patented and exclusive to Yamaha feature. What is it?
Polaris Indy 550s come standard with a CVT system that dates back to the earliest days of the sport. Once sold as a performance update for 50-plus horsepower sleds of the 1970s, this drive system blends perfectly with the current 550cc Fuji-built two-stroke twin powering the Polaris Indy 550 series. Easy to tune and virtually maintenance-free, this design began life as?
In order to meet toughened emissions and fuel efficiency standards, Arctic Cat turned to KYMCO to manufacture a new 700cc four-stroke twin that is used in which two Arctic Cat products?
This design feature is only found on select Ski-Doo Gen4 REV models. What is it?
Developed for a premium performance trail sled, this unique suspension uses rear-mounted linkages and long travel shock action. It has evolved over time, but the basic concept remains. It is?
Another of Yamaha's first sled innovations was this, which connected the depicted device to the sled's electronic computer to establish proper ratio and action to lessen a rider's fatigue. It is…?
Today we take having a snowmobile with a liquid-cooled motor as the norm, but in the early 1970s, liquid-cooled engines were not common. A central Minnesota snowmobile manufacturer was one of the first sled companies to embrace this feature for its production sleds. That company and its model was…?
Before exiting the snowmobile business in the 1980s, John Deere offered prototypes with a front suspension package popularized by Yamaha and still used by them and Ski-Doo on some 2018 utility models. That suspension is the…?
This pioneering snowmobile company innovates sled design with features such as its rider-forward chassis, lightweight SHOT starting system and a new Pilot TS ski that does what?
When every other sled maker featured straight handlebars with dropped bar ends, this sled manufacturer created an industry-first curved bar that set the standard for on-trail rider comfort. Which brand was it?