What Rooms Make You Swoon?
Would you feel most at home in a sleek city apartment, or in a cozy cottage? It's time to find your dream home preferences by taking Restoration Harmony's Design Style Quiz. To see more design inspiration be sure to follow us on social media at @harmonyhomes14 and on YouTube and Pinterest at Restoration Harmony. Cheers!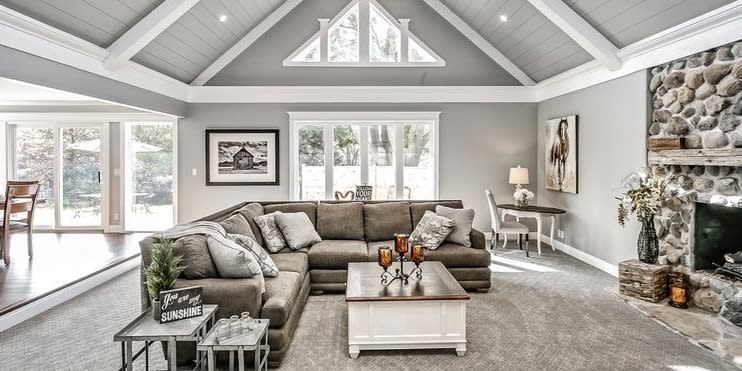 Which coffee table fits you best?
Where will you enjoy your breakfast in bed?
Party time! What kind of party do you prefer?
Pick a family room that best suits the way you live.
Which kitchen's got ya cookin?
MODERN
If Sleek lines, minimalism in furnishings and a desire for a crisp, simple color palette makes you smile the modern design style is right for you. Consider adding metals, glass and steel to infuse a modern feel to your home. White walls or monochromatic colors bring together a modern feel while keeping clutter and tchotchke's to a minimum are all things that brings you happiness.
TRADITIONAL
You are a traditionalist at heart. You like the idea of formal living and dining spaces. Furnishing your home with a sprinkling of family heirlooms and sturdy timeless furnishings that can be both formal or cozy is something that appeals to the traditionalist.
FARMHOUSE
If you are drawn to warm, calming, neutral colors.
Prefer clean lines mixed with cozy elements. If you find happiness and comfort by blending the old with the new, while combining practical function, then the modern farmhouse style might be right for you. ​



Click here to learn more about Farmhouse Design
INDUSTRIAL
Industrial style draws inspiration from a warehouse or loft. Think unfinished elements like exposed brick, beams and duct work. You love to be in the center of it all. When it comes to your home, the old adage proves especially true: it all comes down to location, location, location. Living in a city, you may sacrifice on space, but in exchange, you get access to a rich world of culture, food, and urban adventures.
COTTAGE
You're a family-oriented individual who values stability, especially when it comes to raising a family. You'll be happiest in the classic cottage style home with lots of extra space, a big yard for the kids and dog, and, of course, that white picket fence.

Inside your space consider big comfy chairs, lots of pillows, and textures. You may want to consider blending antique pieces with a few farmhouse touches. Your walls may be filled with anything that makes you happy. Perhaps family photos throughout time, atop a piece you picked up a flea market, with fresh flowers from your garden. Your space is one people aren't quick to want to leave.
MID-CENTURY MODERN
If you love merging styles this is likely a great design style for you. Clean lines mixed with the traditional style of functional furnishings and geometric shapes adorn Mid-Mod inspired interiors. Think Mad Men. If this style appeals to you fire up Netflix and watch a few episodes for a little design inspo. Or check out our blog to learn more about the Mid-Century modern design style.
Click here to learn more about Mid-Mod
BOHO
The Boho interior design style embraces the quote by Queen that "anyway the wind blows, doesn't really matter to me." A concept that anything goes.
Gypsies made do with treasures they found on their travels creating a cozy if only temporary living space on the road. Think bold jewel-toned colors, texture, quirky accent pieces, and lots of patterns. To achieve the look in your home consider these tips in our blog below.

Click here to learn more about Boho Design
URBAN MODERN
You are very cosmopolitan! Urban Modern or Urban Chic is a style that is both a modern, minimalist lover's dream design. Think neutral furnishings, even white, bold funky art, shiny metals that speak to you. This style is softer than the industrial design style but maintains sharp lines and minimalist aesthetics like that of the modern style.
SHARE YOUR RESULTS: