Style Quiz
Learn more about yourself. Understand your taste. Know your interior design style personality!

It's okay if you like more than one! Even if you do of course know exactly what you want and like, you might still learn or explore something new. Or, perhaps you don't know what to call it or how to pinpoint or explain to someone else what your taste and preferences are.

Please please please don't think that there's a right or wrong here. Although it is good to follow guidelines to create a coherent interior, you can use a style or several styles as inspiration. How you interpret a style will differ from someone else's interpretation. You are unique and so is your style!

When you're done, share with your friends and fam. Perhaps you'll also get to know each other a little better ;) .

Have fun!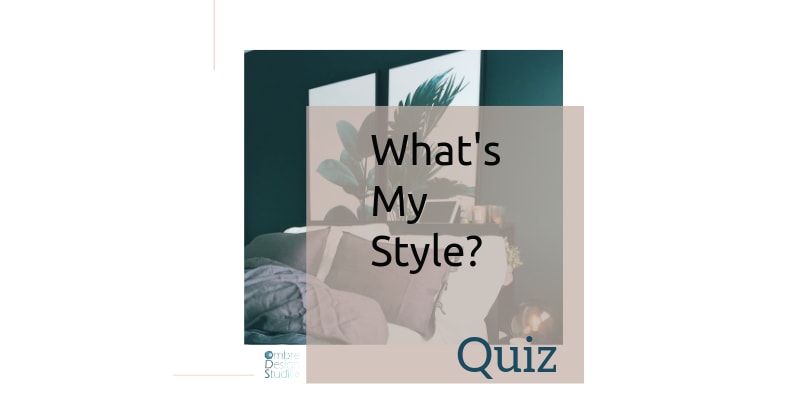 Do you like covered/refined/treated more than raw, untreated, exposed materials?
Would you prefer decorative/elaborate/baroque/ornate/lavish over simplistic?
Do you like glitz/glam/shiny/gilded more than plain/dull/natural/untreated/raw/worn?
Do you prefer full/plush/rich fabric or materials over rugged/plain/rough/natural?
Do you like luxurious/posh/fancy/formal more than informal, relaxed and comfy?
Would you rather have a more colourful than a plain, neutral / less colourful palette?
Do you like brighter, saturated colours more than muted, toned down colours?
Do you prefer a historical/classic style over new/trendy/current?
Would you rather have a full, busy space than a clear, open space?
Do you like a grand/majestic/extravagant more than humble and ordinary?
Would you prefer curvilinear/twirl/circular lines or shapes over clean/crisp/rectilinear/straight/cubic? (Especially in furniture)
Do you like floral more than leafy or twigs in interiors?
Do you prefer geometric patterns/shapes over other flowing/curving/floral/leaf patterns or shapes?
Would you prefer light, bright, airy spaces over dark or dramatic ones?
Do you believe in "pretty has a purpose", or are only the most useful, functional furniture, walls, items, etc. necessary?
Do you mind mass manufactured items or do you prefer more exclusive or handmade items?
Do you like to strictly stick to rigid rules or be flexible and break or bend them a bit?
Would you rather have structured, precise forms/shapes or do you prefer free form / natural shapes?
Do you like symmetrical more than asymmetrical?
Do you like a high variety of mixed patterns and textures, or small variety?
Would you like mirrored accents, wood combined with chrome and glass, rounded combined with sleek lines in home furnishings?
Do you like embracing different lifestyles and cultures, including the use of ethnic, bold or colourful patterned pieces?
Do you like vintage-inspired, old but worth keeping, distressed, ornate, feminine and pastels?
Do you like to bring the outside indoors and having an energising, bright aura of life?
Do you like solid colours, muted neutrals, sleek furniture low to the ground with metal frames, and graphic elements in artwork?
Wabi-Sabi
You're a Wabi-Sabi lover!

This style doesn't have specific, definitive shapes, decor, or colours. The style follows vibes of natural, easy, unforced, lived-in and most importantly perfection in imperfection.

You may also like Minimalism, Coastal or Japanese Zen styles.
Rustic
You are a Rustic lover!

This style is much like Country. A rustic design has an emphasis on nature-inspired textures. It hugs neutral and earthy colours and a modest warmth. It embraces unrefined, rugged, natural items and elements. Natural beauty is key.

You may also like Country or French Country and Wabi-Sabi styles.
Victorian
You are a Victorian lover!

This means luxury and over-abundance. Covered, refined materials. Highly decorative, elaborate, baroque, ornate, lavish. Glam and shiny. Full, rich textures. Luxurious, uptight. Colourful. Saturated. Old, historical, classic. Full, busy. Formal. Symmetrical. Prim and proper. Extravagant, grand, majestic. Curvilinear, twirls. Flowy, curvy shapes and patterns. Floral. Painted/gilded. Manufactured. Highly patterned, a large variety of patterns and textures. Can be dark and dramatic. Items for aesthetic purposes. Structured.

You may also like French or Traditional styles.
French
L'amoureux du style français!
Refined, treated furniture. Glam, shiny, treated. Rich details. Extensive use of bronze, gold, gilt. Highly ornate, decorative, fanciful. Heirloom or antique furniture. Dramatic, layered window treatments. Saturated & muted tones. Formal. Symmetric. Full, busy. Historic. Curvilinear, curly, twirls, flowy. Floral. Mixed patterns and textures. Rich textures. Can be dark or dramatic. Structured. Aesthetics.

You may also like Traditional or Victorian styles.
Traditional
You are a lover of Traditional!

Refined, classic details. Decorative, ornate. Full. Rich and natural materials. Mostly mass manufactured with natural materials. Wood, especially dark stained wood. Muted, neutral palette - brown & beiges with other colours. Formal. Mostly curvilinear. Dark, dramatic. Grand. Full and can be busy. Historic. Symmetrical. Structured. Mixed patterns and textures.

You may also like French or Victorian styles.
Contemporary
You like Contemporary!

This is based on the here and now, current and trendy. A bit of rule breaking is tolerated. Mixed metals. Graphic elements. Both curvy and straight lines. Usually mostly neutral colours with punches of brighter solid colours.

You may also like Industrial, Scandinavian, Modern and Minimalism styles.
Scandinavian
You like a Scandinavian style!

Toned ivory, taupe, sage, cool grey or blue and (preferably pale) wood are often incorporated with white walls. This is complemented by rich textures and natural finishes to add depth and definition. Window treatments are usually limited, and abundant natural light is invited. Minimalism has continued into the 21st century. It is seen in Scandinavian design where lines are clean and simple. Quality materials and workmanship speak for themselves. Hygge!

You may also like a Rustic style or other Contemporary styles.
Mid-Century Modern & Modernist
You like Mid-Century Modern!

Characterized by functionality, simplicity and natural shapes. Simplicity and clarity of forms with a visual emphasis on horizontal and vertical lines. Celebrating free, natural forms as well. Illustrate the balance of positive and negative in non-objective forms and lines. Industrially produced materials like concrete, steel and glass.

Perhaps you like a Retro style as well. You can easily incorporate your taste with a more Contemporary feel.
Tropical
Aloha! ʻOʻoe kahi Puʻupuʻu Tropical!
Inspired by beaches of Hawaii or other tropical destinations. Heavy prints of palm leaves and brightly coloured flowers, thatched. Muted coloured rugs or sisal and seagrass carpets cover the floor.
You may also like a Coastal or Bohemian style or perhaps even Wabi-Sabi.
Shabby Chic
You like Shabby Chic!

Vintage-inspired. Distressed, feminine, ornate, soft, delicate, white, cream, pastels. Older, lived-in, old yet worth keeping.

You might also like other Eclectic or Rustic styles.
Country
You are a Country fan!

A rustic, countryside sophistication is typical of this look. Some furnishings are bought at flea markets and antique shops because of the primitive historical connection. Elements have a rural, handmade quality. Just think handmade pottery, baskets, hand-forged metal and woodwork. Checked, striped, floral, and sometimes vintage patterns in a fabric are characteristic.

You might also like a Rustic style or French Country.
Art Deco
You Great Gatsby fan you!

Black and gold, geometric, rounded fronts, accents of mirror, glass, chrome... they were embracing technology and mass production (1910 - 1950). This style is still prevalent, though. Ain't life grand.

You might also like a Luxe style.
Luxe
You are such a Luxe fan!

Plush, velvet, glam, gold, metal, marble, expensive and original art... everything in its pure form of sophisticated luxury.

You might also like other Contemporary styles or Art Deco.
Retro
You wish you were still living in the 50's, 60's or 70's, don't you?

Caleidoscope, pop art, flower power, plastic fantastic, psychedelic, yeah baby!

You might also like a Mid-Century Modern style.


French Country
You like French Country!

Farmhouse inspiration, warm, earthy colours, worn wood, ornamental furnishings. Ornate porcelain dishes. Soft and warm tones of yellow, gold and red. Natural materials like brick and stone.

You might also like Country, Rustic and French styles.
Bohemian
You are such a boho nomad, aren't you?

Nothing can stop your wanderlust. Memorabilia from travels, embracing other lifestyles and cultures. Colourful and bold patterns from Africa, India, South America, the Middle East or Asia. It feels like you could just about be anywhere in the world right now.


You might also like some other Eclectic styles.
Eclectic
You like almost everything and you like mixing it together, cause somehow it just works, right? Eclectic is a catch-all style borrowing from many other styles.

Imagination, surprises, contrast!

You might also like a Bohemian or Contemporary style.
Coastal
You just love that Coastal sea breeze, don't you?

Relaxed, outdoorsy, fresh, airy, cool, calm and casual.

You might also like Wabi-Sabi, Rustic, Country or Minimalism.
Industrial
You urbanist! You love those city lights and all the buzz!

Reclaimed industrial spaces, open, high ceilings, lofts, large windows, weathered concrete or wooden flooring, exposed brick, beams and metal air ducts is just your thing.

You can incorporate Contemporary aspects with this look.
Minimalist
What is more necessary than the bare minimum. You love Minimalism. The minimalist approach ensures using only the bare necessities in a home with each element having its own purpose. Minimalism is all about keeping it simple.

You can incorporate this style with Contemporary. You may also even like Japanese Zen or Wabi-Sabi styles.
SHARE YOUR RESULTS: