What Would Your Pioneer Job Be?
What would you do for a living back in 1840-1918 in Manatee County, Florida? Find out!

Share your results with #manateevillage!
This fun quiz was created by Manatee Village Historical Park
manateevillage.org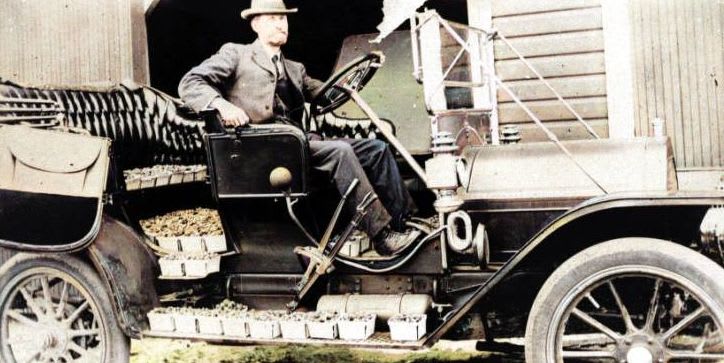 Delivering Strawberries, Manatee Libraries
Delivering Strawberries, Manatee Libraries
Delivering Strawberries, Manatee Libraries
Delivering Strawberries, Manatee Libraries
Delivering Strawberries, Manatee Libraries
Delivering Strawberries, Manatee Libraries
Choose a school subject/extracurricular.
Delivering Strawberries, Manatee Libraries
Cassava Farmer
Hope you like bread! You live in Palma Sola (Bradenton, FL) in 1918 and you farm cassava root. Cassava root was grown and harvested to make starch. The starch would be sold and used to make bread and other food dishes. Thanks for getting bread on everyone's table!
Blacksmith
Hope you like fire and metal! You live in the late 1800s in Bradenton, FL. You make metal tools like hammers, architectural structures like gates, wagon parts and horseshoes, and cool trinkets like candle holders and ornaments. Keep the barrel of water close by for unruly fire!
Manatee Village Historical Park
Teacher
Hope you like kids! You're a teacher in Bradenton, FL, in 1913. you get paid $45 per month. There aren't many books but you know a lot of stories and teach math, reading, writing, and scripture. Students act up, and if you really want, you could use a hickory board on their bottom or put them in the "dunce chair" for timeout. Have mercy on them kids!
Manatee Village Historical Park
Innkeeper
Hope you like socializing! It's 1910 and you run a hotel on Anna Maria Island, FL. You love meeting new people and making sure they can use your board games and card games and phonograph for entertainment. Your dining room seats up to 200 people and you're known for your tasty seafood dinners. Thanks for providing a safe place for early traveling settlers!
Sugarcane Farmer
Hope you have a sweet tooth! It's the early 1900s and you work for the Felts family on their sugarcane farm in Palma Sola (Bradenton, FL). You work on 20 acres of sugarcane field, supervise the donkey on the sugarcane mill, and help make cane syrup to be sold. Thanks for providing delicious sugar and syrup for everyone's pancakes!
Turpentine Worker
Hope you like the smell of pinewood and don't mind getting messy! You're in the early 1900s in Bradenton, FL, and you extract pine tar and oils from trees. It's grueling work on hot long days and you don't get paid much at all. The tar and oil gets made into a resin that fills gaps on sailing vessels. While you help families and sailors stay afloat when they travel down the Manatee River, you're kind of looking for something better.
Manatee Village Historical Park
Artist
It's 1916 and you're an artist in Bradenton, FL. You use a big clunky camera for photographs (would people just stay still?!) and you draw and use water color techniques. People come to you for family portraits, graduation photos, newlywed photos, and even death photos when a loved one has passed away and the family wants one last portrait of them. You're a big help because how would people in the future know what life was like back then without seeing a glimpse of it?
Tomato Farmer
Hope you like ketchup! It's 1913 and you work on the Harllee Farm in Palmetto, FL. The days are long and hot but the tomatoes taste so good that you could eat a tomato by itself. Did you know that Palmetto used to have Tomato Festivals in the early 2000s? We should bring that back!
Mariner
Hope you like the ocean! You're a sailor in the late 1800s and you're loading cargo onto a steamboat on Egmont Key (Tampa Bay, FL). You make sure supplies get to their proper destinations so families and workers have supplies, food, cloth to wear, medicines, and equipment. Make sure to bring an orange with you to prevent scurvy on your next long trip!
Celery Farmer
Hope you like "ants on a log" (you know, the celery snack with raisins). It's 1915 and you work on Braymer's celery farm in Bradenton, FL. Can you believe that there was a celery farm in Bradenton? But don't think this is lame - In 1910, over 2 million pounds of celery was brought to the area by shipping vessels. Worth over $65,000. The celery business was booming! So keep on farming that celery!
Telephone Operator
Hope you like tech stuff! It's the early 1900s and you work for the Peninsular Telephone Company in Bradenton, FL. There's only a few party lines. A party line means people in the area have to share a line. They contact you and you connect them to the person they want through your switchboard. It's really cool but we imagine it was a constantly improving process, the company stated in the 1930 county directory "We realize that difficulties will occur despite all our efforts to avoid them" - Haha! Typical technology, right? Well you keep on connecting people!
Nurse
Hope you like medicine! It's 1918 and you've recently finished your Red Cross Nursing Class in Palmetto, FL. Please don't wish that your result was "doctor" instead, records actually say during this time that nurses were "a force to be reckoned with for doctors in Manatee County". You're a huge help in the 1918 influenza pandemic. Just make sure to take care of yourself, too!
Cow Hunter
Hope you like traveling! You're a cow hunter in the late 1800s. You travel through Manatee County and its surrounding areas. Florida is a free-range state so your cows are free to roam. You spend your time searching for your cows and adding more cows when you find wild ones. Usually you'll sell your cows at market to make money. This allows families to get beef on their dinner tables. At night, you camp or sleep in one of the bunkhouses scattered throughout the state so you can get a break from the bugs and panthers.
SHARE YOUR RESULTS: