WHICH AMAZING GHANAIAN WOMAN IN HISTORY WOULD YOU HAVE BEEN IN THE 1900s? #GoDIVA
Undoubtedly, women have helped shape the current terrain of Ghana and ought to be celebrated for all their efforts and inputs. These badass women are obviously the kind of women any parent should introduce to their daughters as prospective role models. Take a test and find out which great Ghanaian woman in history you are more like...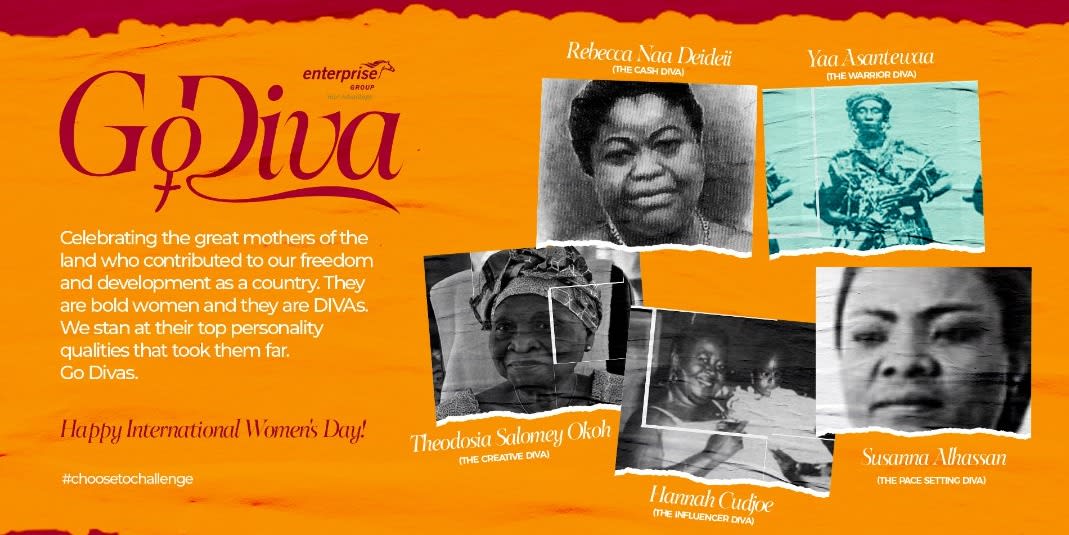 Which of these hobbies is your favorite?
The year is 1957, the 6th of March, how are you and your squad pulling up to the independence square?
If the first independence day was today, what fit would you wear to the party?
THE WARRIOR DIVA
You are our #GoDiva Yaa Asantewaa!!!

The Ashanti-British "War of the Golden Stool" was led by Queen Mother Nana Yaa Asantewaa with an army of 5,000. She forged her name into the stone with endurance and bravery. You can do it too.
THE INFLUENCER DIVA
You are our most elegant #GoDiva!! Hannah Cudjoe.
Known as "Convention Hannah", this pioneering activist played a leading role in Ghana's struggle for independence, and worked to improve the lives of women in the country. Her resilience continues to inspire us today.
PACE SETTER
You are Our #GoDiva Susan Al-Hassan!!
Born in Tamale, Ghana's northern regional capital, Al-Hassan schooled at Achimota School before becoming the headmistress of Bolgatanga Girls' Middle School from 1955 to 1960.
From 1961, she became the Deputy Minister of Education in Nkrumah's republican government, making her the first woman to be appointed minister in our country.
THE CREATIVE DIVA
You are our #GoDiva Mrs. Theodosia Salome Okoh!!!
Mrs. Okoh, affectionately called Dosia or Mama by most people, rose to become a stateswoman deserving great recognition not only because of the designing of the national flag, but also because of her remarkable feats in other fields.
THE CASH DIVA
You are our Cash Mama #GoDiva!!!
Naa Dedei Ayitey was a Pioneer, Political Activist, Feminist and a Chief Financier of the Convention People's Party led by Dr Kwame Nkrumah.A true Nationalist, she campaigned and funded Nkrumah against her own kinsman Odarkwei Obetsebi-Lamptey. When Harry Sawyerr brought double decker to Accra, they were named Auntie Dedei apparently after her.

SHARE YOUR RESULTS: