5 Teen Romance Novels to Read If You Like Jackie and Hyde from That 70's Show
For those of you who haven't watched That 70's Show, the show is about a group of teenagers growing up in rural Wisconsin in the 70's. Jackie is a rich, spoiled, and shallow girl while Hyde is the group's burnout bad boy. Orphaned, broke, and not at all interested in applying himself for a better life, he seems like a very poor match for the status-obsessed Jackie. But somehow they manage to keep from killing each other and bring out the best in each other. Here are 5 teen romances to read today if you like Jackie and Hyde together.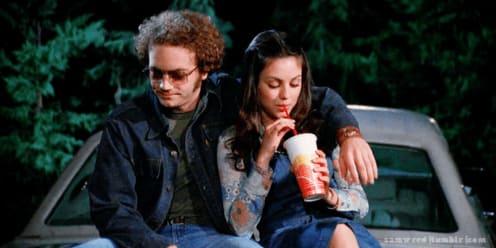 Thank You!
Don't miss another update from Lover's Quarrel. Sign up for Lover's Quarrel's newsletter
here
and get a free copy of 
The Ultimate Romance Novel Reading List
, a list of free, full-length romance novels rated 4 stars or higher on Lover's Quarrel. 
Want more teen romances? Read about this teenage girl who doesn't take her mate's crap in this
fantasy romance
.