5 Teen Romance Novels to Read If You Like Jackie and Hyde from That 70's Show
For those of you who haven't watched That 70's Show, the show is about a group of teenagers growing up in rural Wisconsin in the 70's. Jackie is a rich, spoiled, and shallow girl while Hyde is the group's burnout bad boy. Orphaned, broke, and not at all interested in applying himself for a better life, he seems like a very poor match for the status-obsessed Jackie. But somehow they manage to keep from killing each other and bring out the best in each other. Here are 5 teen romances to read today if you like Jackie and Hyde together.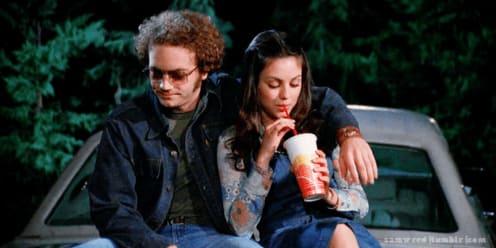 Perfect Chemistry by Simone Elkeles
This was one of my favorite teenage romances in middle school. I had to have read it at least three times. And it's perfect for those who love Jackie and Hyde. Brittany Ellis is a rich popular girl determined to keep everyone from seeing the trouble she has at home with her family. Alex is a gang member from the wrong side of the tracks. Everyone knows he's bad news and he can scare everyone around him. But all Alex wants is to keep his family protected from his own gang and to see his little brother get the future that he can't have. Alex and Brittany are destined to hate each other. But when they become Chemistry partners during their senior year of high school, sparks fly anyway.
Buy Perfect Chemistry at your local independent bookstore.
Love Fortunes and Other Disasters by Kimberly Karalius
This is another favorite of mine, which I've actually reviewed here. Fallon is a high-maintenance high schooler who received a bleak fate in her town obsessed with love: she was destined to never find it. This fortune came from the Zita's Love Charm's Shop, which means it will be true. After all, Zita's fortunes are always true. But Fallon isn't the only one who got a bad fortune, and a rebellion is brewing in the town of Grimbaud to take back their fortunes. Fallon ends up teaming with the notorious heartbreaker Sebastion to take down Zita. And maybe in the process she'll find true love. Fallon is a little like Jackie because she's so high maintenance and is known to be a bit of a princess who looks down her nose to Sebastion, the school's bad boy and player, like how Jackie did with Hyde. But somehow Sebastion and Fallon work, just like Jackie and Hyde do.
Buy Love Fortunes and Other Disasters at your local independent bookstore.
Brightest Kind of Darkness by P.T. Michelle
Nara Collins is a normal teenage girl. Except every night she dreams exactly what will happen her next day at school. But following a bomb scare at her school, her dreams disappear, and Nara thinks it has something to do with Ethan, a mysterious boy that doesn't ever show up in her dreams. He's a loner that everyone says she should stay away from, but Nara doesn't think he'll harm her. In fact, she thinks he might be the one person who could help her understand her dreams.
This becomes even more necessary as strange things keep happening at school and Nara gets the feeling that she's being attacked by a strange supernatural force. However, with Ethan's help, she might be able to beat Fate itself.
This is another one of my favorite teen romances. It's one of the few series I keep up with. While it's not quite like Jackie and Hyde, Ethan is really protective of Nara, like Hyde is with Jackie, and he does have a bad boy persona.
Buy Brightest Kind of Darkness at your local independent bookstore.
Keeping Her Secret by Sarah Nicolas
The last person Riya Johnson expected to run into at her new summer camp is Courtney Chastain—her childhood best friend and the girl who broke her heart after a secret, mind-blowing, life-altering kiss. She definitely didn't expect to be sharing a bunk bed with her for four long weeks.
Courtney has what every girl wants—she's beautiful, rich, and the object of every boy's desire at Camp Pine Ridge. Too bad none of them make her feel an iota of what Riya's kiss did all those years ago. But Courtney needs to uphold appearances at all costs—even if it means instigating an all-out prank war with Riya as her main target.
Neither girl can stop thinking about the other…but that doesn't mean they can give up past hurts and take a chance on a future together.
This book is for the Jackie Burkart fans. Both Jackie and Courtney are beautiful, rich, popular, and intent on keeping up appearances, no matter what they're really feeling. The prank war is also appealing to That 70's Show fans, because if there's anything all of the basement gang likes, it's a good prank.
Buy Keeping Her Secret at your local independent bookstore.
Hope for Garbage by Alex Tully
Welcome to the cruel world of Trevor McNulty. No matter how hard he tries, this seventeen year-old just can't get a break. Through no fault of his own, he finds himself living with his alcoholic uncle on the outskirts of Cleveland. His days are filled with garbage-picking and hanging out with his seventy year-old neighbor, who also happens to be his best friend.
One early morning while scanning the streets in a posh suburb, he meets Bea, a rebellious rich girl with problems of her own. She's smart, cute, and a glimmer of light in his dark world.
But in the midst of their budding romance, Bea's beautiful mother enters the picture with an agenda of her own. She sets off a chain of events so shocking and destructive, Trevor's crazy life soon becomes more than he can handle. While he is desperate to save his relationship with Bea, he learns that nothing in his world can be saved unless he first saves himself.
Hope for Garbage is a story about resilience—about overcoming adversity under the most extraordinary circumstances—about never, ever, giving up hope.
Because sooner or later, everybody gets a break.
You can buy Hope for Garbage at Amazon.
Thank You!
Don't miss another update from Lover's Quarrel. Sign up for Lover's Quarrel's newsletter
here
and get a free copy of 
The Ultimate Romance Novel Reading List
, a list of free, full-length romance novels rated 4 stars or higher on Lover's Quarrel. 
Want more teen romances? Read about this teenage girl who doesn't take her mate's crap in this
fantasy romance
.