Opinion Stage vs. Apester vs. Ex.co / Playbuzz Pricing vs. Value
In this article, we'll review three popular interactive content platform alternatives: Ex.co (formerly Playbuzz), Opinion Stage, and Apester, and compare them across the following dimensions: tool variety, customization options, integration options, performance and security. We will also compare Opinion Stage, Apester & Ex.co / Playbuzz pricing to compare value vs. cost.
Tool Variety
Using an interactive content platform with a wide range of tools will help your creative process. All of the tools included in Opinion Stage, Ex.co / Playbuzz and Apester come with templates you can use when you want to get up and running quickly without fiddling with too many settings.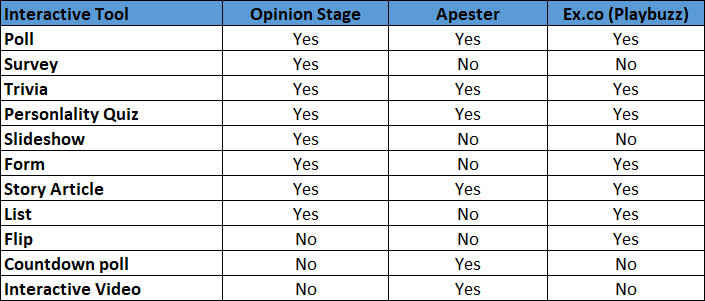 All three platforms offer polls, quizzes & interactive stories with a lot of advanced features. Each platforms augments that with a slightly different tools set. Opinion Stage offers in addition Surveys, Forms & Slideshows. Apester offers an interactive video & countdown poll. Ex.co (Playbuzz) offer a Flip tool.

It will come down to which specific tools are important for your work.
Opinion Stage, Apester & Ex.co / Playbuzz Pricing vs. Value
Although some business are more sensitive than others to cost, cost is the probably the single most important buying factor. Following is the pricing structure and plans that Opinion Stage, Apester and Ex.co offer.



Verdict

Both Playbuzz and Apester set their price based on the number of people that engage with your content. They also charge per activity with a minimum of a few thousands of dollars to run one content campaign.

Opinion Stage, on the other hand, is a much more cost-effective option than Playbuzz and Apester. Instead of strictly charging per user engagement, you can subscribe to one of the plans offered and create as much content as you want based on the features you need.

Here's what Opinion Stage pricing plans look like

Opinion Stage also offers additional services like custom developments, content creation and campaign design with a quote that starts at $1,000. Opinion Stage offers both monthly and yearly plans, however, you unlock significant savings when you go for the yearly plan.
Performance
Using an interactive content platform is great and everything, but if it doesn't deliver actual results, then it's not very useful. We looked at the performance of Opinion Stage, Apester, and Playbuzz across three dimensions: Mobile Compatibility, Completion Rates, and Session Times. Here's what we found:
Mobile Compatibility - All the templates and tools included in Playbuzz, Apester, and Opinion Stage are fully mobile compatible.

Completion Rates & Shares - Out of all the interactive content formats available, quizzes had the highest completion rates. 90% of users who started a quiz completed them, and the share rate was also fairly high, at a few percents depending on the scenario

Session Times - The average session duration for quizzes created on Opinion Stage, Apester and Playbuzz was relatively long and lasted about 2-3 minutes. The duration increased as we optimized the content's length and targeting.
Verdict

Overall, all platforms showed a solid performance. Ultimately, the performance of your interactive content will depend on your audience and the topic of your content. You will get the best results by testing different versions of your content across different audiences and channels.



Ease of Usage
Creating interactive content should be as easy as possible. Otherwise, you'll spend more time figuring out how things work than actually creating content.
Verdict

Both Playbuzz and Apester have a steep learning curve. If you've never created interactive content before, you might find some of their features confusing and their interfaces difficult to navigate at first. However, both platforms have video tutorials and templates to help you get started.

Opinion Stage is comparatively easier to use. You can create your interactive content in a matter of minutes, by using templates without having to rely on tutorials. If you've ever used a text editor before, you won't have any trouble using Opinion Stage. It's that easy.

Another strong point of Opinion Stage is that they also have a really good WordPress Plugin that makes it easy to put your content on blogs. Overall, ease of use is excellent on Opinion Stage.
Integrations
The right integrations can help you do more with your interactive content. Some integrations will allow you to connect user responses with your marketing automation software while others will make it easier to embed your content on your site. Here are the integrations offered by Opinion Stage, Apester, and Playbuzz as were found online:
Verdict

Both Playbuzz and Apester make it easy to share your content with your audience on social media. You can also share your content on your site using embed codes or use their WordPress plugins to streamline the curation and embedding process.

Opinion Stage takes things a step further by offering native integrations. There's also a custom webhooks integration which allows you to automatically send gathered data to hundreds of other systems like aWeber, ActiveCampaign, or Salesforce using Zapier.com or your own custom app.
Conclusion
All three platform alternatives offer a wide variety of tools and reliable performance. However, it's worth picking a platform that has all the tools you want. For example, if flip cards are must for you, then go for Playbuzz which offers that tool.

If pricing, ease of use & 3rd party integrations are your priority, then Opinion Stage is probably the best option.