Which Container Garden Are You?
In the gardening world, there's nothing quite as versatile as a container garden. You can grow almost anything in containers of endless sizes, shapes, and colors. When it comes to the functional and aesthetic aspects of containers, there are just so many options to choose from. Let us help you find out what kind of container garden suits you best!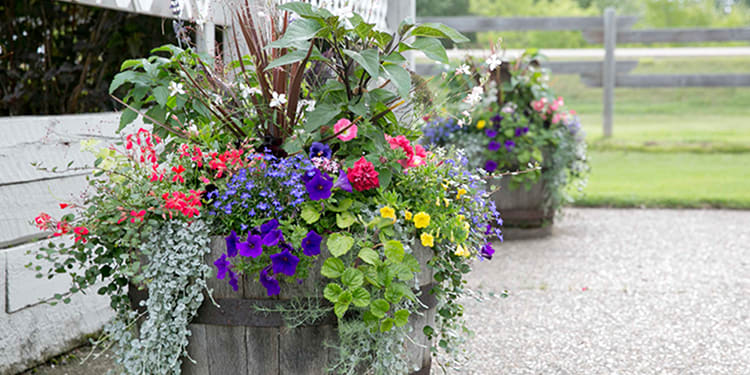 How would you describe yourself?
Which of these foliage plants is your favorite?
Which of these flowers is your favorite?
What colors dominates your wardrobe?
What's your favorite garden style?
It's Friday night, what are your dinner plans?
In your spare time, you like to...
Which plant pots match your garden style?
What area of your home and garden needs more attention?
Which of these destinations top your travel list?
A Hanging Basket
The graceful beauty of a hanging basket is both elegant and fun, just like you! Brimming with gorgeous blooms, hanging baskets are the perfect accessory to add color and dimension to your home. Fill these suspended container creations with bright blooms, like petunias, geraniums, or begonias, to add life to decks, patios, and porches.
A Classic Container
You appreciate the simple beauty of timeless classics, especially when it comes to your choice in plants. Your favorite flowers might be those that you grew up planting in your grandparents' garden, like begonias, petunias, and lobelia. A traditional container garden filled with these ageless beauties will never go out of style.
An Edible Container
Sure, bright and showy blooms are nice but simple and functional is more your speed. Edible container gardens are perfect for you! Grow an assortment of herbs and veggies both outdoors in the garden and indoors on your windowsill. Not only are they practical (and tasty!), but they also add a natural aesthetic to your home.
A Modern Container
With your fashion-forward taste, a modern, contemporary container garden is more your style. As a trend-setter, you aren't one to fall in line with tradition and prefer an unconventional approach at whatever you do. Try working with plants that have unique colors and interesting shapes, like succulents or exotic flowers, for a trendy container garden that matches your personality!